Here Is World Toilet Day. Don't Laugh, It's A Matter Of Life And Death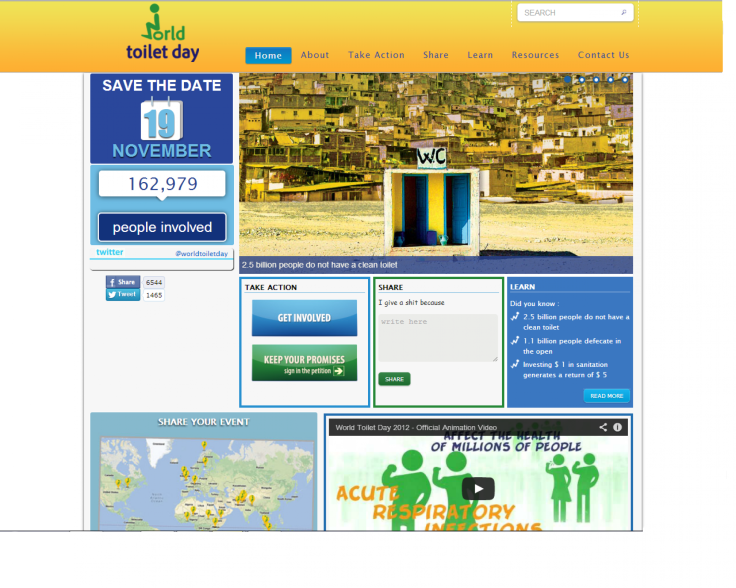 You've heard of World Earth Day and World Water Day. But you probably aren't familiar with their new sibling: World Toilet Day. It will be celebrated for the first time on Nov. 19, after the United Nations General Assembly voted on Wednesday to introduce it. And it's for a far more serious cause than you might think.
"I am sure there will be laughter among the press and the public when it is reported that the U.N. is declaring a World Toilet Day, and initiated by Singapore no less!" said Mark Neo, a Singaporean diplomat, as reported by several media outlets. "But the amusement at our expense is well worth it if after keeping a lid on their jokes, the world's media goes on to report."
That's because among the 7 billion people in the world, 2.5 billion do not have access to proper sanitation and around 1.1 billion still defecate in the open. Neo went on to say that ending defecation in the open could bring a 35 percent reduction of diarrhea, which causes around 75,000 deaths of children under the age of 5 every year.
According to Neo, getting sanitation for everybody could save the lives of around 200,000 children per year.
The initiative coming from Singapore can be surprising as the Asian city-state is a very wealthy country, with the highest percentage of millionaires in the world, and rare acute poverty.
U.N. Deputy Secretary General Jan Eliasson -- himself from a rich country with proper sanitation, Sweden -- welcomed this new world day and said that it "will go a long way toward raising awareness about the need for all human beings to have access to sanitation."
Getting sanitation for everybody by 2015 was one of the U.N.'s eight goals when the millennium started. However, the organization is very far from this goal, and experts say that at this pace, it will only be in 2075 that sanitation will be accessible by everybody.
The World Toilet Day will be situated between the World Day of Remembrance for Road Traffic Victims on Nov. 18 and the Universal Children's Day on Nov. 20, according to the U.N. observance day calendar. Moreover, the U.N. has decided to promote this day on social media with the hashtag #toilets4all.
© Copyright IBTimes 2023. All rights reserved.
FOLLOW MORE IBT NEWS ON THE BELOW CHANNELS