Hillary Clinton Book Reveals The Inside Story Of How Administration Mangled Mideast Peace Initiative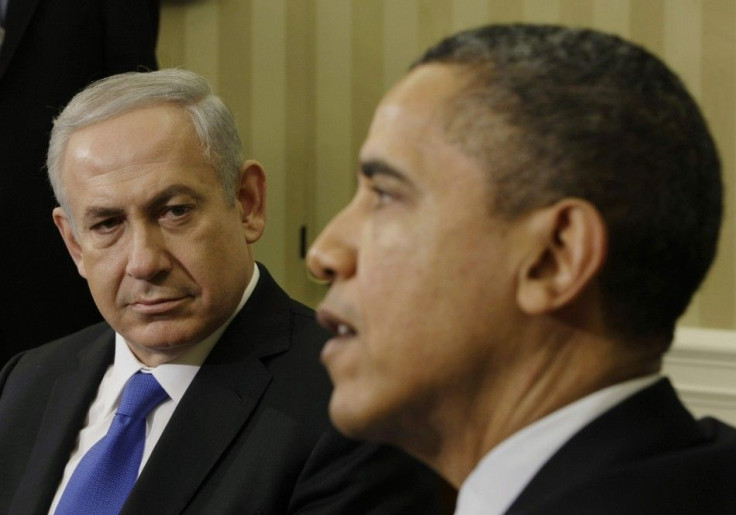 Like so many of his predecessors, the new American president made a key mistake in his bid to achieve Mideast peace.
Flush with confidence from his historic election victory and eager to capitalize on his mandate, Barack Obama sought to bring Israeli and Palestinian leaders to the negotiating table as one of his first steps soon after taking office in 2009. But the new president was frustrated by Israeli Prime Minister Benjamin Netanyahu's hardline attitude -- so his top aides advised him to take a tough approach, and pressure "Bibi" to freeze settlements in the West Bank in order to encourage Palestinian President Mahmoud Abbas to agree to negotiate directly with the Israelis.
Then-White House Chief of Staff Rahm Emanuel, who had served in Israel's armed forces, "advised Obama to be tough on Netanyahu and show him, immediately, who the superpower was … and he actively pushed for the freeze to top the agenda," writes BBC correspondent Kim Ghattas in her new book, "The Secretary: A Journey With Hillary Clinton From Beirut to the Heart of American Power."
Obama took the advice. When Netanyahu arrived for his first meeting at the White House, the president emphasized, "Settlements have to be stopped in order for us to move forward."
The administration's hard line, "taken as a sign that the administration was ready to go to the mat with Bibi," encouraged Palestinian activists. The move was not unprecedented, either: Previous American leaders like Richard Nixon and George H.W. Bush had stood their ground with Israeli prime ministers. But the reaction in Jerusalem was as furious as it was quick. "The Israelis were livid. Bibi didn't like to be told what to do, especially not in public. He wasn't going to let an American administration push him around again. He was convinced that Hillary and Rahm wanted to throw him under the bus and had turned Obama against him," writes Ghattas.
A few days after that meeting, Obama went on his historic trip to Cairo, and raised expectations across the Middle East with the lofty promise to work hard for peace. "There was only one way to go from there: down. But it was a question of how hard and fast the fall would be and how damaging to American interests."
Ghattas recounts the downward spiral of Obama's Mideast hopes and dreams in a 350-page book profiling Clinton's term as secretary of state, which ended in February. Ghattas, a longtime reporter and a native of Lebanon, praises Clinton for doing much to repair America's image and restore its leadership around the world after the Bush years. But the quagmire of the Mideast proved to be as sticky as ever, repeatedly frustrating the administration's best intentions.
Netanyahu only agreed to a partial freeze on settlement construction. And, despite Clinton's best efforts in direct discussions, Abbas couldn't agree to start negotiations. In a last-ditch meeting with Netanyahu, Clinton urged him, "We need something to hold Abbas's hand and bring him to the table.
"The risk of not doing anything is greater than the risk involved in compromising," said the secretary. But Bibi didn't budge. The failure of the tough-on-Israel tactic led the Obama administration to wait out Bibi's term in office. "Bibi thinks he can just stick to his position and outlast us, but we're here for four years," one administration official told Ghattas. "And then we'll likely be here for another four years."
The strategy was doomed from the start, writes Ghattas, and Clinton, who "was unconvinced by her own tough words about the settlements," knew it. She also knew that it didn't make sense to make a freeze the focus. But the White House was blinded by its insistence on that strategy -- "there was no plan B if Netanyahu said no." But Clinton, still trying to prove her loyalty to Obama, her former rival during the Democratic primary, "picked up on the combative mood inside the White House and combined it with her own forceful speaking to overdeliver for her boss in public with a maximalist position."
When Obama looked for an opening elsewhere, he turned to Saudi Arabia, traveling to meet with King Abdullah. Over dinner at the king's farm in early June 2009, he asked the monarch to allow Israel's national airline, El Al, to fly over Saudi Arabia and for the country to start receiving Israeli trade delegations. The king's response was blunt and swollen with disappointment: "Whoever advised you to ask me this wants to destroy the Saudi-American relationship."
By the middle of the term, amid foreign policy frustrations and the Republicans recapturing the House of Representatives, spirits were way down at the State Department over the failure on the peace issue, as well as other global crises. "We're holding things together with chewing gum and rubber bands," a high-level official told Ghattas. "It's bad, really bad."
Now, on the verge of his first-ever visit to Israel, which begins in two weeks, the re-elected American president is taking a different tack. Rather than pushing the Israeli-Palestinian issue, Obama is focusing his energy on Iran and Syria. Effectively, he is leaving things in the hands of new Secretary of State John Kerry, who is reportedly obsessed with the issue and hopes to broker a peace agreement by the end of his, and Obama's, term in 2016, according to Israeli newspaper Haaretz.
© Copyright IBTimes 2023. All rights reserved.
FOLLOW MORE IBT NEWS ON THE BELOW CHANNELS