Hillary Clinton And Chris Christie Emerge As 2016 Presidential Frontrunners: Poll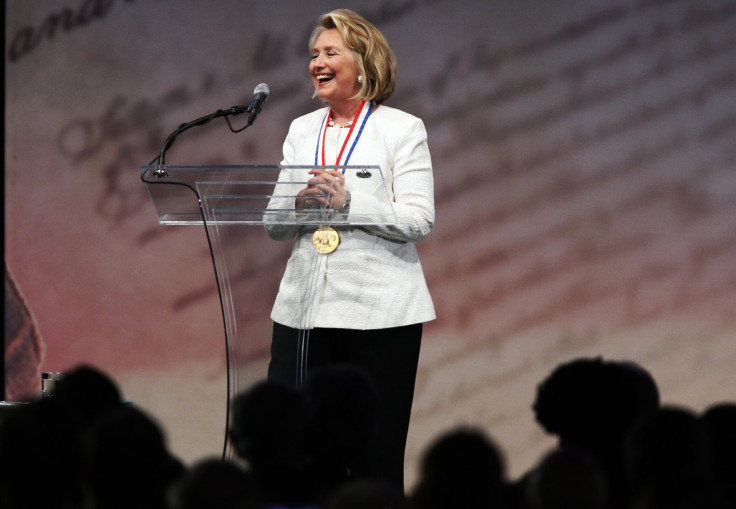 Hillary Clinton has emerged as the overwhelming front-runner for the 2016 Democratic presidential candidate, while support for Chris Christie among Republicans candidate has increased in recent months, according to a new poll from CNN.
When asked to choose between Vice President Joe Biden, Former Secretary of State Hillary Clinton, New York Gov. Andrew Cuomo, Maryland Gov. Martin O'Malley and Massachusetts Sen. Elizabeth Warren, a group of 374 Democrats surveyed by CNN overwhelmingly chose Hillary Clinton as their next candidate, with 63 percent in favor of the former secretary of state. Biden ranked second, with 12 percent of the vote, while Warren came in third, with 7 percent. 12 percent of responders did not choose any of the above candidates.
The numbers change significantly when Clinton is removed from the race, however. In the event that Clinton does not run in 2016, Biden emerges as the front-runner, with 43 percent in favor of his candidacy. Warren comes in second in such a scenario, with 17 percent of the vote, while Cuomo ranks third, with 15 percent.
On the Republican side, New Jersey Gov. Chris Christie emerged as a front-runner, with 24 percent in favor of his candidacy, up from 17 percent in September. If Christie's support keeps growing, he could become a serious threat to a possible Hillary Clinton candidacy.
Meanwhile, Kentucky Sen. Rand Paul ranks second, with 13 percent, while former vice presidential candidate Paul Ryan came in third, with 11 percent. Other politicians in the poll included former Florida Gov. Jeb Bush, Texas Gov. Rick Perry, Florida Sen. Marco Rubio, Texas Sen. Ted Cruz and former Pennsylvania Sen. Rick Santorum.
CNN Polling Director Keating Holland noted that Republicans are split on Christie by income. Wealthier Republicans are more likely to support Christie by a large margin, while lower-income Republicans tend to support Paul.
"Among Republicans making more than $50,000, Christie wins 32 percent support, 20 points higher than Cruz, Ryan, or Marco Rubio, all of whom get 12 percent among higher-income GOPers, and 23 points higher than Paul," Holland said. "But among Republicans who make less than $50,000 a year, Christie's support drops 19 points, only good enough for second place behind Paul."
Holland also noted that this early in the cycle, many candidates have not yet built up the name recognition that comes from actively campaigning.
"Always remember that polls taken at this point in the election cycle usually measure name recognition rather than predicting support at the ballot box," Holland said. "Respondents rarely say they would vote for someone they have never heard of, and a lot of the names tested in the poll in both parties belong to politicians who do not have a national reputation."
© Copyright IBTimes 2023. All rights reserved.
FOLLOW MORE IBT NEWS ON THE BELOW CHANNELS