Is Hillary Clinton's Apprenticeship Proposal A Good Idea?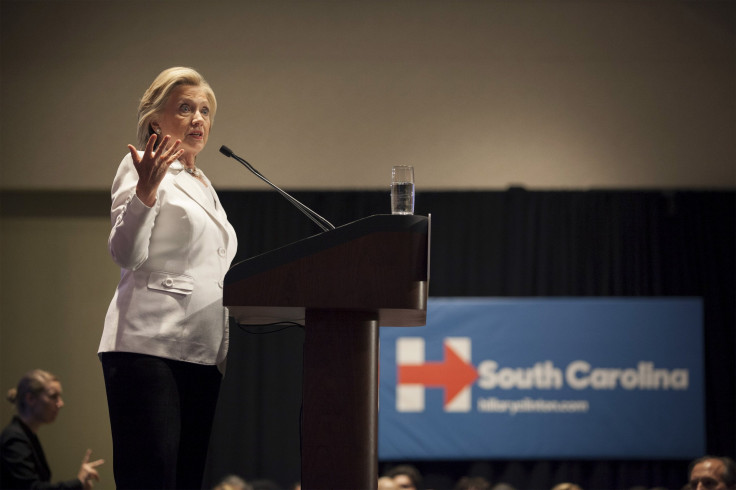 Hillary Clinton's nascent presidential campaign has made few specific policy proposals so far, feeding criticism from across the political spectrum. Speaking in South Carolina on Wednesday, the Democratic front-runner bucked that trend, ever so slightly. She announced a proposal aimed at reducing unemployment -- especially among youth -- that would give companies a $1,500 tax credit for every apprentice they hire.
"This is about building our economy from the bottom up," the former secretary of state said. "When employers invest in on-the-job training, workers are more productive and businesses are more profitable. This is one of those economic strategies that's win-win for everybody."
Her proposal builds on similar legislation backed by Sens. Cory Booker, D-N.J., and Tim Scott, R-S.C., campaign advisers say. That plan is designed to encourage companies to invest more in apprenticeships -- on-the-job training programs in skilled professions like construction, manufacturing and healthcare.
Just how effective a tool would it be for stimulating hiring? And would it do anything to reduce today's staggeringly high youth unemployment rate of around 15 percent?
Clinton's proposal was short on specifics, and campaign staffers did not provide further details. But in general, offering tax credits to companies who provide job training is a good idea, says labor economist Teresa Ghilarducci, a professor at the New School. "Not only would it reduce unemployment, but it goes after a severe flaw in our labor market -- the lack of a third choice for 18-year-olds besides college and the low-wage labor market."
Indeed, compared with other industrialized economies, the U.S. has few apprenticeship programs. About 400,000 people in the United States are currently enrolled in these programs, down by about 100,000 just over a decade ago. Germany, by contrast, trains about 1.5 million apprentices a year, covering about 60 percent of the nation's young people, in fields that range from banking to IT.
In the U.S., unions have typically played a vital role in these training programs, most commonly in the construction industry and other building trades. (The nation's largest construction workers union, the Laborers' International Union of North America, declined to comment on Clinton's proposal.)
But union density is on a steady decline. In the private sector, the share of employees who belong to unions has fallen from a fifth of the workforce in 1980 to below 7 percent today. Meanwhile, the Great Recession further shed the sorts of decent-paying blue-collar jobs in manufacturing and construction that tend to offer apprenticeships.
Percentage of Privately Employed Construction Workers in Unions | FindTheData
In a context where these sectors are in need of jobs and programs to provide pathways into them, Ghilarducci says, "I think it makes sense for the private sector to be incentivized to train workers. It's an attempt to solve a more structural problem in the economy."
David Neumark, an economics professor at the University of California, Irvine, says it makes sense for the public to ease pressures on business. "Firms do take on costs to hire people," he says. "This is about sharing the costs of it with everyone."
Robert Hiltonsmith, senior policy analyst at the liberal think tank Demos, applauds Clinton "for doing something to address youth unemployment and underemployment," but he has some doubts.
It would make more sense, he says, to simply fund a direct jobs program through public spending, but acknowledges "having federal or state governments directly employ young people isn't in vogue right now." He also wonders about Clinton's plan, "How much of a path to a real, full-time career-track job would it be? ... I would hope it comes with a track to a permanent position."
That largely depends on how any such program is structured. The Department of Labor oversees a system of registered federal and state apprenticeship programs that promise meaningful career advancement. But without the proper guidelines or oversight on what training programs qualify, there's the risk of employers swallowing up tax breaks and leaving young apprentices and workers by the wayside.
The federal government has tied tax breaks to job creation in the past. Most recently, in 2010, Congress passed a law that offers a $1,000 credit to companies for hiring and retaining unemployed workers. Critics say employers have collected benefits for hires they would have made anyway, leading to a waste in taxpayer money.
Clinton's proposal would be different, Ghilarducci says, because clearly defined apprenticeships are a more targeted investment. Rewarding an employer for shepherding someone through a federally recognized training program is different from simply rewarding an employer for making a hire.
Marc Bayard, a fellow at the left-leaning Institute for Policy Studies, says any such proposal would need strong measures in place to make sure employers who receive credits are doing what they say they're doing. "There's a long history of corporate welfare not being used properly and communities not receiving benefits they're promised."
© Copyright IBTimes 2022. All rights reserved.
FOLLOW MORE IBT NEWS ON THE BELOW CHANNELS