Hines Ward's Manager Says Steelers Star 'Not Impaired by Alcohol'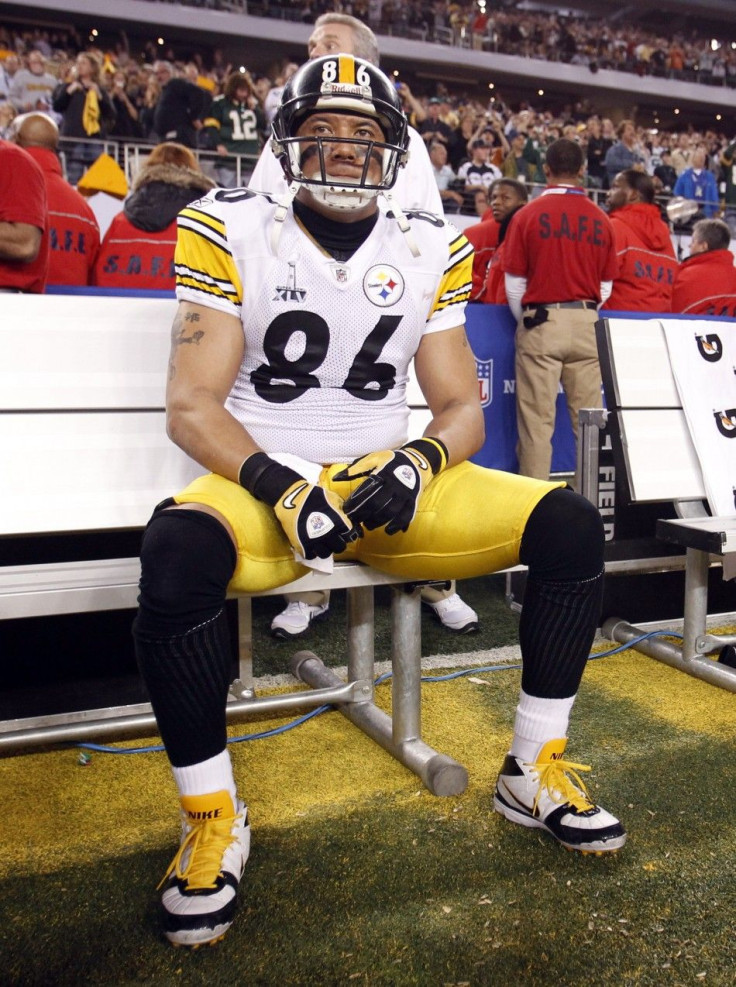 Hines Ward's manager says the Pittsburgh Steelers star wide receiver and Dancing With the Stars winner was not impaired by alcohol while driving. The manager did, however, acknowledge that Ward was arrested Saturday morning. The manager also said Ward is deeply saddened by the incident.
The statement from Hines Ward's agent, Andrew Ree:
On July 9th Hines Ward was stopped by DeKalb Co. police for suspicion of misdemeanor driving under the influence. He cooperated fully with the police and truthfully answered all of their questions. We are currently in the process of ascertaining all the facts. From our preliminary investigation we can tell you that we are confident that the facts will show that Hines was NOT impaired by alcohol while driving. However, Hines is deeply saddened by this incident and apologizes to the fans and the Steelers organization for this distraction.
Steelers officials have said they are aware of Ward's arrest but they had no comment on the matter.
If Ward is found found guilty, Ward will have to serve a minimum of 40 hours of community service and have his driver's license suspended for one year, if convicted of a drunken driving charge he received in an Atlanta suburb early Saturday morning.
Georgia law says, providing Ward has not had a prior DUI within five years, he must do a required minimum of 40 hours of community service, pay a fine of from $300 to $1,000 plus any statutory charges, and serve 10 days to 12 months of jail time, all of which except for 24 hours may be suspended, stayed or probated.
Also, if Ward pleads guilty or is convicted of the DUI charge, he must be placed by the judge on 12 months probation less any jail time served.
As for the driver's license suspension Ward faces, if guilty he could get it back at the end of 120 days if he completes an alcohol/drug risk reduction course (DUI school) and pays the required reinstatement fee. During the 120 day period, he could get a limited driving permit to attend to professional or family needs, according to Georgia law.
Ward was arrested in DeKalb County, Georgia on a drunken driving charge and booked into the DeKalb County Jail at 3:41 a.m. Saturday. Ward's longtime friend Corey Allen posted his $1,000 bail after the 35-year-old Ward was booked on the drunken driving charges.
Pittsburgh, where he plays professional football, is officially Ward's hometown, but he frequently visits Georgia in the off-season, where he was a college star for the Southeastern Conference's Georgia Bulldogs. He has a home in Georgia.
He was at a high point of celebrity based on his football success and after taking home the mirror ball trophy this season on Dancing With the Stars with pro partner Kym Johnson.
In 2006 Ward, a former Southeastern Conference standout who played quarterback and wide receiver for the Georgia Bulldogs, was named the MVP of Super Bowl XL after he caught five passes for 123 yards and a touchdown in the Steelers' 21-10 Super Bowl win.
The Pittsburgh Steelers drafted Ward out of Georgia in the third round of the 1998 NFL draft, converting him full time to wide receiver, a position he began to thrive at with his versatile skills. At Georgia, playing from 1994-1997, Ward caught 149 passes for 1,995 yards, second highest in a season in Bulldog team history.
Ward won season 12 of Dancing With the Stars in May. Just last week the city of Pittsburgh held a rally in honor of Ward's victory on the Dancing With the Stars television show. Pittsburgh Mayor Luke Ravenstahl said he decided to hold the public celebration of Ward's dancing victory after his office was bombarded with phone calls asking for the city to properly thank our hometown hero.
DeKalb County is in the Atlanta area, and Athens, home of the University of Georgia, is just more than an hour away. DeKalb County is Georgia's third largest county, with 700,000 residents, and a portion of the county reaches into Atlanta. Born in Seoul, South Korea to a Korean mother and an African American father, who later divorced, Ward grew up in the Atlanta area. His father was in the armed services.
© Copyright IBTimes 2023. All rights reserved.