Hong Kong Braces For Democracy Showdown As Electoral Reform Vote Looms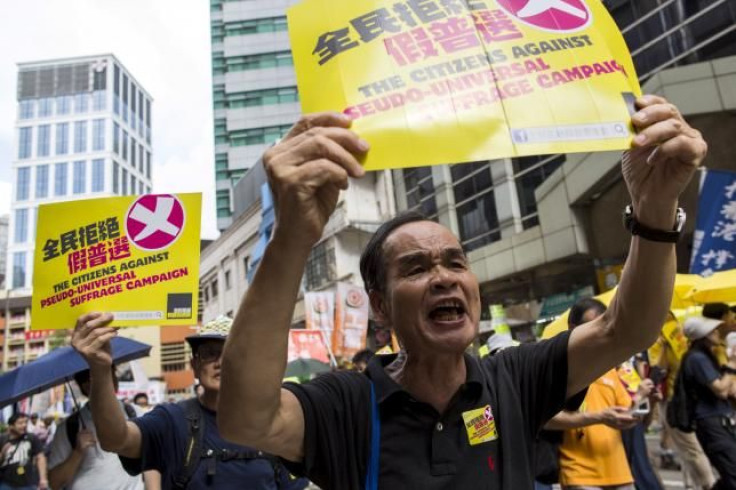 Hong Kong is gearing up for a vote this week on a contentious electoral reform package backed by Beijing, with a weekend poll showing public support has shifted against the proposal amid renewed street marches by pro-democracy protesters.
However, senior Chinese officials are expressing confidence behind the scenes that Hong Kong will still pass the package, paving the way for more potentially crippling protests in the Asian financial centre.
Police are taking no chances following sometimes violent clashes last year during demonstrations against the package, in which Beijing has proposed a direct vote for Hong Kong's next leader in 2017 among pre-screened, pro-Beijing candidates.
Dozens of police are on patrol near government headquarters, where metal fences have been erected, before debate on the package begins on Wednesday.
Polls taken before and after a televised weekend debate between three democratic lawmakers and three Beijing loyalists showed many viewers turned against the government's proposal after hearing both sides' arguments, Hong Kong media reported.
Before the debate, 49 percent of 188 people at the forum believed lawmakers should veto the proposal, while 42 percent supported it, the South China Morning Post reported on Monday.
After the debate, 54 percent said the package should be voted down, with 38 percent voicing support.
Pro-democracy activists plan to hold evening rallies outside government headquarters before the package goes up for debate on Wednesday, with a vote expected by the end of the week.
More than 100,000 people took to the streets at the height of the protests last year, bringing key areas of the city to a standstill. Only a few thousand turned out for the latest rally on Sunday.
"Even if the proposal is vetoed, if some people decide to stay until Hong Kong has genuine democracy, I will stay with them," said film editor Jimmy Leung, 31, who is camped with a small group of protesters near government headquarters.
Beijing has pressured the city's pro-democracy lawmakers to back the electoral blueprint. The deal requires two-thirds of the 70-seat house, or 47 votes, to pass.
Democracy legislators have repeatedly said they will veto it and that any optimism from senior Chinese officials is a last-ditch effort to unnerve them.
About 70 colorful tents erected by democracy activists are dotted along the street close to government headquarters. At least 5,000 officers will be on duty when the vote takes place, senior police sources have told Reuters, adding that the demonstrations could be much bigger and more angry if the package is passed.
Britain handed Hong Kong back to China in 1997 under a promise that core personal and commercial freedoms, backed by a British-style legal system, would be protected for 50 years.
Anti-Chinese sentiment is rising in Hong Kong, where football fans jeered the playing of the Chinese national anthem during a World Cup qualifying match against Bhutan last week.
© Copyright IBTimes 2023. All rights reserved.