Hong Kong Protest: Police Surround Polytechnic University As Protesters Try To Escape
The focus of the unrest in Hong Kong, that has captured worldwide attention, has moved to the Hong Kong Polytechnic University (PolyU) campus where protesters inside the buildings are trying to escape and avoid arrest. Their efforts have been thwarted by a police dragnet around the campus aimed at arresting as many protesters as possible.
The estimates vary from 200 to 800 as to how many people are in the building that protesters have fortified with barricades to keep the police out. Now they find themselves in a self-made trap as the police are firing tear gas at exits through which some of the protesters have tried to escape.
One predawn attempt by police to enter the building was met with gasoline bombs hurled at them by the protesters causing fires inside and outside the campus buildings. On Monday morning, a few hundred protesters trying to get out were met with tear gas forcing them back into the PolyU building.
People gathered outside the building were wearing raincoats and carrying umbrellas as shields against the police water cannons, but they dispersed after the police ordered them to leave or face the consequences.
The protesters seemed to be in control as of Monday early morning where there was a lull in the violence after PolyU president Jin-Guang Teng announced in a video that the police agreed to suspend their use of force. Demonstrators were reportedly seen making more gasoline bombs, while two men walked around armed with bows and arrows and some tried to take a quick nap while still wearing their gas masks.
Teng earlier said, "I hope that you will accept the proposed temporary suspension of force and leave the campus in a peaceful manner." He also said he would go with them to the police station to ensure "their cases would be processed fairly." The protesters quickly realized that they would likely face arrest and refused the offer.
The events at PolyU were not limited to the campus area. A group of protesters blocked a road a short distance from PolyU in an effort meant to distract the police and perhaps provide a chance for the trapped demonstrators to escape. They threw stones onto Nathan Road, a major street about two kilometers (1.2 miles) from PolyU. The police tried to chase them down using tear gas.
This caused more havoc for the Monday morning commute. Several train stations are still closed because of damage by protesters. Including a rail line near PolyU that is closed completely.
There are no signs that the activists will cease their activities or that the police will be able to restore order in the former British colony. Protesters and their supporters sense an eroding of Hong Kong's autonomy under Beijing rule that will only worsen if Beijing decides to enter the fray by deploying its military to quell the unrest.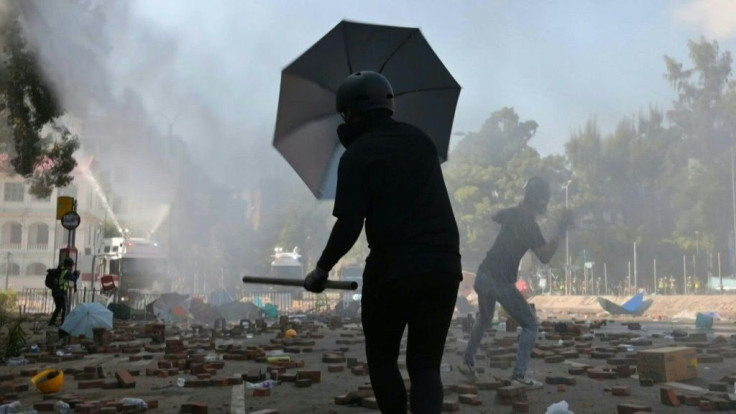 © Copyright IBTimes 2023. All rights reserved.