Hong Kong Protester Ken Tsang Beaten By Police: 'Never Seen That Behavior,' Activist Says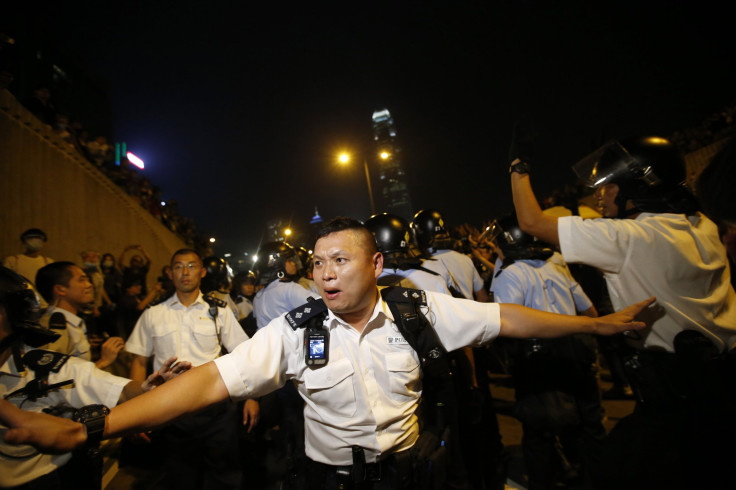 A viral video of six Hong Kong police officers kicking and hitting Ken Tsang, a social worker and pro-democracy protest supporter, has shocked and angered protesters and exacerbated tensions between Hong Kong's government and Occupy supporters who are still out in the streets. In the video, taken on Tuesday evening, Tsang, whose hands have already been bound, is shown being escorted by police away from the crowd and taken to a dimly lit area behind a building, where he is kicked and beaten by a group of police officers.
"I've never seen that behavior in Hong Kong [by police] in my years as a pro-democracy activist," said Anna Cheung, a professor at Manhattanville College who is also an organizer of the Occupy movement's New York activities and a longtime activist for democracy in Hong Kong. "I'm sure police are tired of the protests, everyone is tired. But this is really bad, this is unacceptable."
Cheung said she has known Tsang for years, first meeting him in 2008 during a political campaign that Tsang, a member of Hong Kong's Civic Party, was part of. She said she spoke to a mutual friend who has seen Tsang since he was beaten up. "He was taken to the hospital, but they are telling me he is 'detained.' I'm not sure what that means, but that's what they said." She has tried reaching out to Tsang directly, but his phone is off, she said.
"He's okay, he is able to talk but it he is a little overwhelmed," Cheung said the mutual friend told her. "He has a lot of scratches and bruises. There are red circles on his back; they must have used something to beat him."
"We don't want any violence. We want to end in a peaceful way, we want to go back to work and go back to school," Cheung, who has organized several solidarity rallies in New York City to show support for the Umbrella Movement, said in a previous interview.
The video has been broadcast multiple times online and on television in Hong Kong and abroad. In China however, it is not easy to see it. Most recently, the BBC's reports on the video have been blacked out by television censors while the British news company's English-language website was also blocked in the central government's most recent effort to control Hong Kong protest coverage.
Mabel Au, the Hong Kong director for Amnesty International, also made a statement, saying that there is little doubt "excessive force" was used on Tang. "We are very shocked and disappointed by such behavior."
The police released a statement on Wednesday expressing their "concern" over the video circulating online, and promised to conduct an impartial investigation into the incident.
© Copyright IBTimes 2023. All rights reserved.
FOLLOW MORE IBT NEWS ON THE BELOW CHANNELS