Hong Kong Protests: Five things You Need To Know
What began March 31 as a demonstration against an extradition bill proposed a month earlier has thrown the Hong Kong (what China calls a special administrative region or SAR) into chaos. Aside from demanding that the bill be formally withdrawn, the protesters are now demanding the resignation of Chief Executive Carrie Lam.
As the violence has escalated, the Hong Kong Police Force and Lam's government have come under fire from both the protesters and the Chinese mainland. Their inability to end the protests have some worried that the Chinese will deploy a garrison of the People's Liberation Army (PLA) to take care of the problem.
Here are five things you need to know about this situation in Hong Kong:
In 1898 Britain acquired Hong Kong, called the "New Territories" on a 99-year lease. It became a refugee for Chinese exiles after the Chinese Republic was established in 1912. World War II saw the surrender of Hong Kong to Japan, but it was reclaimed by the British upon the war's conclusion. Post war, Hong Kong developed into a major trading center and in 1984, the British agreed to honor the original 1898 lease agreement. On July 1,1997, the handover was made.
The catalyst for the extradition bill being introduced is a brutal crime that occurred in Taipei, Taiwan, another Chinese territory. A Hong Kong national murdered his girlfriend in a jealous rage and fled back to Hong Kong after stealing some valuables and disposing of her body that he had packed into a suitcase. Because China lacks an extradition agreement with Hong Kong, the only charges that Hong Kong authorities could bring against him were for money laundering. He was sentenced to a 29-month term.
The reason for the protest is the fear that if passed, the extradition bill will allow the Chinese to enter Hong Kong at will and take suspected lawbreakers to the mainland on charges that could be trumped-up in some cases. Once in China, the suspects could face human rights abuses.
The Chinese view is that the protests are undermining the authority of the central government and the policy of 'one country, two systems,' a reference to the formula that grants Hong Kong a high degree of autonomy for 50 years. The defacement of the Chinese Liaison office by the protesters has also added to the ire of the Chinese to the point where they are considering deploying the PLA.
Two members of U.S. Congress have condemned Chinese threats to deploy the PLA. President Donald Trump, in the hope of resuming trade talks with the Chinese, has been less outspoken and has stated that he hoped Chinese President Xi will "do the right thing."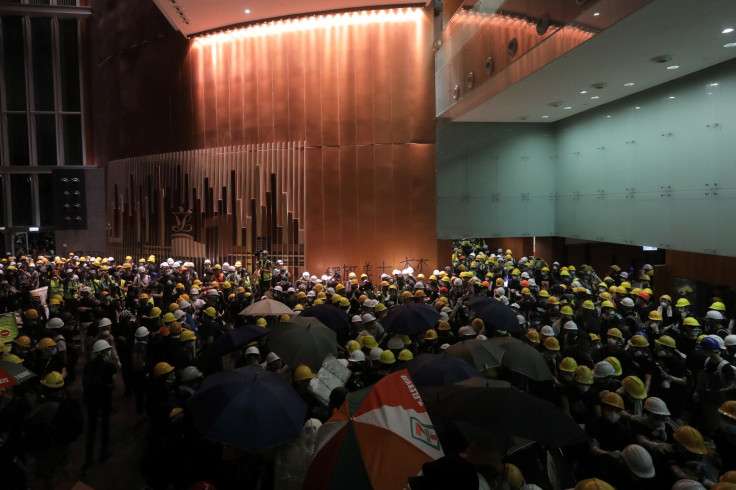 © Copyright IBTimes 2023. All rights reserved.
FOLLOW MORE IBT NEWS ON THE BELOW CHANNELS