Hong Kong Protests Update: Authorities To Clear Mong Kok Protest Site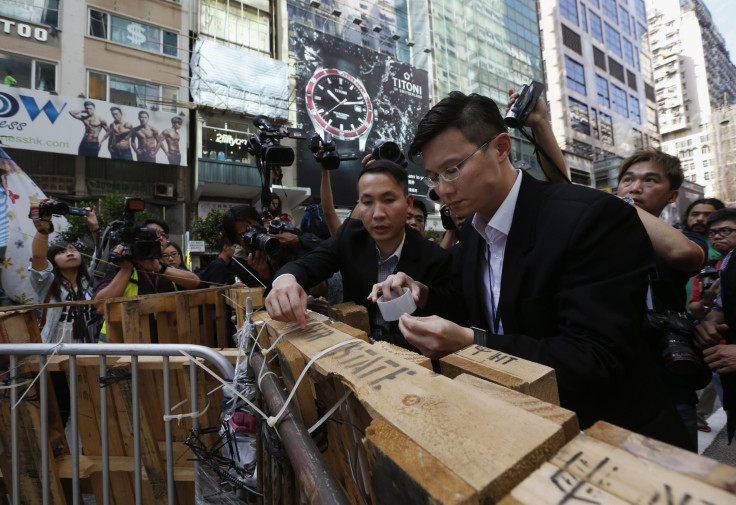 Hong Kong court bailiffs Tuesday plan to remove some of the long-standing barricades constructed by Occupy Central protesters in the Mong Kok district, a site of previous clashes between protesters and residents seeking to end what they call a disruptive movement. Police said they will arrest anyone obstructing the removal of the barricades. The barriers on Nathan Road enclose a large protest area filled with tents and artwork, according to the Wall Street Journal.
Violence erupted there in late October between protesters and Hongkongers opposed to the movement. Police clashed with protesters multiple times as well. Mong Kok became a flashpoint between protesters and locals because of what locals said was a massive inconvenience the barriers created on Nathan Road, one of the city's busiest streets. Mong Kok is already one of the most densely populated areas in the world and the barriers sometimes added an hour or more to some local Hongkongers' daily commutes.
A series of injunctions handed down by Hong Kong courts prompted the beginning of the end for some barricades although others have been left up. Police action to clear barricades last week ended with little violence. Protesters even helped police clear them in some cases to keep the barriers, according to Reuters.
Public support for the protests has waned after nearly eight weeks of Occupy Central. More than 80 percent of people surveyed by Hong Kong University wanted the protesters to leave their camps, the Associated Press reported. The movement drew more than 100,000 people in the first week after police used tear gas and pepper spray to disperse a crowd of protesters during the movement's first days in late September.
Three leaders of the movement plan to turn themselves in to police next week, but student leaders of the two main student groups, Hong Kong Federation of Students and Scholarism, will not.
"We students think that it's not the right moment to turn ourselves in yet as we are inclined to finish the final steps of civil disobedience by being arrested," said Lester Shum, deputy secretary general of the HKFS, according to the South China Morning Post.
© Copyright IBTimes 2023. All rights reserved.