Hong Kong Protests: Why The Movement Lost Steam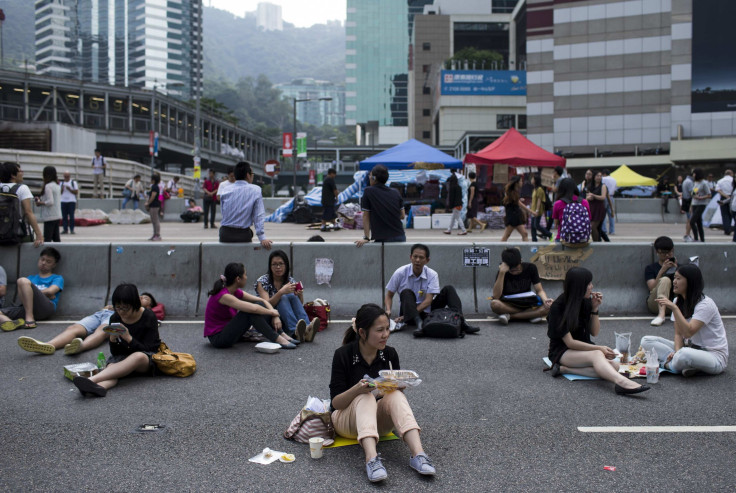 In Hong Kong's Admiralty district late Tuesday, protest leader Joshua Wong, 17, exhorted a crowd of demonstrators to bring their beds to the street, so they can remain there during the upcoming meetings between student protesters and Hong Kong's government.
But eight days after the police first skirmished with demonstrators, the number of protesters in the streets has waned, and life in Hong Kong has begun to return to normal.
Gary Yeung, 25, a media spokesman in Admiralty, said morale among the protesters was "going downhill." "People have to work, they have responsibilities at home, and they have kids," he said. "It's financially difficult to stay here a long time."
This ebbing has occurred after the persistent refusal of the Hong Kong government, which will meet with student leaders Friday, to agree to the protesters' main two demands: that the territory's leader Leung Chun-ying resign, and that the government repeal a new electoral law limiting eligible candidates in Hong Kong's upcoming 2017 chief executive election to candidates vetted by China.
Despite the uncompromising rhetoric of Wong and other leaders, the protesters are not expected to push for radical measures. "They're trying to walk a very narrow, calibrated line," said Scott Harold, a political scientist at the Rand Corp. "They've strived to define the terms of their protest in ways that are difficult for Beijing, but that do not threaten the ruling status of the mainland."
Protest leaders characterize the drop in demonstrations as a strategic retreat rather than a capitulation. Nevertheless, protesters remaining in Admiralty acknowledged the risks of continued participation in the movement had begun to weigh on Hong Kong residents. After Leung ordered protesters to stop obstructing city workers, office workers and civil servants returned to work Monday for the first time in a week. The city's merchants -- some of whom claimed business fell by 30 percent during the previous week's protests, which occurred during the territory's National Day holiday -- opened up shop again.
Several protesters acknowledged they had come out to show solidarity with victims of police brutality after violent clashes last week, and had little interest in protesting in favor of more democracy.
"I don't care about politics so much, or about the Tiananmen Square massacre and all that," said Marian Lim, 60, who was demonstrating in Admiralty.
Other protesters expressed pessimism that, even with the negotiations, anything would come out of the Umbrella movement.
"We know deep down that our attempt is probably futile," Yeung said. "Because if you look at the history of China, they never give up. They never compromise. That's the source of their power."
"Even if we get a slight compromise, we'd consider ourselves very lucky."
© Copyright IBTimes 2023. All rights reserved.
FOLLOW MORE IBT NEWS ON THE BELOW CHANNELS