Hong Kong Strike: Kwai Tsing Dock Workers Take Wage Dispute To Doorstep Of Hong Kong's Richest Man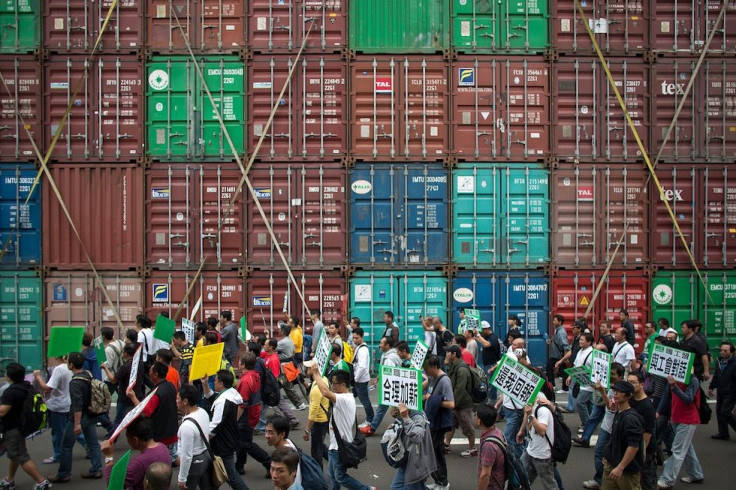 Hong Kong dock workers vowed Friday to extend to a fourth week a strike that has brought attention to the dock's poor working conditions, Hong Kong's high inflation and the city's huge wealth gap.
Dozens of disgruntled laborers protested outside Cheung Kong Center, the office building of Li Ka-shing, billionaire businessman who owns the port operating company.
Li, an investor and philanthropist named Asia's wealthiest man by Forbes, owns Hutchison Port Holdings, parent company of Hongkong International Terminals (HIT). HIT has gradually outsourced its dock work to other companies to save labor costs, in reaction to a shrinking container shipping business. At the same time, workers say their pay has not increased for the last 16 years despite surging inflation. Strike leaders claimed that their current daily rate is 1,115 Hong Kong dollars ($143), less than the 1,480 Hong Kong dollars that they received in 1997.
HIT is a key container port operator in the Port of Hong Kong. Its parent, Hutchison Port Holdings, is the largest port operator in the world with more than 300 berths in 50 ports spanning 25 countries. In Hong Kong, Hutchison operates 16 of the city's 24 deep-water ship berths and has a 70 percent market share of port-handling volumes. The striking workers are subcontractors and paid significantly lower wages than HIT's own workers, who have proven less likely to join the strike. This has helped the port remain open despite delays, with reports saying it is 80 percent operational, according to the Guangzhou-based 21st Century Business Review.
The strike could cost Hutchinson $100 million Hong Kong in revenue and cost Hong Kong its position as the world's third-largest container port as vessels divert to nearby ports, such as Shenzhen, China, that are not being struck.
Strikers with the Union of Hong Kong Dock Workers on Wednesday moved part of their camp away from the main port, Kwai Tsing Container Terminal, after failing to resolve their pay dispute Tuesday at a meeting with the main labor contracting companies, Global Stevedoring Service Co. and Everbest Port Services. Hours after they set up their new camp location, Global Stevedoring Service said in a statement April 17 that it "honestly cannot offer [the] 20 percent rise" demanded by the striking port workers.
Some workers were told they will lose their jobs. Global Stevedoring Service, which employs about 200 of the 450 striking stevedores, said it is unable to continue operations because three-quarters of its workers are on strike. The contracting service offered its workers a 7 percent raise, far below the 20 percent demanded. The union rejected the offer. Global Stevedoring Service now expects it will have to shut down after its contract with HIT ends on June 30.
Workers, who vowed to continue striking next week, walked out on March 28 in protest of stagnant wages amid sharply rising inflation.
The strike has pitted Hong Kong's Chief Executive Leung Chun-ying against the city's big business leaders because it marks the government's first major test after being elected in July on a slew of populist promises. Members of the public who have rallied in support of the protesters have donated or pledged more than $5.3 million. Hong Kong law has weak support for collective bargaining.
Some of the port's schedules are returning to normal. The Association of Freight Forwarding and Logistics' chairman, Paul Tsui Hon-yan, said shipping companies told his organization on Wednesday that delays ranged from zero to six days, down from one to 10 days in the beginning of the week. A court ordered the protesters to leave the terminal areas earlier this month and held an injunction court hearing on April 5.
Meanwhile, support for the workers is coming from as far as Australia and the U.K. Members of International Transport Workers' Federation in Australia arrived earlier in the week to support the port workers. Also, a campaign was set up in London on Wednesday by the ITWF in partnership with Britain's Unite the Union and the Federation of Dutch Labour Movement to fundraise and garner more international support.
© Copyright IBTimes 2023. All rights reserved.