Hong Kong Woman, Law Wan-Tung, Found Guilty Of Physically Abusing Indonesian Domestic Worker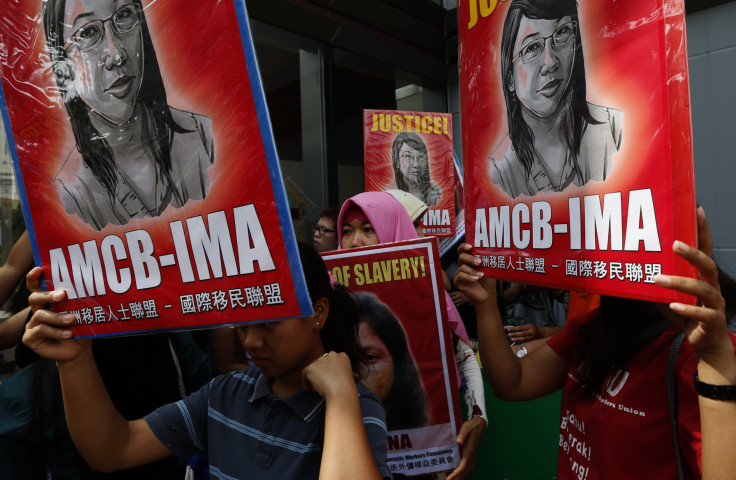 A 44-year-old Hong Kong woman was found guilty on Tuesday of physically abusing an Indonesian woman who worked as a maid in her house, in a case that caused global outrage after it came to light last year. Erwiana Sulistyaningsih sustained serious injuries after being assaulted by Law in January 2014, following which the latter was arrested.
Law was accused of causing grievous bodily harm, criminal intimidation and failure to pay wages to Sulistyaningsih. Law was found guilty of 18 of the 20 charges filed against her. She had denied all the abuse charges but admitted to a separate charge of not buying insurance for Sulistyaningsih. Law is expected to be sentenced later this month, BBC reported.
"She was, for want of a better word, a prisoner in those premises," Judge Amanda Woodcock reportedly said, referring to Sulistyaningsih. "I am sure the defendant did assault, wound, and threaten (Sulistyaningsih) as charged.
"She was completely isolated, and (this) helps explain why this abuse could go on for so long without her retaliating or anyone knowing," the judge said, adding: "When Erwiana left Hong Kong she was a shadow of her former self."
The 23-year-old returned to her home in Sragen, in the eastern part of Indonesia's Java province, following Law's arrest and had to be hospitalized. In December, she testified in court that Law abused her for several months before she was sent home. After pictures of Sulistyaningsih's injuries surfaced, the case angered Indonesia and shocked Hong Kong, which reportedly employs about 300,000 domestic workers from other parts of Asia.
Doctors at a hospital where Sulistyaningsih was treated reportedly said that she suffered from a swelling of the brain that was caused due to repeated blows to the head. The two charges that Law was not found guilty of, was related to her treatment of another house worker.
"I am very happy because I got justice from Hong Kong," Sulistyaningsih told Agence France-Presse, and also thanked the people who supported her.
Amnesty International said on Tuesday that the verdict for Law was a "wake-up call" for the government to stop exploitation and a "damning indictment," according to BBC.
The human rights group had urged the city's government, in a 2013 report, to resolve issues of abuse and exploitation of domestic workers in Hong Kong, adding that thousands of similar cases in the city go unreported.
© Copyright IBTimes 2023. All rights reserved.