Horse Slaughtering Debate Ignited as Congress Lifts Ban to Clear Way for Slaughterhouses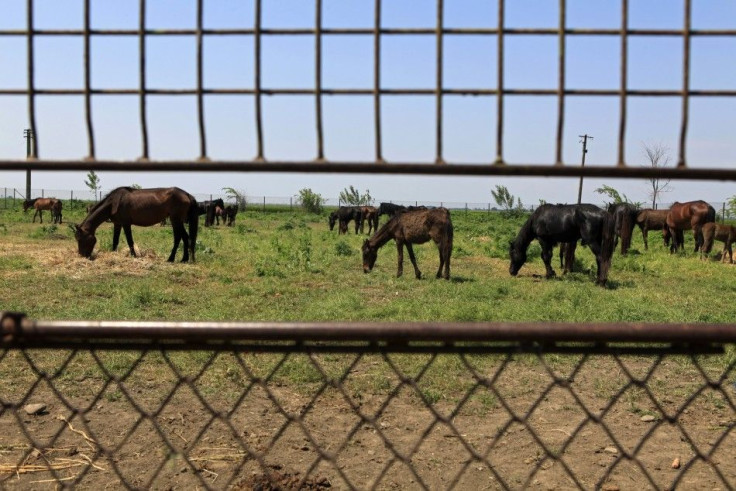 Horse meat may soon be brought back to the table in the United States, as horse slaughterhouses will be revived under an obscure inclusion in a recent appropriations bill.
On Nov. 18, President Obama signed a Continuing Appropriations Resolution bill to provide funding for the federal government and keep it solvent until Dec. 16. The bill set the fiscal year budgets for, among other departments, the Department of Agriculture.
However, for nearly two weeks, a provision in the bill went unnoticed -- one that lifted a 5-year-old ban on funding horse meat inspections -- until it came to the public eye Wednesday.
In essence, the lifting of the ban clears the way for horse slaughterhouses to open again.
Opponents, disappointed at the ban's lift, vow to fight for its overturn, saying that it will unnecessarily burden taxpayers with a pricetag of $5 million or more. All for a product that, with no demand in the United States, will have an almost 100 percent rate of export and almost exclusively benefit companies overseas.
Proponents of horse meat trading, on the other hand, say slaughterhouses could open within the next few months.
I'm glad this measure has been taken, said Sue Wallis, vice president of the non-profit, pro-slaughter organization United Horsemen, in a phone interview Wednesday afternoon. We have an opportunity to turn around the horsing world.
It's a world that Wallis, also a Wyoming lawmaker, said was devastated by a ban on funding that passed through Congress in 2006. It's against federal law to sell meat or ship it across state or country lines without inspection. In effect, the lack of funding put an end to horse slaughtering in the United States.
Like sticking a cob in the wedge of a machine, she said. You just stop everything.
On Wednesday, the USDA said in an emailed statement that there are no current establishments operating in the United States that slaughter horses for human consumption. But if a facility did open, the USDA said it would carry out its statutory mandate to ensure industry compliance with the Humane Methods of Slaughter Act.
The last slaughterhouse of horses in the U.S., Cavel International, Inc., closed in 2007 in DeKalb, Ill. Now, Wallis said she's heard from multiple groups interested in opening plants in 10 states -- Oregon, Montana, Wyoming, North Dakota, South Dakota, Nebraska, Missouri, South Carolina, Georgia and Tennessee.
Those decrying the ban's lift, such as Chris Heyde, the deputy director of government affairs for the Animal Welfare Institute, are skeptical of Wallis' claims. The AWI was the first group to bring the issue of horse slaughtering to Congress, and Heyde was involved in the drafting of the original bill.
I've heard opponents saying, 'We've got investors,' Heyde said. They've been saying that for three years.
In Wyoming, her own state, she said there was interest in one of the counties and that she had talked to the planning board. When we talked to them, they said they've never heard of her.
Another disagreement between both sides dealt with how the lift would affect taxpayers. Heyde said that when he discussed the cost of inspections in 2006 with Josh Bolton, President Bush's chief of staff, the figure came out to approximately $5 million.
He estimates it's much more than that now. And he notes what he sees as hypocrisy in a fiscally conservative Congress.
Where's the Tea Party on this? he said. With Congress, you wonder, are they really concerned about saving money, or just saving money from things they don't like?
Wallis, though, pushed back on that argument, saying the exports will benefit taxpayers because of the jobs created in the horse industry. She said compared to the millions of pounds of meat from cattle, hogs, chicken and other animals, the horse industry export is miniscule. Though interest is high, she only expects five or six companies to operate as slaughterhouses, at most.
To say that the tiny horse-processing industry is going to create a unique burden on the American taxpayer is patently ridiculous, she said. The impact on the federal budget is going to be so tiny. If we restore the horse industry, that's going to be huge.
The restoration of the horse industry was the topic of a report issued in June by the U.S. Government Accountability Office, an independent, nonpartisan agency. It showed dramatic decline in the horse industry -- lower-to-medium-priced horses' value declined by as much as 21 percent. Though it admitted it lacked comprehensive national data, the report also said cases of horse neglect and abandoned horses rose since 2007.
And according to the report, the lack of funding for horse meat inspection simply shifted the business of horse slaughter to companies in Canada and Mexico. It said nearly the same number of U.S. horses was slaughtered across either border in 2010 as had been slaughtered in the U.S. before the funding stopped.
But Gail Vacca, the president of the Illinois Equine Humane Center, said the decline in the horse industry was a product of the unstable economy more than anything else. And she said the reintroduction of slaughterhouses would only lead to irresponsible breeding and a decline in quality on the horse market.
It'll be like a field day and a license to go breed as irresponsibly as they want to, Vacca said. It'll only create a larger problem. More horses will be of poor quality, which saturates the market with poor-quality horses. It's a bad thing for the horse industry overall.
Heyde, along with groups such as The Humane Society of the United States, are moving past the ban's lift by focusing on potential bills outlawing the practice of horse slaughter altogether. Wayne Pacelle, president and CEO of The HSUS, said potential bills already have 111 co-sponsors in the U.S. House of Representatives in a bipartisan measure lead-sponsored by Dan Burton (R-Ind.) and Jan Schakowsky (D-Ill.).
This is a terrible demonstration of callousness and selfishness in dealing with these great creatures, Pacelle said. It's a marginal industry with no domestic market.
© Copyright IBTimes 2022. All rights reserved.
FOLLOW MORE IBT NEWS ON THE BELOW CHANNELS