House Plan To Increase Debt Limit To Come Next Week, Says Cantor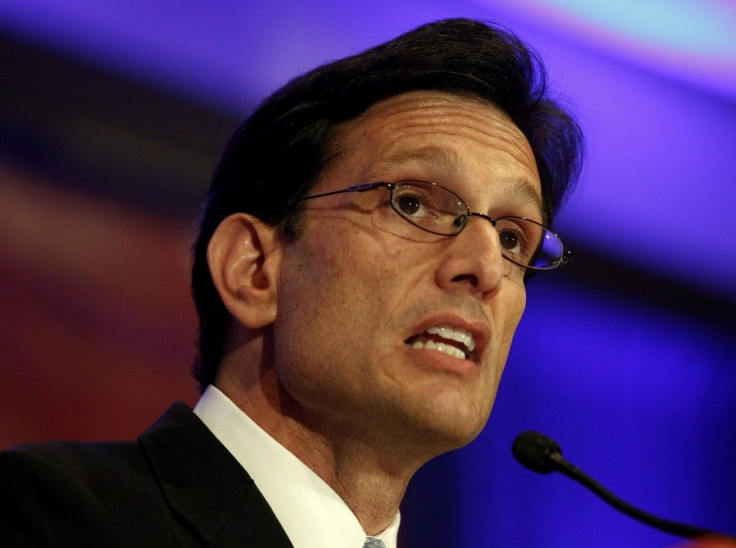 The Republican leadership in the House will unveil a plan to extend the debt ceiling next week, but said President Barack Obama should still be prepared for a fight to defund Obamacare.
House Majority Leader Eric Cantor, R-Va., on Wednesday warned Obama and the Democrats to brace themselves as blocking the appropriation of money for the Affordable Care Act, as well as discussions about tax reform and the Keystone XL pipeline, will be a part of the debt limit negotiations.
"Together we House Republicans will not ignore the problem of our debt or the problems facing the working middle class of this country," Cantor said at a press conference. "We hope and we ask that this president finally engage with Congress and work with us on behalf of the American families."
While Republicans tout their strategy, Obama again vowed he would not let the debt limit be a bargaining chip for policy making, as that would "fundamentally change how American government functions."
The federal government actually reached the debt limit in May, and the Treasury has since been using extraordinary measures to prevent a default. An increase is believed to be needed by mid-October.
Treasury Secretary Jack Lew on Tuesday told the Economic Club of Washington that failure on the part of Congress to extend the nation's borrowing authority would mean the department will have to use cash on hand to fund the operations of the near $4 trillion government.
Lew said delaying a rise in the debt ceiling until the last minute, or even an extended debate on the issue, is a dangerous political gamble that could harm the already fragile recovery.
"Some in Congress seem to think they can keep us from failing to pay our nation's bills by simply raising the debt ceiling right before the moment our cash balances deplete," Lew said, calling such actions misguided.
The Treasury relies on investors from all over to hold U.S. bonds and every Thursday, the department rolls over nearly $100 billion in U.S. bills, Lew explained.
"If U.S. bondholders decided that they wanted to be repaid rather than continuing to roll over their investments we could unexpectedly dissipate our entire cash balance," he said, adding that the Treasury doesn't known precisely when that moment will be because of daily variations in outgoing payments and receipts.
"We cannot afford for Congress to gamble with the full faith and credit of the United States of America," Lew said. "At the same time we should never be put in a position where we have to pick, choose which commitments of our nation we will meet."
© Copyright IBTimes 2023. All rights reserved.