House Republicans Attempt To Hamstring Eric Holder's Justice Department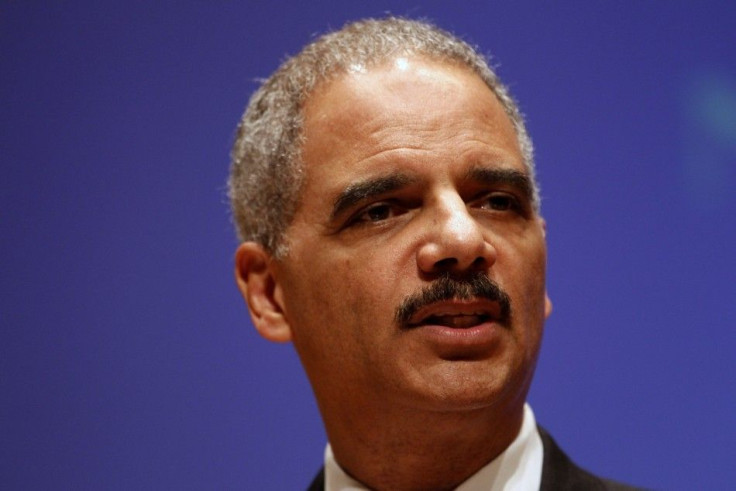 Republicans in the House of Representatives have long made their displeasure with Attorney General Eric Holder clear. Now, they are trying to make life difficult for the Department of Justice with a series of spending limitations aimed at handcuffing the agency in politically charged legal cases like the Defense of Marriage Act, the health care law and voter ID laws.
The House GOP Wednesday evening passed a slew of amendments to a bill to fund the Justice Department that prohibit the use of taxpayer funds on some of Holder's most important initiatives.
For instance, Rep. Tim Huelskamp of Kansas had an amendment passed that would prevent taxpayer money from being used in contravention of DOMA, the 1996 law prohibiting federal recognition of legal same-sex marriages; the Obama administration has said the law is unconstitutional and will no longer be defended in litigation.
Meanwhile, his colleague from Tennessee, Marsha Blackburn, passed an amendment against the use of funds to defend the Obama health care reform law from legal challenges, presumably referring to lawsuits filed after the U.S. Supreme Court comes down with its verdict on the Affordable Care Act in June.
Blackburn justified her amendment with a recent Gallup poll showing most Americans believe the health care law is unconstitutional.
What we're doing is saying to the Department of Justice, You cannot use taxpayer funds to defend this law, she said. We know that that is the right step to take because it is important that we defend and prevent DOJ activism.
Other amendments would block money for lawsuits against states that enact laws requiring voters to show photo identification, which Holder vowed to block if minorities are disproportionately burdened; and to file lawsuits for the National Labor Relations Board against states that passed voter initiatives that ensure secret ballots for union elections, which the agency says violates existing federal labor law.
Nearly all Democrats and a handful of Republicans voted against these amendments. Rep. Chaka Fattah, a Democrat from Philadelphia, ripped Republicans for trying to hobble the Justice Department.
I'm opposed to the idea that in a country of laws we want to deny the opportunity for our issues to be raised in a court of law, he said. So this consistent attempt that we see here now, whether on the Affordable Care Act or on other issues, to deny funds for the Department of Justice on behalf of the executive branch to bring issues before a court of law, I think, flies in the face of the American ideal.
An amendment from Rep. Paul Broun, R-Ga., that would prevent the department from enforcing part of the Voting Rights Act was pulled after his fellow Georgian, Democratic Rep. John Lewis, the veteran civil rights leader, gave an impassioned speech about the history of supressing the black vote, according to the New York Times. The provision of the Voting Rights Act that Broun challenged requires states with a history of racial discrimination to get pre-clearance from the federal government when an election law is changed.
One amendment, if seemingly strange on its face, passed with bipartisan support: the Justice Department would be barred from using taxpayer money to lie to Congress.
The amendment introduced by Rep. Jason Chaffetz, R-Utah, which passed with 142 Democratic votes, was in response to House GOP's displeasure with Holder over its probe on Fast and Furious, a gun tracking program in which firearms were walked into Mexico. The congressional probes started after a border agent was killed with a weapon traced back to the program.
Republicans have accused Holder's department of lying to Congress in a February 2011 letter that contained incorrect information about the gun-running program. The letter was withdrawn and Holder has said the misinformation was unintentional.
You should not be able to use taxpayer funds to knowingly and willfully subvert Congress, Chaffetz said. You can't lie to Congress and use taxpayer dollars to do it. Surely that can be bipartisan in its approach.
© Copyright IBTimes 2023. All rights reserved.