How Angela Merkel Prompted Vote To Legalize Same-Sex Marriage Despite Showing A Red Card Herself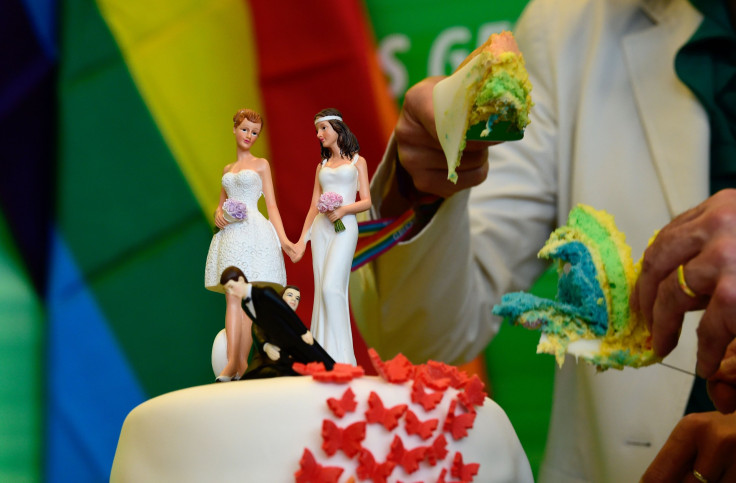 Germany took a step closer to join a dozen other European nations and the United States in implementing equal rights as the country's parliament voted by a wide margin Friday to legalize same-sex marriage. The vote came just days after Chancellor Angela Merkel freed her conservative Christian Democrats from the party whip on the issue, and dropped her longstanding opposition calling for a "vote of conscience."
The lower house of the parliament — Bundestag — voted 393-226 to modify the country's civil code, and provide homosexual couples the same rights as heterosexual couples in the country. Same-sex couples will be allowed to marry and jointly adopt children once the bill is adopted as a law.
Read: Gay Rights In Germany: Men Convicted Under Nazi-Era Law To Get Government Compensation
Bundestag passed the bill ahead of the summer recess. The bill will now need approval from the upper house — Bundersrat — next week. Once the bill is officially signed into law, the country will enter the club of over 20 countries in the world where same-sex marriage is already legal.
Two-thirds of the Germans said they were in favor of legalizing same-sex marriages in a recent YouGov poll, published June 23. The vote came after Merkel said Tuesday she would allow her party's MPs to have a free vote on the issue. The significant shift in the chancellor's stance on allowing a free vote comes three months before Germany gears up to elect its next chancellor Sept. 24.
"I would like to steer the discussion into the direction of a question-of-conscience vote rather than me forcing through [Parliament] a majority decision," Merkel said during an event in Berlin on Monday, Los Angeles Times reported.
"I had a life-changing experience in my constituency," she said. She shared her observation of children being adopted by the same-sex couples having a proper upbringing. Merkel earlier opposed the law citing concerns about the wellbeing of the children in these families. The event was hosted by women's magazine "Brigitte."
Read: Gay Marriage In Alabama Update: After State Court Stops Same-Sex Unions, Madison County Issues Licenses
Following the vote, Merkel said Friday she had shown a red card and voted no; however, she mentioned it was only fair and important to put the issue to a vote of conscience, according to CNN. "For me and the basic law, it's about the marriage of a woman and a man. That's why I voted against it," she said and added that it had been an emotional issue for her personally.
She added: "I hope that the vote today shows not only the mutual respect for different opinions but that this also leads to more peace and social cohesion as well."
"It's a joyous turning-point," said MP Volker Beck after the vote. He has campaigned for gay rights over the years. Beck was also the spokesman for the Lesbian and Gay Federation in Germany before he became a member of the Green Party and entered the parliament in 1994.
"Equality and civil rights have been achieved," Beck added, the Washington Post reported.
Martin Schulz, leader of the Social Democratic Party (SPD), posted a tweet after the vote and said: "Progress is possible." He added he was "happy for all the married couples to-be."
© Copyright IBTimes 2023. All rights reserved.