How Bad Will Hurricane Ophelia Damage Ireland When It Hits?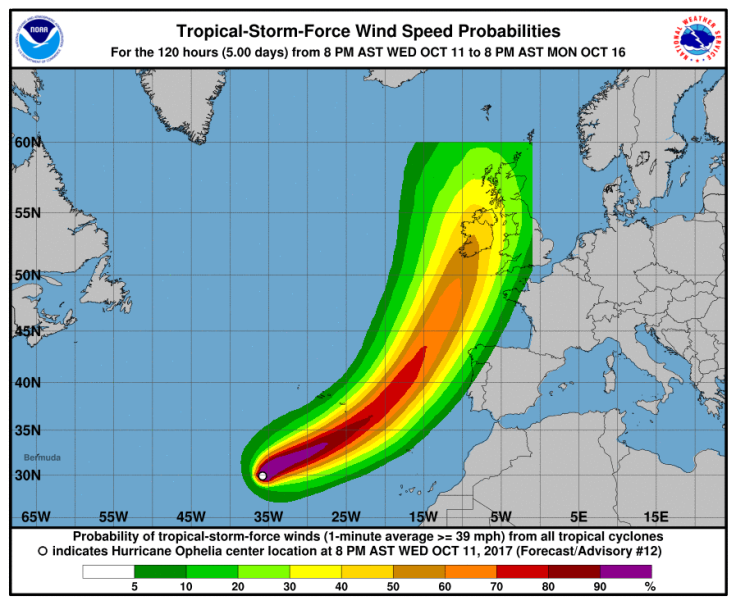 Hurricane Ophelia strengthened into a Category 2 storm Friday morning as it moved east-northeast through the Atlantic Ocean. The hurricane was poised to strike Ireland as potentially the strongest storm to hit the region since 1961.
Ophelia packed winds of up to 100 mph as it accelerated toward the Azores Islands Friday. Cooler waters in the open Atlantic mean Ophelia was expected to weaken as it moved, likely hitting Ireland by early next week, according to the National Hurricane Center.
Ophelia could be the strongest storm to hit Ireland since Hurricane Debbie in 1961, according to Bloomberg. Debbie killed 18 people and destroyed 25 percent of trees. In 2006, the remains of Hurricane Gordon swept over Ireland with winds of up to 65 mph. More than 120,000 people were left without power as a result of the storm, according to CNN.
Ophelia will likely be downgraded from hurricane status by the time it hits, but the storm could potentially bring winds of up to 80 mph when it strikes Ireland.
"At the moment, in one model the actual center in Ophelia is basically supposed to rub the west coast of Ireland," said David Reynolds, senior meteorologist at England's The Weather Co., according to Bloomberg. "It's really touch and go."
Ireland's weather service Met Eirann issued a "yellow" weather advisory for Ireland in preparation for the storm. The Road Safety Authority urged drivers to practice caution while driving over the weekend and into the coming week, cautioning about flying debris and windy weather.
"There is still a high degree of uncertainty regarding the exact track and evolution of the storm," Met Eirann said in its warning. "However, storm force winds, heavy rain and high seas are threatened."
As per the current forecast tracking Ophelia, the storm could cause $800 million worth of damage in Ireland and $300 million in the United Kingdom, Bloomberg reported, citing disaster modeler Chuck Watson.
Residents in Ireland and the United Kingdom were urged to monitor the progress of Ophelia over the coming days as the route and strength became more certain.
"It does look like it will come very close or pass over Ireland, so that will have a definite impact in terms of very strong winds and high seas," Met Eirann meteorologist Jean Byrne told The Irish Times. "The latest tracks have it coming very close. But there is still a lot of uncertainty."
© Copyright IBTimes 2023. All rights reserved.
FOLLOW MORE IBT NEWS ON THE BELOW CHANNELS