How Bernie Sanders' Free College Tuition Proposal Could Force Hillary Clinton To Embrace Education Reform In 2016 Campaign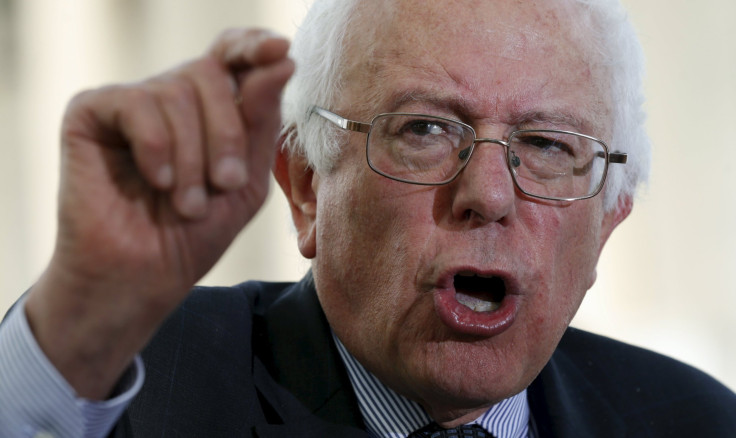 Newly announced presidential candidate Sen. Bernie Sanders proposed Tuesday an extreme way to improve college affordability: Eliminate tuition entirely. Sanders, I-Vt., introduced the "College for All Act," a piece of legislation that would give four years of tuition-free education to students at public colleges and universities.
"We have a crisis in higher education today," said Sanders, a 73-year-old self-described Socialist. "Too many of our young people cannot afford a college education, and those who are leaving college are faced with crushing debt. ... This is not what America is supposed to be about."
Sanders' legislation came after President Barack Obama's promise in January to make two years of community college free for all students. Neither measure is expected to survive the Republican-run Congress. The "College for All Act" also probably won't nab Sanders the Democratic presidential nomination. But experts said Sanders' bill does serve a purpose -- it forces conversation around a high-priority issue for young voters heading into 2016.
"He's not a major party candidate. He's certainly not Hillary Clinton," said Kei Kawashima-Ginsberg, the director of the Center for Information and Research on Civic Learning and Engagement in Washington, D.C. "When he comes and presents ideas like free college, young people have two reactions: One, 'That's great -- that's important to us.' Then they really wonder, 'What else is up with him?'"
The cost of college has been rising for years, with in-state public school students paying an average $9,139 a year in tuition and fees, and nonresident students at public colleges paying an average of $22,958, according to the College Board. Ten years ago, the average in-state student at a public four-year college paid $6,448. These days, about 70 percent of people from four-year colleges graduate with student loan debt.
Tuition hikes have put higher education increasingly out of reach for lower- and middle-class students. Nearly a quarter of students not enrolled in college said they couldn't afford to go, according to a 2012 report from the Center for Public Education, a research group under the National School Boards Association in Alexandria, Va. More than 60 percent students who did go to college didn't attend their first-choice school because it was too expensive.
Obama has championed college affordability for years, and in January he proposed "America's College Promise," a 10-year, $60 billion plan to give two tuition-free years of community college to anyone who's "willing to work for it." Students would have to attend at least half-time, keep a 2.5 GPA and make steady progress toward completing their program. But critics and conservatives branded Obama's proposal dead on arrival, saying it was too expensive and enabled low-achieving students.
Sanders' "College for All Act" goes even further. It would tax Wall Street transactions and put the money toward college tuition, raising up to $300 billion a year, he said at the news conference. Federal and state governments would dedicate about $70 billion a year to replacing the money institutions usually receive from student fees -- about $62 billion in 2013, according to a report from the State Higher Education Executive Officers association in Boulder, Colorado.
Overall, the legislation would cost $47 billion during its first year and about $750 billion over the next decade.
The bill also stops the government from collecting money off student loans, lowers interest rates, expands work-study options and rewards schools for limiting expenses, according to a news release.
Sanders' proposal could resonate with millennial voters, but they're unlikely to turn out for him, Kawashima-Ginsberg said. Young people only made up about 14 percent of Democratic primary voters in 2008. Millennials preferred Democratic frontrunner Hillary Clinton over Sanders 47 percent to 1 in a Harvard University Institute of Politics poll released in April.
Sanders knows he's not going to win the Democratic nomination, said Julian Zelizer, a political historian at Princeton University in New Jersey. So he's using the prominence he has gained as Clinton's challenger to shape the agenda for 2016. In order to do that, he had to start early with a big idea like tuition-free college, Zelizer said.
By announcing his bill, Sanders is showing that he and other Democrats recognize Americans' concerns about college affordability, said Matthew Chingos, a senior fellow at the Brookings Institution, a think tank in Washington, D.C. His case is helped by being a lawmaker and having a concrete bill behind his proposal. "He can have an influence in terms of the kinds of issues that get attention, get talked about and eventually get picked up by the candidate that does become Democratic nominee and potentially the next president," Chingos added.
That could be the true value in Sanders' candidacy for Democrats, regardless of whether voters turnout for his campaign, said Eric Davis, a professor emeritus in political science at Middlebury College in Vermont. "If he can raise issues and get the media to cover things ... in that respect, his campaign could be viewed as successful," Davis said.
© Copyright IBTimes 2023. All rights reserved.