How Much Will Snapchat's Stock Cost? A Timeline Leading Up To The App's Proposed $22.2 Billion Valuation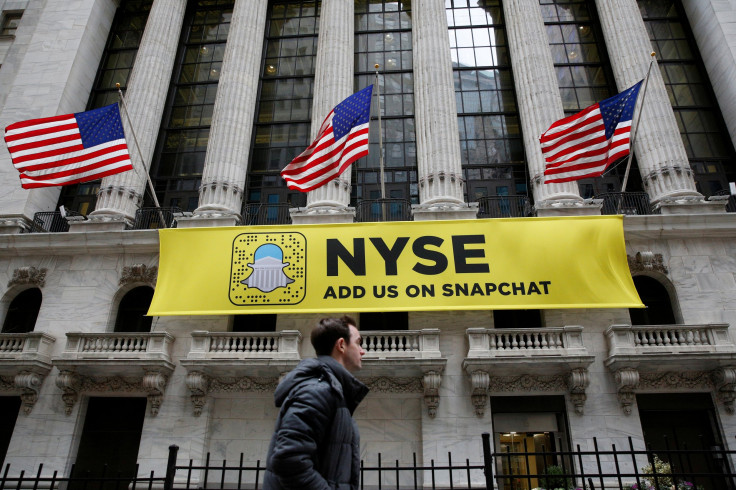 The video and photo messaging app Snapchat, which boasted 158 million daily users by the end of 2016, has set in motion plans to be more than just a way to send pictures of yourself with dog ears and flower crowns to friends. As of Thursday, investors could expect to trade $14 to $16 shares of the app's parent company Snap Inc., which is valued at up to $22 billion, by March 1. Below is a timeline of the development of Snap's initial public offering—its highs and lows, its rumors and its planned future.
Thirteen months after rejecting a buyout from Facebook Inc., Snapchat recruited Credit Suisse banker Imran Khan, who led the record-breaking IPO for Chinese e-commerce company Alibaba earlier in 2014.
May 26, 2015
At a coding conference in Rancho Palos Verdes, California, Snapchat co-founder and CEO Evan Spiegel announced his plans for an IPO—the first time he broached the subject publicly, the Wall Street Journal reported—along with his lack of interest in any acquisition offers similar to Facebook's two years prior.
Nov. 16, 2016
"Sources familiar" with Snapchat's IPO plans told Reuters the Venice, California-based company had filed for an IPO with the Securities and Exchange Commission amid value estimates of up to $25 million, which would make it the largest initial public offering since Alibaba's.
Feb. 2, 2017
With an estimated value of between $20 billion and $25 billion, Snap filed the paperwork necessary to raise $3 billion for its offering on the New York Stock Exchange, using the ticker symbol "SNAP." Dampening excitement a bit, the company also revealed that common shareholders would not have voting rights. On the same day, the Los Angeles Times reported that the IPO would be the biggest in the city's history.
Feb. 16, 2017
In an amendment to the initial SEC filing, Snap lowered its valuation to a range of between $19.5 billion and $22.2 billion, or $14 to $16 per share, still making it the largest tech company to hit the U.S. stock market since Alibaba.
Feb. 17 to March 1, 2017
Investors were set to meet with Spiegel and fellow company leaders in the Mid-Atlantic region of the U.S. Friday, in London Monday, in New York Tuesday and Wednesday, in Boston Thursday, in the Midwest Feb. 24, in Los Angeles and San Francisco Feb. 27 and 28 and in New York March 1, as part of Snap's investment pitch tour. The official launch was set for the tour's final day, at the New York Stock Exchange after market closing time—4:30 p.m.
© Copyright IBTimes 2023. All rights reserved.
FOLLOW MORE IBT NEWS ON THE BELOW CHANNELS