How To Shoot Down A Drone: Ray Guns, Nets And Malware Are Being Used To Knock Drones Out Of The Sky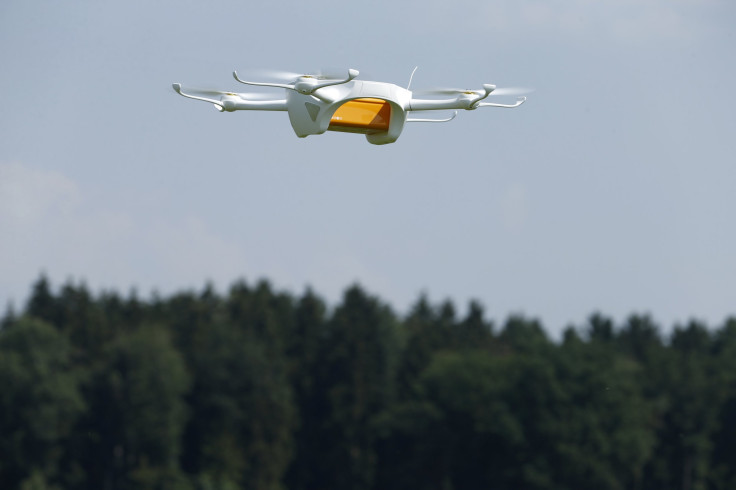 Think there are a lot of drones overhead? Just wait: This year is the first time drones are a go-to Christmas gift. The Federal Aviation Administration says 1 million new drones will be purchased in the U.S. this holiday season. Many will be carrying cameras and that's going to make for a lot of angry neighbors.
But there's already a whole industry dedicated to helping people bring down unmanned aerial vehicles giving them unwanted attention. Here are some of the best ways to win the dogfight brewing in the skies over your neighborhood.
Use A Net
A Tokyo police squad is patrolling the skies over Japan with a massive net capable of knocking UAVs out of the air. The plan, aimed at mitigating potential national security threats as well as curbing novice pilots, was put in place after a drone carrying a small amount of radioactive material landed on the roof of the Japanese prime minister's office in April (one man was later arrested in the incident).
Asahi Shimbum, a Japanese media outlet, released a video of the net in action Thursday:
There's also a new trend in anti-drone technology called the drone net gun. It's a low tech device that looks just like it sounds – a plastic slingshot that can be built with items from the local hardware store. A quick look at YouTube shows dozens of people have fashioned their own tools to fend off annoying snoopers.
Steal Your Idea From Science Fiction
"The Twilight Zone" never could have predicted this. A new shoulder-mounted rifle called the DroneDefender promises to use radiowaves to knock drones out of the sky from as far as 400 meters (1,312 feet) away. When the trigger is pulled, the weapon sends out an electromagnetic field meant to intercept the most popular GPS and ISM radio frequencies, which keep drones in the air.
"It can help us in numerous settings, from the White House lawn to bases and embassies overseas, from prisons and schools to historic sites," Alex Morrow, technical director for the project at Batelle, a private technology company, said in a statement quoted by Engadget. "It easily and reliably neutralizes the threat."
The project is still under development.
Set Up Your Own Force Field
Meet DroneShield. It's a Washington-based company that relies on acoustic technology to identify the sound of a drone approaching from as much as 150 feet away. DroneShield then issues an alert, either by email or text message, advising the anti-drone operator a bogey has entered the perimeter.
DroneShield already has been adopted by prisons trying to stop contraband, and it was in place along the 2015 Boston Marathon route, which had previously been declared a no-drone area by local lawmakers. The DroneShield was also effective enough to earn an order from "Star Wars" movie producers, who requested a DroneShield in 2014 to prevent leaks on the set of "The Force Awakens."
Learn To Code
It was only a matter of time before a hacker figured out how to take down a drone by manipulating its software. Drones are basically flying computers, after all.
Security researcher Rahul Sasi proved earlier this year it's possible to insert malicious programming code remotely into a Parrot AR drone by connecting to the same WiFi network. The software then accessed the drone's onboard computer, and eventually forced it to crash.
Not Clear if You Can Use a Shotgun
Approximately 37 percent of Americans already own the most effective anti-drone weapon there is: a gun. Shooting down a drone is not the brightest idea, but criminal mischief charges were dropped against a Kentucky man who used a 12-gauge shotgun to bring down a UAV that was harassing his daughter. Judge Rebecca Ward, who sits on the bench in Bullitt County, Kentucky, ruled vague laws around the drone activity mean the shooter didn't do enough to be arrested.
Ward told the courtroom she though "it's credible testimony that his drone was hovering from anywhere, for two or three times over these people's property, that was an invasion of their privacy and that they had the right to shoot this drone," WAVE-TV, Louisville, reported. "And I'm going to dismiss this charge."
But it depends on the laws in the state where drones are being shot.
A New Jersey man who shot down a drone near his family's residence in Cape May was indicted on two felony charges in August. He could face prison time for criminal mischief and possession of a weapon for an unlawful purpose.
The FAA has asked gunowners not to open fire on drones over concerns about collateral damage.
© Copyright IBTimes 2022. All rights reserved.
FOLLOW MORE IBT NEWS ON THE BELOW CHANNELS