How The US Lost UNESCO Voting Rights (And Why It's A Big Deal)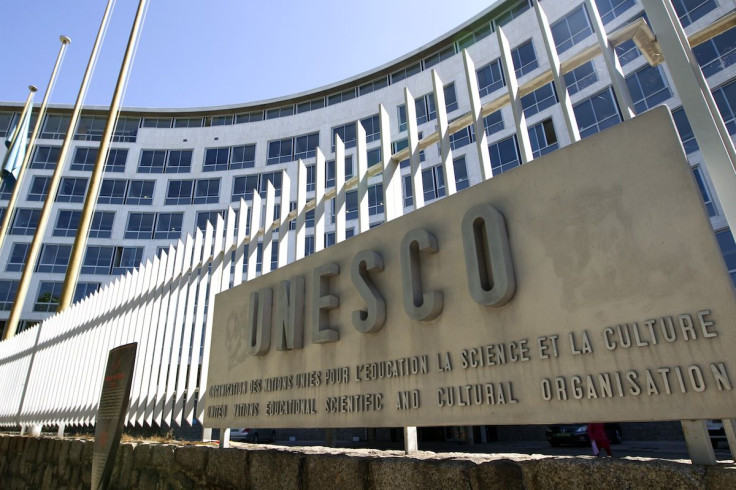 When you consider that the United States single-handedly deprived the United Nations Educational, Scientific and Cultural Organization, or UNESCO, of about 22 percent of its funding, it starts to make sense why the U.N.'s cultural arm suspended American voting rights.
That's right: Effective last Friday, neither the United States nor its staunch ally Israel has a vote in UNESCO, an organization that fronts global initiatives on everything from literacy to press freedom to heritage conservation to HIV/AIDS prevention. And since it was just the U.S. and Israel that got the figurative boot, you'd be right to suppose that the Palestinians were somehow involved.
Palestine joined UNESCO in October 2011 when the General Assembly voted 107-14 to make it the organization's 195th member. That vote was the first taken in a U.N. body since Palestinians embarked on a campaign for recognition as an independent state.
The U.S. said it was forced to cut its funding -- about $220 million over three years -- under a measure signed into law by President George H.W. Bush and another signed by President Bill Clinton -- both of which trigger an end of U.S. payments to any U.N. body that recognizes Palestinian statehood.
Conversely, a rule in UNESCO's constitution, last updated in 2001, rescinds voting rights to any "member state" that misses its two-year deadline to begin contributing once again.
So what does all of this mean? Well, for the United States, it can no longer vote for UNESCO leadership and no longer veto proposals from fellow nations or directly advance its own causes. Closer to home, tentative UNESCO World Heritage Sites like the Alamo and other Spanish missions in San Antonio, Texas, or Poverty Point in Louisiana, could be in jeopardy. Both of these proposed heritage sites were expected to create upwards of 1,000 new American jobs.
Perhaps more than anything else, the move undermines the United States' ability to exert "soft power," political science lingo for a persuasive approach to international relations that involves the use of economic or cultural influence rather than brute force or money. Organizations like UNESCO offer the U.S. a soapbox from which to promote democracy, education and human rights in places that are often hostile to American-led initiatives, but the massive budget cut has plunged the organization into a funding crisis and forced it to nix several programs.
Friday's decision at the General Conference in Paris marked the first time the United States has voluntarily given up its vote in an organization it belongs to. But it's not the first time Uncle Sam and UNESCO have butted heads. Washington actually withdrew from the organization in 1984 over what it perceived as wasteful bureaucracy and a third-world bias. It rejoined in 2002 and had been UNESCO's biggest supporter until two years ago.
The Obama administration tried but ultimately failed to push through a change in legislative language after UNESCO accepted the Palestinians in 2011. State Department spokeswoman Jen Psaki said Friday that President Obama was committed to restoring funding so the U.S. could regain its status as a voting member.
"UNESCO directly advances U.S. interests in supporting girls' and women's education, facilitating important scientific research, promoting tolerance, protecting and preserving the world's natural and cultural heritage, supporting freedom of the press and much more. It is in that vein that President Obama has requested legislative authority to allow the United States to continue to pay its dues to U.N. agencies that admit the Palestinians as a member state when doing so is in the U.S. national interest. Although that proposal has not yet been enacted by Congress, the President remains committed to that goal," Psaki said in a statement.
White House National Security Advisor Susan Rice took to Twitter Saturday to vent her frustration over the UNESCO fall-out. "Shameful that US has lost its vote at #UNESCO," she tweeted. "Congress needs to fix this. Current law doesn't punish the Palestinians; it handicaps the US."
A fresh round of peace talks between the Israelis and Palestinians, led by Secretary of State John Kerry, is set to wrap up in April. If the so-called Two State Solution fails, it's expected that Palestinian leaders will renew their bid for membership in other global organizations. If the Palestinians succeed, American lawmakers may have to sing a different tune, lest they lose their voice in, say, the International Atomic Energy Agency.
FOR FREE to continue reading
✔️ Unlock the full content of International Business Times UK for free
offer available for a limited time only
✔️ Easily manage your Newsletters subscriptions and save your favourite articles
✔️ No payment method required
Already have an account?
Log in
© Copyright IBTimes 2023. All rights reserved.