Unesco Adds 19 World Heritage Sites Including Mount Etna, Mount Fuji And North Korea's Kaesong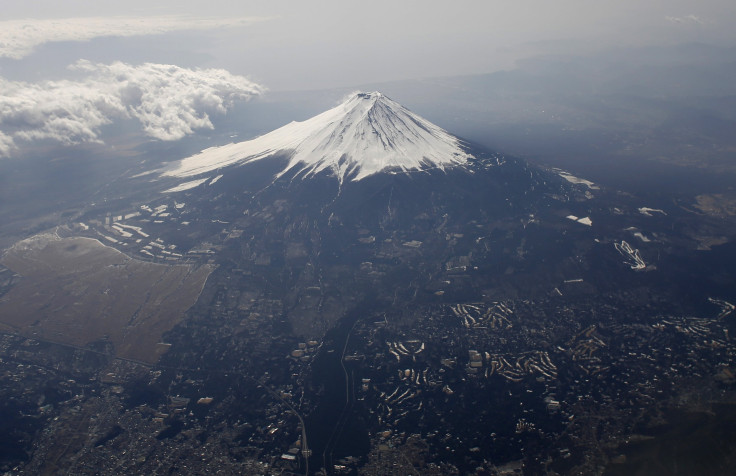 Unesco recognized two revered volcanoes as being of "outstanding universal value" this week when its World Heritage Committee announced a set of new additions to the prestigious World Heritage List. Though Japan's Mount Fuji and Italy's Mount Etna both made the cut, they did so for different reasons. Unesco listed Mount Etna, Europe's most active volcano, for its natural assets, while it cited Mount Fuji for its contribution to Japanese culture.
The 3,776-meter (12,460-foot) Mount Fuji is the Japan's highest peak, towering above Honshu Island southwest of Tokyo. The volcano hasn't erupted for more than 300 years, but remains a prominent subject in Japanese artwork, including wood block prints. Unesco said it had "inspired artists and poets and been the object of pilgrimage for centuries."
Of the 3,300-meter (10,900-foot) Mount Etna, meanwhile, Unesco said it had "notoriety, scientific importance and cultural and education value of global significance." The two volcanoes were arguably the most well known of the new additions to the World Heritage List this year.
The Committee will wrap up its meetings in Cambodia later this week, but said it had completed an update of World Heritage sites Sunday, bringing the grand total to 981 in 160 nations. Of those, 759 sites are cultural, 193 natural and 29 mixed properties.
Notable inclusions among the 19 additions in 2013 are the Hill Forts of Rajasthan (India), the terraced rice fields of Honghe Hani (China) and the historic monuments in Kaesong (North Korea). From the 10th to 14th centuries, Kaesong was the heart of the Koryo Dynasty, which unified the now-divided Korean peninsula for the first time. Unesco said it embodied "the political, cultural, philosophical and spiritual values of a crucial era in the region's history."
After the partitioning of the peninsula along the 38th parallel following World War II, Kaesong was the only place to change hands during the 1950-53 war. The two Koreas maintained a joint factory park in the city until increased tension in April forced its closure. The historic features of the city will form North Korea's second World Heritage site after a complex of ancient tombs in Pyongyang gained Unesco recognition in 2004.
Qatar and Fiji, meanwhile, joined the World Heritage List for the first time this year. The historic town of Levuka, Fiji's initial colonial capital, was deemed "a rare example of a late colonial port town that was influenced in its development by the indigenous community, which continued to outnumber the European settlers." Unesco said Qatar's walled coastal town of Al Zubarah offered "an outstanding testimony to an urban trading and pearl-diving tradition, which sustained the region's major coastal towns and led to the development of small independent states that flourished outside the control of the Ottoman, European and Persian empires."
Beyond adding new sites to its growing list, Unesco has another weapon in its conservation arsenal: World Heritage in Danger. This year, it placed Syria's six world heritage sites -- including the ancient city of Damascus and the ruins of Palmyra -- on the danger list to draw attention to the risks they face amid political instability.
"The danger listing is intended to mobilize all possible support for the safeguarding of these properties, which are recognized by the international community as being of outstanding universal value for humanity as a whole," Unesco said. The world's largest raised coral atoll, Rennell Island in the Solomon Island group, also joined World Heritage in Danger due to the threat of logging, while Iran's ancient Bam Citadel was removed following "sound management."
Fears that the Great Barrier Reef would join the danger list were quelled last week when the World Heritage Committee recommended considering it next year if Australia doesn't show a firm commitment to protecting the world's most extensive underwater ecosystem from a variety of threats brought about by industrialization. In a meeting last Tuesday, the International Union for Conservation of Nature expressed concerns about a number of proposed gas and coal port projects along the Great Barrier Reef coast in the state of Queensland.
New World Heritage Sites Added in 2013
Natural sites: Xinjiang Tianshan (China); Mount Etna (Italy); El Pinacate and Gran Desierto de Altar Biosphere Reserve (Mexico); Namib Sand Sea (Namibia); Tajik National Park (Tajikistan).
Cultural sites: Red Bay Basque Whaling Station (Canada); Cultural Landscape of Honghe Hani Rice Terraces, (China); Historic Monuments and Sites in Kaesong (Democratic People's Republic of Korea); Levuka Historical Port Town (Fiji); Bergpark Wilhelmshöhe (Germany); Hill Forts of Rajashtan (India); Golestan Palace (Iran); Medici Villas and Gardens in Tuscany (Italy); Fujisan, sacred place and source of artistic inspiration (Japan); Historic Centre of Agadez (Niger); Wooden Tserkvas of the Carpathian Region in Poland and Ukraine (Poland / Ukraine); University of Coimbra – Alta and Sofia (Portugal); Al Zubarah Archaeological Site (Qatar); Ancient City of Tauric Chersonese and its Chora (Ukraine).
© Copyright IBTimes 2023. All rights reserved.