How Would Another Government Shutdown Affect The Economy? President Obama Warns Of Peril, Urges Republicans To Pass US Budget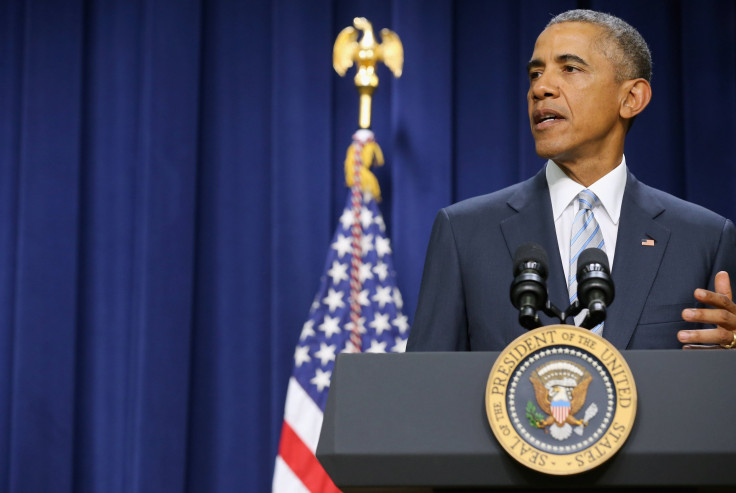 With less than two weeks until a potential second government shutdown in three years, U.S. President Barack Obama urged Republicans in Congress to approve a budget deal before a Sept. 30 deadline. Negotiations on Capitol Hill are threatening to roll into October, a move that would furlough federal employees and shutter national parks, the president warned in his weekly address Saturday.
"If Republicans want to help, they can choose, right now, to pass a budget that helps us grow our economy even faster, create jobs even faster, lift people's incomes and prospects even faster," Obama said. "There's nothing principled about the idea of another government shutdown. There's nothing patriotic about denying the progress you've worked so hard to make."
Conservative lawmakers are refusing to back any budget plan that includes funding for Planned Parenthood, a reproductive health organization that performs abortions, as well as other services. The nonprofit group received $528 million in federal funding last year, amounting to more than 40 percent of its $1.3 billion in revenue last year, according to Planned Parenthood's latest annual report.
The last government shutdown happened in 2013, after GOP lawmakers moved to block or delay funding for the Obama administration's Affordable Care Act, aka Obamacare. The shutdown, lasting two weeks, saw roughly 800,000 federal employees sent home and national parks and services closed.
In his address Saturday, Obama said Congress would jeopardize years of hard-fought economic progress by failing to fund the government on time. He pointed to steady growth in the U.S. manufacturing and housing sectors. Since 2009, when the president took office, "Our businesses have created more than 13 million new jobs," he said. "The unemployment rate is lower than it's been in over seven years."
A shutdown would result in millions of dollars in lost wages and spark volatility in global equity markets, at a time when China's slowdown is already causing stocks to plunge, observers have said. But the bright outlook Obama described Saturday doesn't tell the whole story of the U.S. economic recovery, some economists have argued.
While the official unemployment rate -- 5.1 percent -- has nearly halved since the depths of the recession, the U.S. labor market is still sluggish. Federal Reserve Chair Janet Yellen said the unfinished jobs recovery is one of the key reasons the U.S. central bank decided not to raise its benchmark interest rates Sept. 17.
"At least to some extent the standard employment rate understates the degree of slack in the labor market," Yellen told reporters Thursday. She pointed to "very high levels of part-time, involuntary employment" in the economy.
The unemployment rate doesn't include those workers taking part-time gigs while searching for full-time employment. It also doesn't account for people who recently gave up looking for jobs after searching unsuccessfully for months. By folding these groups into the equation, the unemployment rate more than doubles to 10.3 percent.
Adequate wage gains are similarly lagging. Economists say year-to-year earnings growth of 3.5 percent is in line with economic expansion and target inflation levels. But current earnings growth stands at about 2 percent, year-to-year, according to federal labor statistics.
In any case, a federal government shutdown would undermine efforts to boost wages and create jobs. Seeking to avoid such an outcome, Republicans in the House of Representatives say they are attempting to resolve the fight over Planned Parenthood funding through legislation. The GOP-led House passed a bill Friday to block payments to the organization for a year, instead diverting funding to thousands of community health centers. Republican leaders are hoping the effort will relieve some pressure surrounding budget negotiations, the Associated Press reported.
© Copyright IBTimes 2023. All rights reserved.