HTC One M8 Vs. Samsung Galaxy S5: 2014 Android Flagships Improve On Fans' Favorite Features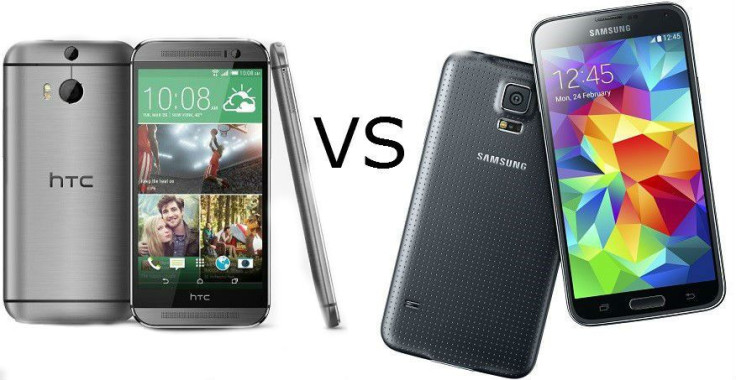 The HTC One (M8) and Samsung Galaxy S5 are now official and are poised among the 2014 flagship devices to watch. One main similarity between the two devices is that they both take great inspiration from their predecessors, but notably in different ways.
The Samsung Galaxy S5 maintains many specs formerly seen on the Galaxy S4, such as a 1080p display, 2GB RAM and 16GB/32GB internal storage options. But Samsung beefs up the Galaxy S5 camera to 16 mega-pixels, much like it did with the 13-megapixel camera on the Galaxy S4. The HTC One M8 retains an exterior design similar to the original HTC One, but bumps the amount of metal used from 70 percent in the HTC One to 90 percent in the HTC One M8.
There is much more to the HTC One M8 and the Galaxy S5 than how they are similar to older flagships. Let's compare the handsets to one another to see what the next generation of flagships has to offer.
Dimensions And External Design
HTC has especially been advertising the aluminum unibody on the HTC One M8, which it describes as much more premium than the "cheap plastic" build on the Galaxy S5. However, the all of the metal used on the HTC One M8 does make it a bit hefty at 160 grams in comparison to the 145 gram weight of the Galaxy S5 .
As said, the HTC One features a design made of 90 percent aluminum, which brings a smooth finish and a sturdiness that makes for quite enjoyable handling. With dimensions of 146.4 x 70.6 x 9.4 mm, the HTC One M8 is the larger of the devices, but is notably thinner. Samsung does incorporate its usual polycarbonate exterior on the Galaxy S5; however, the manufacturer has opted for a "modern glam" look on the device with a perforated back panel intended to introduce texture into the handling of the new flagship. The Galaxy S5 is 142 x 72.5 x 8.1 mm in dimensions and shies away from the "thinner and lighter" marketing that Samsung used for its 2013 flagships.
Both devices have already received accolades for their very different displays. The HTC One M8 features a 5-inch HD Super LCD3 display at 440ppi, while the Samsung Galaxy S5 features a 5.1-inch Full HD Super AMOLED display at 432ppi. The HTC One M8 display has already proved to be quite resilient in torture tests, and was able to endure a beating from a hammer, until the tool's slimmer claw side finally cracked its screen. The Samsung Galaxy S5 display has been named as the "best performing smartphone display" by the experts at DisplayMate, which did an extensive review of the device.
Internals
The HTC One M8 and Samsung Galaxy S5 are quite similar under the hood. Both devices feature a Qualcomm Snapdragon 801 processor, 2GB RAM and 16GB and 32GB internal storage options with micro SD support up to 128GB. Despite running the same series of chipset, the Galaxy S5 gets a little bit of an advantage in that it features the MSM8974AC chip, which clocks in at 2.5GHz; the MSM8974AB chip in the HTC One M8 clocks in at 2.3GHz.
Software
Both devices also run the latest Android 4.4.2 KitKat operating system, but each has its own user interface, HTC Sense and Samsung TouchWiz. Both UIs have opted for a more minimalist take on previous iterations.
TouchWiz in particular has been updated to more favor Google's stock Android system in the wake of the company's patent licensing deal with Samsung. TouchWiz includes updated app versions including S-Note, Watch ON, S Health and S Translator and also includes manager apps for Samsung's Gear 2 and Gear Fit companion devices.
The Galaxy S5 also has a new Finger Scanner feature, which acts as a simple yet effective mention of security. It allows users to complete online payments through PayPal with easy user verification for example. Finger Scanner utilizes Private Mode, which acts as a personal storage area for confidential documents, and Kids Mode, where parents can choose apps used by their children. To activate the Finger Scanner users need only swipe a finger down and across the home button.
HTC Sense 6 has been nicknamed "sixth Sense" and includes new functions such as "Motion Launch", which allows users to turn on the display by double-tapping the screen. From there, users can slide the lock screen to unlock directly into BlinkFeed, the home screen, or voice-dialing mode.
HTC's BlinkFeed homepage is now open for third-party developers to add content. In addition to BlinkFeed, HTC Sense apps such as Gallery, TV, and Zoe are also now available on the Google Play Store.
Camera
The HTC One M8 one's main camera is actually a "Duo Camera" configuration with a 4-megapixel lens and a 2-megapixel depth of field sensor. The second sensor collects distance and position information about a photo and uses that information to apply effects and filters. Both lens in the duo camera as well as the 5-megapixel front camera on the HTC One M8 "UltraPixel" sensors, which offer pixels 2.0 µm in size. Similar to the HTC One, the HTC says it aims to focus on the quality of the pixels not simply the amount of pixels.
Among the HTC One M8 camera effects are 'unfocus,' which provides detail to certain aspects of a photo while blurring out other aspects and 'foregrounder' which floods the background of a photo with various artistic effect while leaving the front most aspect of a photo unchanged. These effects in particular utilize the HTC One M8 duo camera. Other effects include 'seasons,' which makes rain, snow, or leaves fall along an imagine, 'dimensions plus,' which creates a fun house mirror effect by tilting and panning and images, and 'touch up' which allows users to make edits to faces in an image.
The Samsung Galaxy S5 features a 16-megapixel camera, which includes fast autofocus tech, selective focus and HDR rich tone. In particular, the camera features Phase Detection Auto Focus, which improves response time and the photography experience; Selective Focus, which allows users to control what is in focus in a shot; and Real-time HDR, which captures images just as they appear in preview.
Battery
The HTC One M8 features a 2,600 mAh Non-removable Li-Po battery, which provides up to 496 hours of power on standby with 3G enabled and up to 20 hours of talk time. The Samsung Galaxy S5 features a 2800 mAh Li-Ion battery, which provides up to 390 hours of power on standby and 21 hours of talk time.
Price And Availability
The HTC One M8 will be available in over 100 countries and 230 carriers starting April 10, but U.S. and Canadian carriers including AT&T, Sprint, Verizon, Bell, Telus and Rogers already have the device available for purchase online. Verizon also currently has the HTC One M8 available in stores exclusively until April 9. The HTC One M8 is selling for approximately $199.99 with a two-year contract and between $599.99 and $639.99 off-contract. The HTC One M8 for T-Mobile will be available starting April 11.
The Samsung Galaxy S5 will be available in over 150 countries starting April 11 and is currently available for pre-order in several markets. In the U.S., the Galaxy S5 is available for pre-order at T-Mobile, AT&T, Sprint, U.S. Cellular, Best Buy and Radio Shack. The Samsung Galaxy S5 is selling for between $199.99 and $229.99 with a two-year contract and between $649.99 and $660 off-contract. Verizon has not yet indicated its availability for the Galaxy S5.
Verdict
With the HTC One M8 and the Samsung Galaxy S5 containing a lot of the same basic features, it could be difficult to determine, which is the preferable device by tech specs alone. Prospective customers will have to look toward other features such as the build, camera quality and flagship apps in order to determine which devices is right for them. Maybe a prospective customer is trying to look for a specific feature that their previous handset lacked. Maybe owners of a HTC or Samsung predecessor want to try something new. The HTC One M8 and the Samsung Galaxy S5 will largely cater to specific tastes.
© Copyright IBTimes 2023. All rights reserved.