Samsung Galaxy S5 Release Date Arrives: Device Introduces 16-MP Camera, Water Resistance And Finger Scanner [PHOTOS]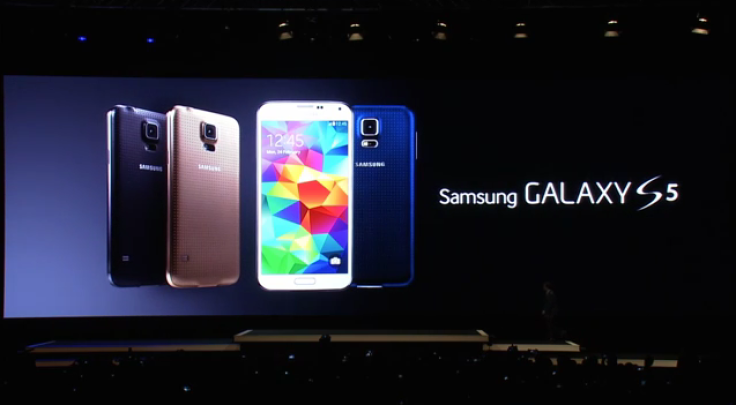 The Samsung Galaxy s5 is now official in an unveiling that provided just a little less pomp and circumstance than has come to be expected from a Samsung event. Samsung Unpacked: Episode 1 opened with a string orchestra before the Galaxy S5 was announced at the World Mobile Congress in Barcelona.
"I truly appreciate the 200 million customers around the world who have chosen our Galaxy devices." said Samsung President J.K. Shin.
According to Shin, Samsung has learned over several generations of Galaxy device what customers value the most: a simple yet powerful camera, faster and seamless connectivity, and to stay fit.
Our first glimpse of the Samsung Galaxy S5 shows a perforated back panel with a glossy finish, available in blue, white, black and gold color options. The device features a wider screen, a 5.1-inch Full HD Super AMOLED display, just .1 inch short of what was long rumored. It features an adaptive display technology, which analyzes the light to optimize the Galaxy S5 screen for the best viewing experience. An updated user interface is less cluttered and also features an updated settings menu. Device 5 features a 2,800mAh battery (up from the 2,600mAh camera on the Samsung Galaxy S4), which provides 12 hours' video playback and 10 hours' web browsing.
The Samsung Galaxy S5 features a 16-megapixel camera, which includes fast autofocus tech, selective focus and HDR rich tone. In particular, the camera features Phase Detection Auto Focus, which improves response time and the photography experience; Selective Focus, which allows users to control what is in focus in a shot; and Real-time HDR, which captures images just as they appear in preview.
The Samsung Galaxy S5 includes connectivity such as full LTE coverage (up to 8 bands in any region), as well as WiFi MIMO 802.11ac, a download booster, which prompts speeds up to 400Mbps, notably just sort of LTE-A speeds.
The water and dust-resistant Samsung Galaxy S5 boasts an Ingress Protection Rating of IP67, meaning the device can function in water for up to 30 minutes in up to 1 meter or water.
The new Ultra Power Saving Mode feature on the Samsung Galaxy S5 allows the device to stay on standby for up to 24-hours when battery power runs low. To conserve battery when necessary, the Galaxy S5 display go to black and white and will shut off all nonessential services.
The new Finger Scanner feature acts as a simple yet effective mention of security; it allows users to complete online payments through PayPal with easy user verification for example. Finger Scanner utilizes Private Mode, which acts as a personal storage area for confidential documents, and Kids Mode, where parents can choose apps used by their children. To activate the Finger Scanner users need only swipe a finger down and across the home button.
Samsung Galaxy S5 users will also find updates to the S-Health app, which is optimized with the device's built-in heart rate monitor.
In addition to the Samsung Galaxy S5 unveiling, the Samsung Gear 2 and Samsung Gear Fit were also showcased, after being announced on Sunday.
The Samsung Galaxy S5 and its companion devices will be available to 150 countries starting April 11.
What did you think of Samsung Unpacked Episode 1 and the Samsung Galaxy S5 unveiling? Let us know in the comments below.
© Copyright IBTimes 2023. All rights reserved.