Hu Jintao Set To Step Down From All Posts, Under One Condition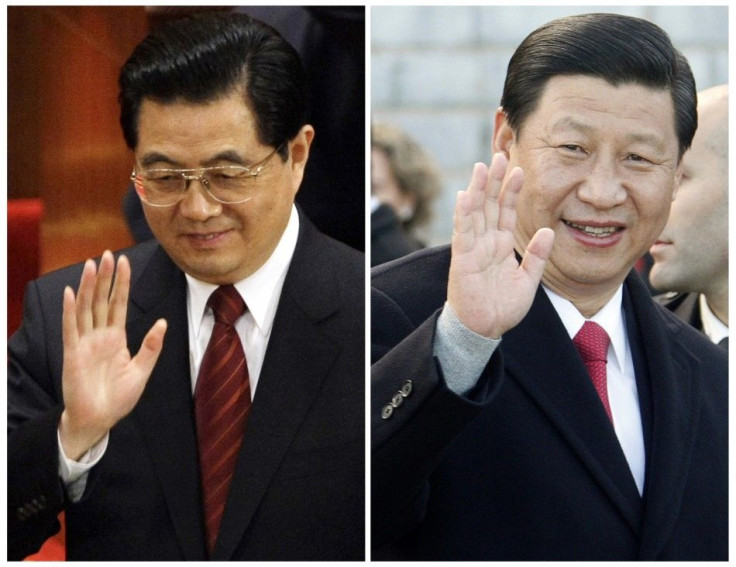 On Wednesday, China's 18th National Congress of the Communist Party of China (CPC) concluded its week-long meeting in Beijing, with President Hu Jintao stepping down after the new CPC Central Committee was elected.
Hu, 69, delivered a final speech to the Party Congress, consisting of 2,270 representatives from various parts of China. With Hu stepping down, China awaits the formal announcement of its newest leader, likely to be current member of the CPC Central Committee, 59-year-old Xi Jinping. Though this will not formally announced until Thursday, in the Great Hall of the People.
According to the AP delegates cheered after the announcement that Xi was unanimously voted into the Central Committee, a sign of solidarity ahead of his selection as future national leader. The 205-member Central Committee also includes the designated future premier, Li Keqiang.
One delegate, Si Zefu, the president of Dongfang Electric Corp., based in Chengdu, said the reactions to the nominations were all positive.
"We were very happy, and the whole assembly responded with warm applause," he said.
China's older leaders, like former President Jiang Zemin, have also stepped down from posts in the Central Committee.
Many have speculated that Hu will still keep his post as the head of commission that oversees the Chinese military, like most former leaders do. However, foreign media is reporting otherwise.
Japanese newspaper Asahi Shimbun is reporting that Hu Jintao will "step down from all posts he now holds after the 18th National Congress concludes on Nov.14".
The paper cited several party sources confirming that Hu will no longer hold the positions of general secretary of the Party, president, and chairman of the Central Military Commission, after a private meeting among high-ranking officials on Nov. 11.
Xi Jinping is slated to succeed in all three of Hu's positions, even after reportedly asking that Hu remain in some. Hu's decision to fully retire from all posts came with a caveat: that all high-ranking party officials would not intervene in politics after retirement, including Jiang Zemin. The former president has been very involved in China's politics since his retirement from official roles in 2005. Jiang also held decision-making power in nominating the incoming Politburo Standing Committee, a few of whose likely members he has close personal ties with.
The establishment of these conditions is said to be Hu's contribution in China's reformation.
If reports are true, this will give likely future president Xi Jinping more flexibility when he takes over leadership. The world will be watching as he and China's new leadership tackle key issues like China's sustainable development, economic reform, social equity, rising tensions with Japan, and the growing influence of China's digital culture.
© Copyright IBTimes 2023. All rights reserved.