Libya News Update: U.N. Ends Libya Mission, Gadhafi's Killers Questioned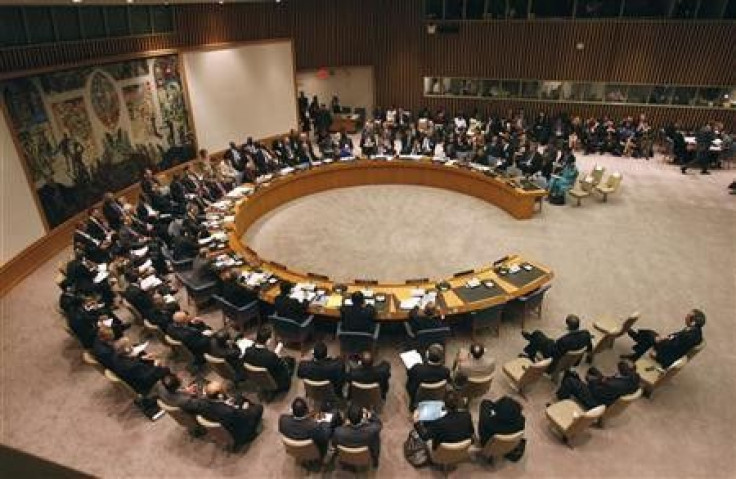 With Moammar Gadhafi now dead and buried (in an unmarked grave in a secret desert location) Libya begins the rebuilding process and plans for the future.
On Thursday, the United Nations Security Council unanimously voted to end the mission in Libya. The vote will lift the no-fly zone over the country that was imposed on March 17, during the onset of the Libyan revolution.
The Security Council also recommended that NATO end its involvement in Libya.
NATO provided much-needed air support for the revolutionary fighters, and has been actively supporting the National Transitional Council, Libya's interim government.
Worried about small loyalist factions and insurgent tribes finding Gadhafi's weapons caches, NTC leader and Libya's interim Prime Minister Mustafa Abdel Jalil on Wednesday urged NATO to stay for at least one month more to help with security.
Nonetheless, NATO is expected to confirm its plan to leave Libya by Oct. 31. Ambassadors from the NATO's 28 member states will meet in Brussels on Friday to formally reach a decision, according to Reuters.
All indications are they will stick to their original decision, a NATO official told the news wire. Therefore NATO per se is not going to have any involvement after October 31 and there will no longer be a NATO operation over Libya.
Meanwhile, the cause of Gadhafi's death in Sirte last week is still a topic of interest. The details are still unclear, but the fact that Gadhafi was found alive and then died in NTC control has concerned many international parties.
The NTC said Thursday that it will conduct an investigation into Gadhafi's death. The Libyan leaders added that they are prepared to prosecute their own soldiers if it is discovered that Gadhafi was shot and killed after his capture, according to the Agence France Presse.
We had already launched an investigation. We have issued a code of ethics in handling of prisoners of war. There were some violations by those who are unfortunately described as revolutionaries. I am sure that was an individual act and not an act of revolutionaries or the national army, the top interim told the French news agency.
We had issued a statement saying that any violations of human rights will be investigated by the NTC. Whoever is responsible for that [Gadhafi's killing] will be judged and given a fair trial.
Criticism of the NTC and NATO has come from all sides, and the government is certainly feeling the pressure to investigate Gadhafi's death. Libya's new government hopes for U.N. representation, and with the United Nations Council on Human Rights demanding an open and thorough investigation into Gadhafi's death, the NTC would do well to comply.
On Wednesday, Russian Prime Minister Vladimir Putin condemned the media's coverage of Gadhafi's death.
Almost the entire Gadhafi family was killed. His body was shown on all the world channels. You could not watch without disgust, news agencies quoted Putin as saying.
What is that? Putin exclaimed. They show a bloodied man, wounded, still alive but getting beaten to death. And they splash that all over the screen.
Russia, long a supporter of Gadhafi's Libya, has been critical of NATO's involvement. After the death of the former Libyan leader, Putin and Medvedev has chosen their words carefully, mostly saying that they hope Libya can form a new, democratic society.
© Copyright IBTimes 2023. All rights reserved.