Hurricane Arthur Update: Storm Moves Offshore Again After Forcing Evacuations In NC, Bound For Nova Scotia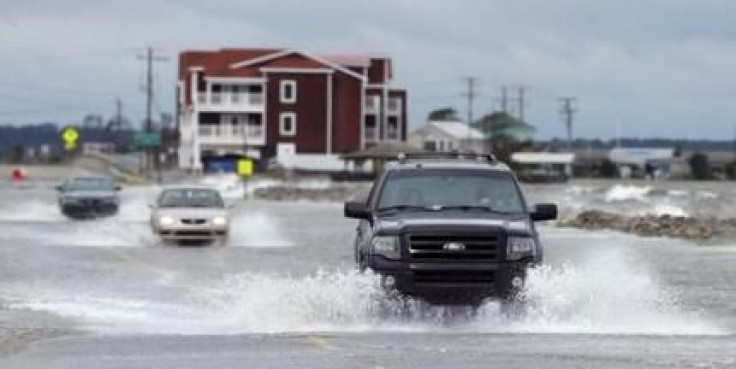 Update as of 7:38 a.m. EDT: Hurricane Arthur has started moving offshore and away from North Carolina's Outer Banks early Friday while heavy rains caused flooding in the region, according to media reports.
More than 22,000 people in North Carolina were without electricity early Friday. The Weather Channel wrote on its Twitter account that the hurricane damaged parts of Highway 12 at Pea Island while the North Carolina Department of Transportation, or NCDOT, reportedly blocked the highway toward Hatteras Island, while the bridge between Nags Head and Manteo was closed due to flooding.
"Hurricane Arthur will continue to move east of the Northern Outer Banks with gradually improving conditions this morning," NCDOT wrote in an advisory.
The hurricane is expected to make landfall in Nova Scotia, one of Canada's three maritime provinces, early on Saturday, NBC News reported.
Hurricane Arthur made landfall at the southern end of North Carolina's Outer Banks late Thursday, forcing thousands of vacationers in the state to scrap their Independence Day plans amid evacuation orders.
The first hurricane of the Atlantic season crossed the coast near Cape Lookout with maximum sustained winds of 100 mph while the eye of the hurricane was moving up the west side of Pamlico Sound, the largest lagoon along the U.S. east coast, National Hurricane Center said. Hurricane warnings were in effect from Ocracoke Inlet, N.C., to the Virginia border and east to Albemarle Sound. The storm was moving at 23 mph.
"We're most concerned about flooding inland and also storm surges in our sounds and our rivers further inland," North Carolina Gov. Pat McCrory said, according to Associated Press, adding that more than 6,000 homes and businesses lost electricity Thursday evening.
NHC reported early on Friday that tropical storm conditions are expected to reach the New England warning area by Friday night, adding that isolated tornadoes in portions of coastal North Carolina and southeastern Virginia are also a possibility through Friday morning.
Tropical storm conditions are expected to reach New England by Friday night.
The hurricane, which was downgraded to a Category 1, is reportedly expected to change little in terms of storm strength, and the weather service has warned of "large and damaging waves" and widespread flooding in the region, according to the Los Angeles Times.
"The hurricane is a serious one that presents substantial risks due to its anticipated high winds and potential for ocean overwash and soundside flooding," the Dare County Emergency Management center warned, the LA Times reported. "Significant ocean overwash is expected."
Chad Myers, a CNN weather expert, said that the storm has become more dangerous after it developed an inner eye wall. "That's concerning, because the smaller the eye gets, the stronger the winds get," he said.
© Copyright IBTimes 2023. All rights reserved.