Hurricane Irene New York: State of Emergency Declared, Evacuations May be Necessary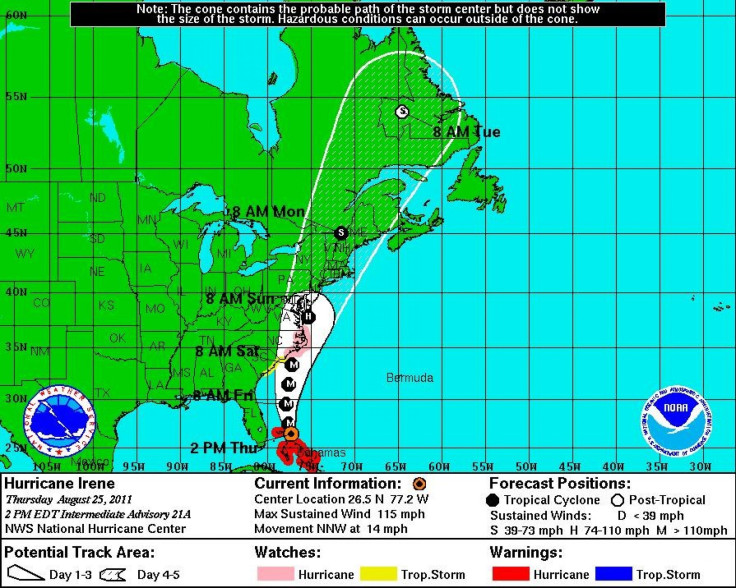 New Yorkers living in coastal areas are being warned to prepare for evacuation as Hurricane Irene seemingly heads straight for them. The exact path of the storm remains unclear, but meteorologists are increasingly predicting nothing short of a catastrophe for New York City.
Mayor Bloomberg said Thursday that the Category 3 storm is climbing up the Eastern seaboard and Gov. Cuomo declared a state of emergency.
New York City has dispatched a fleet to police precincts in vulnerable, low-lying areas that may trap residents. Mandatory evacuations have begun in North Carolina, where President Obama has declared a state of emergency.
North Carolina, Virginia and New Jersey governors have all declared states of emergency.
The National Weather Service said that Hurricane Irene will probably break shore as a Category 1 hurricane. This type of hurricane packs winds of 90 mph, bringing more than a foot of rain with it.
According to NHC Director Bill Read, Irene will be a Category 2 storm when it hits New York City, The Associated Press reported. A Category 2 storm's winds reach between 96 and 110 mph.
Mayor Bloomberg said that he will let New Yorkers know whether they should evacuate Friday night, and that evacuations will probably be voluntary.
The Metropolitan Transportation Authority said in a statement that Because of the severity of the wind and rain associated with the hurricane, there may be a partial or full shut down of our services to ensure the safety of our customers and employees.
Bloomberg warned New Yorkers not to swim in rough surf and that homeless and elderly outreach programs are being established.
Officials expect the hurricane to reach New York by Sunday at mid-day or earlier.
© Copyright IBTimes 2022. All rights reserved.
FOLLOW MORE IBT NEWS ON THE BELOW CHANNELS