Hurricane Matthew Death Toll: Florida, Haiti Suffer Extensive Damage In Aftermath [PHOTOS, VIDEO]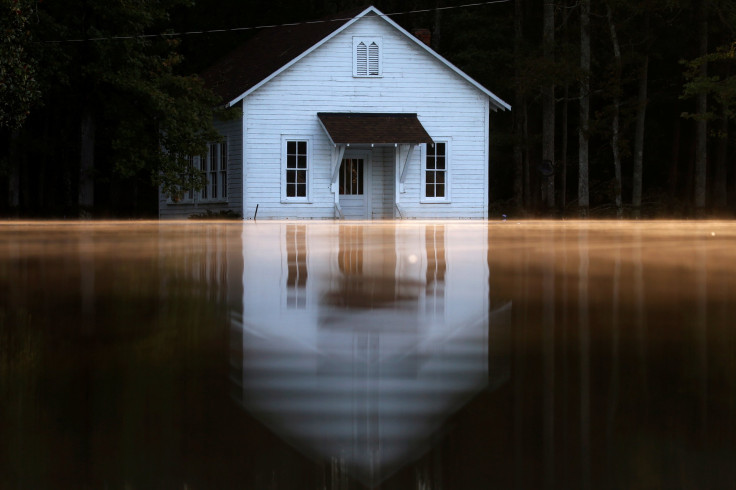 Hurricane Matthew has wreaked havoc across the Caribbean and southeastern U.S.
The severe storm claimed up to 1,000 lives in Haiti and at least 28 in the U.S. Matthew caused at least $6 billion worth of damage, according to USA Today.
Here's a recap of Hurricane Matthew's gruesome aftermath:
The Caribbean
By the time Hurricane Matthew hit the eastern Caribbean, it had become a Category 5 hurricane, with winds up to 160 miles per hour. It made landfall in Haiti and eastern Cuba on Oct. 4 as a Category 4 hurricane, then struck the Bahamas for the next two days as a Category 3 and 4, according to Weather.com.
Haiti was by far hit the hardest, leaving the death toll at 1,000 people as of Sunday, Oct. 9, according to Reuters. In one coastal village, at least 300 victims are still isolated and inaccessible for medical treatment. The UN humanitarian agency in Geneva has made an emergency appeal for nearly $120 million in aid, saying 750,000 people in southwest Haiti alone are in need of "life-saving assistance and protection," as reported by the IBTimes UK.
One of the main concerns following the devastation is the spread of cholera, according to Reuters.
Cholera causes severe diarrhea and can kill within hours if untreated. It is spread through contaminated water and has a short incubation period, which leads to rapid outbreaks, Reuters explained.
In the commune of Jeremie, authorities had to start burying the deceased in mass graves, according to Reuters. Bodies were beginning to decay, which is another way cholera could spread.
Florida
Although Matthew never made landfall in Florida, the hurricane, which was Category 3 at this point, left nine people dead, including a 9-year-old boy, as it traveled across the eastern coast, according to ABC. There were also over 150,000 power outages.
A tree-removal crew member in Florida clearing debris was killed Monday when a log rolled on top of him. CNN also reported Jacksonville was not hit as hard as initially feared, but several nearby communities faced extensive damage with water surging down some streets and massive trees knocked over. Part of the Jacksonville Beach Pier was also washed away.
The Carolinas
Matthew made first official U.S. landfall about 40 miles northeast of Charleston, South Carolina on Oct. 8 as a Category 1 storm, according to Weather.com. Massive floods downed trees and closed roads, leaving three people dead and 800,000 homes and businesses without power, USA Today reported.
In the tiny town of Nichols, South Carolina, at least 100 people spent the night on the third floor of the town hall.
North Carolina had it much worse. Matthew left 11 people dead and about 1,500 who had to be rescued early Monday, Oct. 10, The Chicago Tribune said. Most were in knee-deep water, while some fled to rooftops as the brown waters swirled around them. The Tribune also reported it was the worst aftermath since the $3 billion in destruction caused by Hurricane Floyd in 1999.
The hurricane has passed, but flooding is expected to continue for the rest of the week, according to the Tribune. At least three rivers were expected to reach record levels, some not cresting until Friday.
"I've been here right at 28 years," county Emergency Management Director Stephanie Chavis said. "This seems to be the worst one we've had in my career."
The good news is that emergency planners now have sophisticated formulas that can precisely determine a river's crest and determine which buildings will be flooded, according to the Tribune. However, even those models have their limits, as they cannot determine whether a dam or levee will break.
Georgia
Despite four deaths, Georgia escaped much of Matthew's damage. Savannah and most of the state avoided the worst effects of the Category 2 hurricane, but the storm still caused floods and power outages across the state, according to WFAA 8.
Downed trees and closed roads hit much of the southeastern part of the state. Officials described what St. Simons and Jekyll Islands faced as a "1 in 500-year storm surge event" with a 9-foot wall of water carrying 25-foot waves, as reported by WFAA 8.
Authorities in coastal Georgia and South Carolina told residents it may take days or even weeks to restore electricity and remove all the debris. Some people who attempted to return home became frustrated with officials who told them it was still unsafe.
Maureen Miller, her family and dog finally did make it back to their coastal Georgia home. She said she now wishes she hadn't heeded the evacuation warnings after finding her home undamaged.
"I will never evacuate again," Miller said. "If we stayed, we'd be fine. I'm sure there are a lot of people who feel the same way."
© Copyright IBTimes 2022. All rights reserved.
FOLLOW MORE IBT NEWS ON THE BELOW CHANNELS