Hurricane Sandy: Nuclear Reactors In Storm Path Stay Alert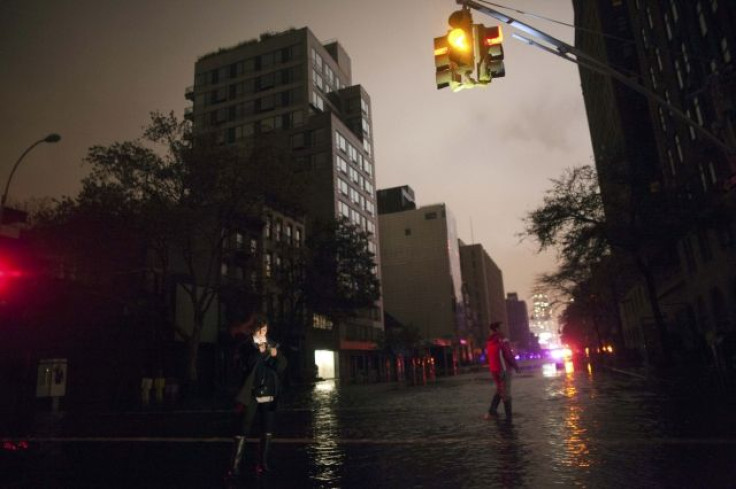 At least two major New Jersey nuclear power plants are facing shutdown for precautionary reasons as federal regulators monitor ten facilities in the path of Sandy, downgraded from hurricane to superstorm.
The nuclear reactors in Sandy's current path include units at Public Service Enterprise Group (PSEG) Inc's 2,332-megawatt (MW) Salem and 1,161-MW Hope Creek plants in New Jersey, Reuters reported. These PSEG reactors combined account for about 19 percent of the state's total electric capacity.
If Sandy follows the expected path with wind speeds reaching greater than 74 mph (miles per hour) onsite for more than 15 minutes or the river water level reaches 100 feet (30 meters), PSEG will shut down the Salem and Hope Creek reactors, Reuters reported quoting a PSEG spokesperson. Sandy's maximum winds were at 80 mph, but dropping Monday night.
The nuclear facilities in Pennsylvania and Maryland, however, may be able to stay functional, electricity traders said.
The nation's oldest nuclear power plant, the 615-MW Oyster Creek facility in New Jersey operated by Exelon Corp was put on alert Monday due to high water levels, Bloomberg reported.
In Connecticut, Dominion Resources Inc reduced the output of its Millstone 3 reactor from full power to about 75 percent due to floods caused by Sandy, Reuters reported citing the U.S. Nuclear Regulatory Commission (NRC).
Sandy, one of the largest and fiercest storms to menace the East Coast in years, made landfall at 8 p.m. EDT along the southern coast of New Jersey, bringing hurricane-force winds and heavy rains to the U.S. East Coast.
An alert is the second lowest of the NRC's four emergency classifications. Rising water levels can potentially affect the reactor's service water pumps, used for shut-down, cooling and to cool the spent-fuel pool, news agencies reported quoting an NRC spokesperson.
© Copyright IBTimes 2023. All rights reserved.