Hydrogen Fuel Cell Vehicles: Toyota, Honda, Hyundai Are Committed, But Mainstreaming HFC Cars Is A Huge Challenge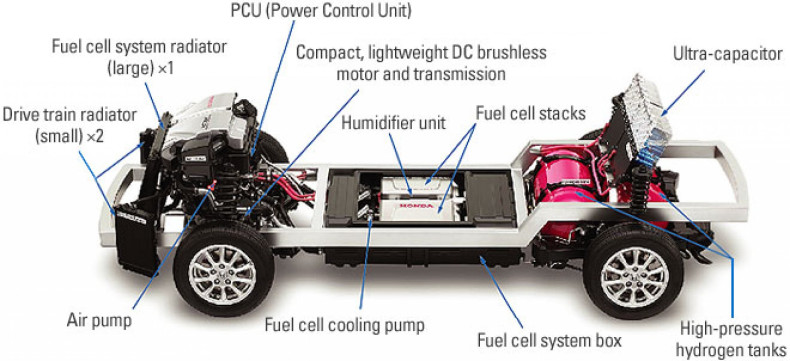 Japan's leading automakers made an ambitious commitment last week when they announced they would roll out eco-friendlier hydrogen fuel cell vehicles by the end of 2015.
While both Honda Motor Co. Ltd. (TYO:7267) and Toyota Motor Corp. (TYO:7203) have long been committed to the technology, which draws power from a chemical reaction between oxygen and hydrogen to power an electric motor, the timeline seems ambitious considering the challenges.
But the industry isn't resting on its laurels. If HFC cars are a viable alternative for the future of driving, automakers have to plan well ahead for its adoption. After all, it can take years to turn a technical concept into a mass-produced machine, and manufacturers that don't foresee the adoption of the new technology will spend years playing catch-up later on.
Honda unveiled its latest HFC experiment at the Los Angeles motor show, the FCEV concept car, which it says will be the basis for a commercial vehicle it intends to sell in the U.S. within two years. Not to be outmatched, Toyota said last week its FCV concept car, a four-seater sedan, would be available in the marketplace by 2015.

Last year, some auto industry representatives were talking boldly at a hydrogen fuel conference in Toronto about HFC cars in dealer showrooms by this year. South Korean automaker Hyundai Motor Co. (KRX:005380), which joined Toyota and Honda in showing an HFC vehicle at the Tokyo Motors Show, has said in the past it would have 1,000 HFC vehicles on the road sometime between 2012 and 2015. Now it has scaled back those ambitions and says it will follow Honda's lead by introducing the Tucson Fuel Cell under a Southern California lease program.
Honda has had a proof-of-concept leasing program for its FCX Clarity – a six-figure hydrogen-powered Civic – since 2009. Honda is keeping its Clarity sales figures under wraps, but news reports since 2009 suggest Honda has well under 100 leases in the U.S.
Last year, the German maker of Mercedes-Benz, Daimler AG (ETR:DAI) opened a hydrogen fuel cell component factory in British Columbia and this year partnered with Renault-Nissan to bring an HFC vehicle to market as early as 2017, so clearly automakers are moving forward despite the challenges.
And there are big challenges. First and foremost: There are only 10 public HFC fueling depots in the U.S., most clustered in Southern California to serve those Honda and (soon) Hyundai HFC customers. Europe doesn't fare much better.
Any automaker that intends to mass market a retail-level HFC vehicle will face the same challenge Tesla Motors Inc (NASDAQ:TSLA) has had: addressing the lack of fueling outlets. Will Honda or any other automaker have to follow Tesla CEO Elon Musk's lead by building their own hydrogen fueling outlets? A third party private sector developer isn't likely to step forward until demand for hydrogen is high enough to support an industry. The government will most certainly have to play a role in incentivizing the infrastructure in the meantime.
Another, even bigger challenge: farming hydrogen. There are very few free hydrogen molecules in the atmosphere and farming hydrogen is an energy-intensive process that typically relies on fossil fuels. When, and if, HFC vehicles take off, hydrogen production will have to take off, too. And then there's the whole issue of a national distribution network – how to deliver compressed hydrogen gas from where it's produced to where it can be injected into HFC vehicles.
For the time being HFC technology is going to exist on the periphery of an industry that seems focused on developing electric vehicles. Whether hydrogen fuel cell technology takes off or not, the mainstreaming of HFC-powered cars is a long way from becoming a reality.