Hyundai Unveils Hybrid Car To Compete With Toyota Prius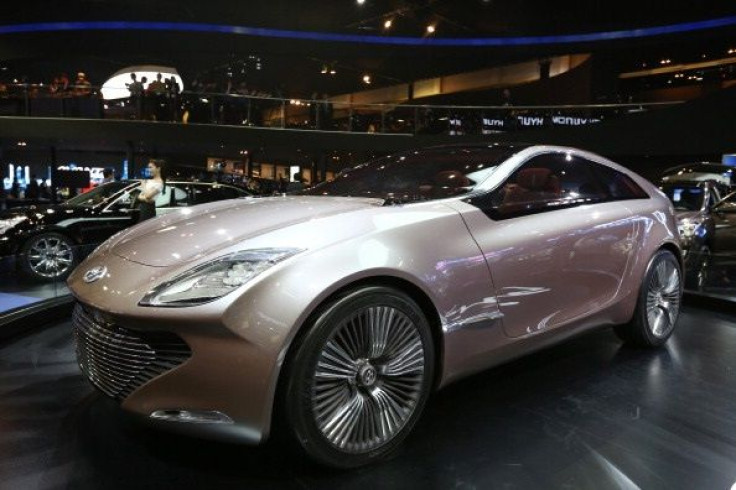 South Korea's Hyundai Motor on Thursday unveiled its first dedicated gasoline-electric vehicle, becoming one of a handful of automakers to challenge Toyota Motor's Prius as low oil prices weigh on demand for fuel-efficient vehicles.
Hyundai Motor Senior Vice President Lee Ki-sang said automakers had no choice but to boost green car sales to meet stringent emissions regulations, despite slackening demand as low petrol prices spur the market for gas-guzzling vehicles.
"Oil prices could reduce hybrid car sales. But this is the way we have to go," Lee told reporters.
Hyundai said the compact car, named the IONIQ, achieved fuel economy of 22.4 kms per liter, or 52.7 miles per gallon, in Korea. It would be rolled out in mid-January in its home market at a starting price of about 22.9 million won ($19,145).
The latest Prius has not been launched in Korea, but Lee said the IONIQ would beat it for fuel economy in the United States and South Korea.
Gasoline-hybrid car market leader Toyota last month trimmed its global sales target for the new Prius to 300,000-350,000 as lower petrol prices hurt demand.
Hyundai has so far launched hybrid variants of their existing models like the Sonata and the Azera, but the 1.6-litre IONIQ is the first hybrid-exclusive car it has made from scratch.
It is also the first car to offer three electrified versions, including plug-in hybrid and full-electric. Hyundai plans to introduce a plug-in hybrid version late this year after rolling out a pure electric version.
Affiliate Kia Motors (000270.KS) also plans to launch its first hybrid-dedicated model this year.
($1 = 1,196.1000 won)
(Reporting by Hyunjoo Jin; Editing by Stephen Coates)
© Copyright Thomson Reuters 2023. All rights reserved.