I.Coast intensifies fight against cocoa smuggling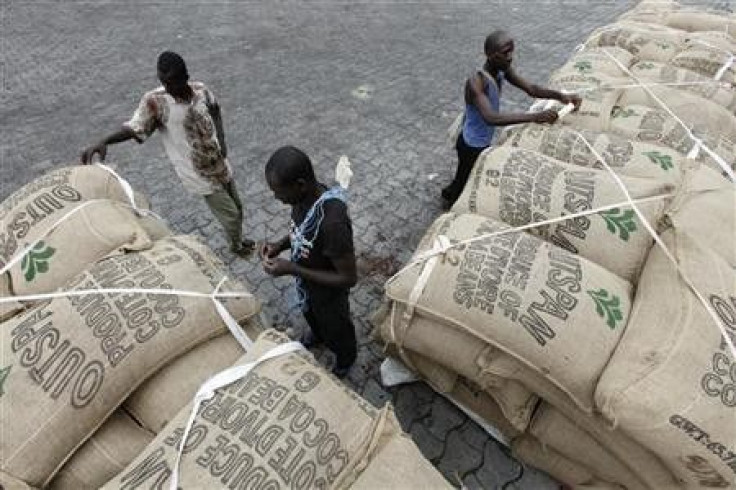 Top world cocoa grower Ivory Coast has ramped up border security and warned cocoa dealers they could be prosecuted if they are caught smuggling beans to neighbouring countries, farmers and a government source said on Wednesday.
The move comes after a 2010-11 cocoa season in which as much as 200,000 tonnes of the West African nation's crop was transported to Ghana, Liberia and elsewhere as dealers sought higher prices and other export outlets than Ivorian ports, which were shut off for months by a post-election civil war and cocoa export ban.
It is normal to fight against this practice, said an Ivorian agriculture ministry official who asked not to be named. We do it constantly, but with the elections and the crisis in the country, some new methods have been adopted. We are going to intensify the fight against this trafficking.
He said the effort was aimed at shoring up the economy, which is still recovering from the conflict, which killed more than 3,000 people, displaced more than a million people and brought industry to a halt.
Ivorian farmers near the frontier with No. 2 grower Ghana, which analysts said took the lion's share of Ivory Coast's smuggled beans, said authorities met with the cocoa sector last week to warn smuggling would be punished.
But they said the effort would probably fail as long as Ivorian farmgate prices continued to languish well below the fixed prices in Ghana. Both countries yielded record output in the 2010-11 season thanks to ideal growing weather.
Any cooperative or buyer caught in the act of selling to a neighbouring country will face sanctions including the following: seizure of their product and farm materials, loss of their cooperative licence and buyer's card and may also face criminal procedures, said Kouao N'Dri, a farmer and cooperative manager in Niable near the Ghanaian border.
Farmers, cooperatives and local buyers said Ivorian customs, police and the army had been deployed at the border and were involved in the fight against smuggling.
This will not work as long as farmgate prices are not at the same level as in Ghana, said Joseph Amani, another farmer in the region.
Ghanaian buyers pay between 1,000 CFA francs and 1,050 CFA francs per kilogramme. Meanwhile, here cocoa is sold at between 650 to 700 CFA francs. Farmers will always try to sell it on the other side.
The head of Ghana's Cocobod said on Wednesday the regulator had recommended a small increase in prices paid to Ghanaian farmers to 3,216 cedis per tonne. That compares with Ivorian farmgate prices of around 700,000 CFA francs per tonne, or about $1,400.
With our army that loves racketeering, the cocoa will pass. In fact in my village, I have seen a few trucks full of cocoa going to Ghana, Amani said.
© Copyright Thomson Reuters 2023. All rights reserved.