Illinois Primary 2012: Romney Has Much To Lose Tuesday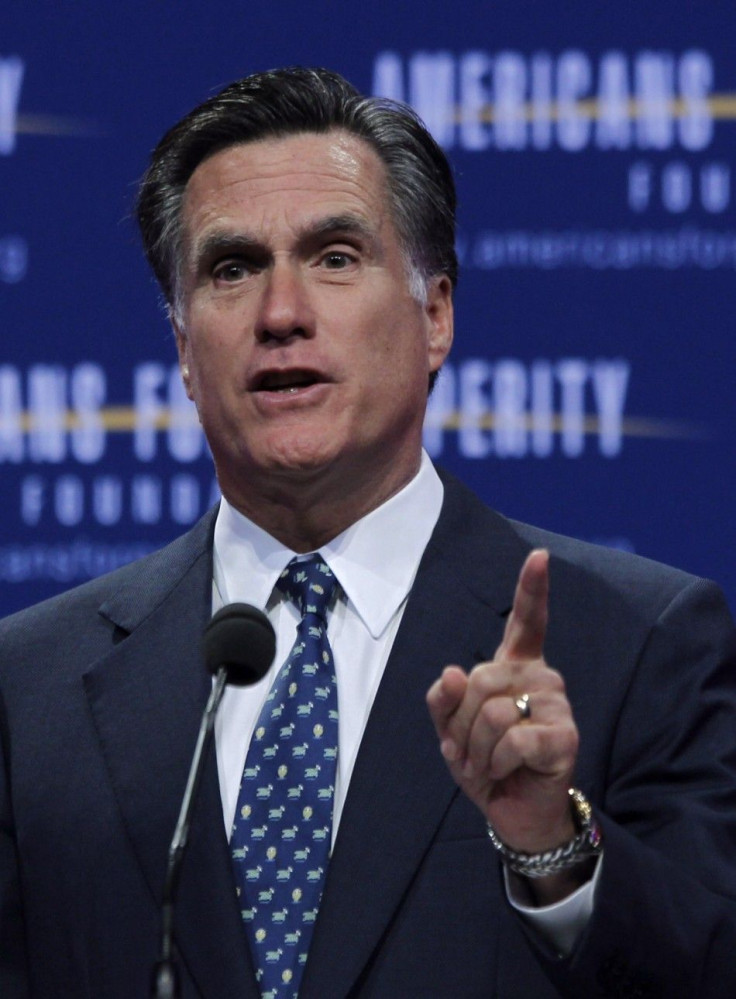 Rick Santorum got what he wished for last week. After he finished first in the Alabama and Mississippi primaries, the campaign for the Republican U.S. presidential nomination became a two-man race between Santorum and front-runner Mitt Romney.
Now the former senator from Pennsylvania is hoping for an upset in Tuesday's primary in Illinois. This time, Romney has much more to lose.
Illinois Republicans on Tuesday will be voting in several races, including the presidential primary. At stake are 54 of the state's 69 Republican convention delegates (the other 15 will be chosen later by party leaders). Polls have Romney leading by an average of 7.5 percentage points -- 39.5 percent to Santorum's 31 percent, according to Real Clear Politics.
(Update: As of Tuesday morning, that average changed to 41 percent for Romney and 31 percent for Santorum. The biggest difference comes from a Public Policy Polling survey which has Romney at 45 percent and Santorum at 30 percent.)
Santorum, who was pummeled by the former Massachusetts governor in Puerto Rico on Sunday, 88 percent to 8.5 percent, is itching for a victory in President Barack Obama's home state.
Santorum: Win Illinois, Win The Nomination
This is a primary, and turnout is everything. You do your job, you do your job, then this is the pledge, Santorum said, according to MSNBC's First Read blog. If we're able to come out of Illinois with a huge or surprise win, I guarantee you, I guarantee you that we will win this nomination.
Romney is so far ahead in the quest for delegates that a loss in Illinois wouldn't set him back mathematically. He's accumulated 525 delegates, while Santorum has less than half that, with 253. A total of 1,144 delegates will be needed at the party convention in August to secure the nomination.
Despite his solid position, a loss in Illinois, even by a narrow margin, could be a major symbolic blow to Romney.
If Santorum wins, the question will arise: How can Romney beat Obama if he can't beat Santorum? said Christopher Robling, an Illinois-based Republican consultant and former member of the Chicago board of election commissioners. That's not to say that either Santorum or Romney would become the nominee, it's just to say that it would shake the ground under the Romney campaign.
Romney Senses Battle Ahead
Santorum is giving Romney a tougher-than-expected battle in Illinois, and the front-runners seems aware of this. He added last-minute campaign stops in the state and pounded his closes rival with a new ad last Friday that called the ex-senator an economic lightweight, the Chicago Sun-Times reported. The pro-Romney super PAC Restore Our Future has already dumped tons of money on anti-Santorum attack ads in Illinois.
There are a few Illinois statistics working to Santorum's advantage. Exit polls from 2008 show 41 percent of Republican voters identified themselves as born-again or evangelical Christians, who tend to be Santorum's biggest supporters, although Robling said the state is hardly a hotbed for right-wing activists in the mold of Arizona or Mississippi.
A healthy turnout of voters is expected -- and needed -- in Tuesday's contest. At least 767,400 voters participated in Illinois's Republican primary for governor in 2010, and Knox College political science professor Andrew Civettini told the Galesburg Register-Mail he expects a larger number will show up Tuesday. The simple answer is, Yes, more people will vote because there is a presidential primary that's contested. The question is, How much? he said.
Sen. John McCain of Arizona, the Republicans' 2008 presidential candidate and now a Romney supporter, encouraged voters to participate Tuesday. We certainly can't take Illinois for granted, he told NBC's affiliate in Chicago.
Due to complicated rules set by the Republican National Committee, Tuesday's ballot in Illinois features a presidential candidate beauty contest at the top, followed below by the real deal -- convention-delegate voting boxes after rows and rows of local contests.
An Illinois Republican official said the party didn't expect problems with the optical-scan ballot, but voters will have to make sure they proceed to the bottom of the form in order to record votes that will be counted in the allocation of delegates.
Asked why the voting procedure couldn't be simplified, Robling, the political consultant, laughed. This is Illinois, we don't go for that. This is the home of Rod Blagojevich, George Ryan and Barack Obama, he said.
Blagojevich and Ryan were Illinois governors forced from office by criminal convictions on corruption charges.
© Copyright IBTimes 2023. All rights reserved.