Images Of Russian 'Suicide Drones' Go Viral; Experts Say Kremlin Troops Closer To Kyiv
KEY POINTS
The picture shows the ZALA KYB aka "Kamikaze" drone did not explode
It is also unclear whether it suffered a malfunction or was downed
Images also show clouds of smoke emerging out of a roof on a building
As Russian troops inch closer to Kyiv, reports have emerged that Kremlin used suicide drones or loitering munitions in Ukraine. Images of a downed ZALA KYB loitering munition, reportedly from Kyiv, had gone viral on social media recently.
Going by the images, it is evident that the ZALA KYB aka "Kamikaze" drone did not explode. However, it is not clear whether the drone suffered a malfunction or was downed by Ukrainian forces.
Social media posts from Ukraine also claim that the Kamikaze drone "contained a kilogram of explosives (plastids) with metal balls." The drone reportedly fell over the roof of a building in Podil neighborhood, setting the roof on fire. Images also show clouds of smoke emerging out of a roof.
According to The Drive, this is the first-known evidence of the loitering munitions being used in the invasion. One of the most decisive weapons of recent times, the Kamikaze drones are extremely challenging to defend. The report added that the ZALA KYB is a class of loitering munition that could be used against fixed soft targets.
Many military websites claim that the UAV has high accuracy, can be covertly launched, it is virtually silent and easy to operate. Russia had earlier confirmed its use in Syria in 2015. These drones are also equipped with cameras and can loiter in the air while relaying enemy positions to the troops on the ground. It can also scout positions and in case of an attack opportunity, can perform a vertical dive onto a stationary target. It can then detonate a device with the explosive power of a large hand grenade, which experts say could even penetrate armor.
Meanwhile, some reports added that the deployment of suicide drones suggests that Russian troops have come close enough to Kyiv.
"Potentially, if they can find President Zelenskyy, they could be used against him but I'd have thought if that was really their goal, then they would use a cruise missile," according to Sam Cranny-Evans, an expert on the Russian military at the Rusi think tank.
He told The National News that the drone's appearance suggests that some Russian forces are close enough to the capital to launch smaller UAVs, or unmanned aerial vehicles. "It's got a fairly short duration of 30 minutes which suggests that whoever launched it must have been close," Cranny-Evans added.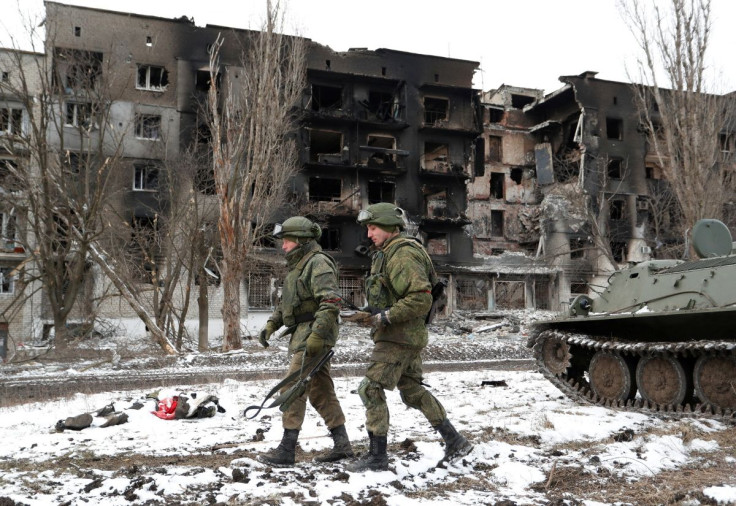 © Copyright IBTimes 2023. All rights reserved.