IMF's Managing Director Christine Lagarde Says Restructuring Should Suffice For Greek Debt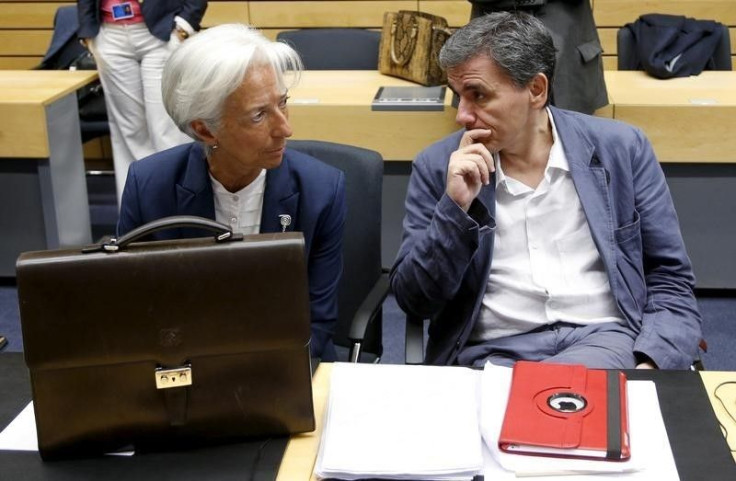 ZURICH -- A form of debt restructuring rather than outright forgiveness should enable Greece to handle its "unviable" debt burden, the head of the International Monetary Fund was quoted as telling a Swiss newspaper. The IMF has yet to make clear whether it will participate in the third 86 billion euro ($96 billion) international bailout that Greece agreed to in early August, having argued in favor of a partial writedown of a debt burden it considers unsustainable in its current form.
Greece's eurozone creditors, notably Germany, have ruled out a writedown, but are willing to consider other forms of restructuring, such as a lengthening maturities.

Concerning those differences, IMF Managing Director Christine Lagarde told Le Temps Saturday: "The debate on canceling the debt has never been open. I don't think it is necessary to open it if things go well. ... We are talking about extending maturities, reducing rates, [making] exemptions for a certain period of time. We are not speaking about canceling debt."
The interview made no mention of whether the IMF will take part in the new bailout: Lagarde has previously said the fund will make a decision about it by October.
No Chinese Hard Landing?
Turning to China, Lagarde said she expected the country's economic growth rate to remain close to previous estimates even if some sort of slowdown was inevitable after its rapid expansion.
China devalued its yuan currency this month after exports tumbled in July, spooking global markets worried that a main driver of growth was running out of steam.
"The slowdown was predictable, predicted, unavoidable," Lagarde was quoted as saying. "We expect that China will have a growth rate of 6.8 percent. It may be a little less." The IMF did not believe growth would fall to 4 or 4.5 percent, as some foresaw.
Noting that a drop in commodity prices had hit many emerging markets, Lagarde said those economies were "at the center of our attention."
($1 = 0.8946 euros)
(Reporting by Michael Shields and Shadia Nasralla; editing by John Stonestreet)
© Copyright Thomson Reuters 2023. All rights reserved.