Immigrant Identification Card: New York's ID Program Draws Long Lines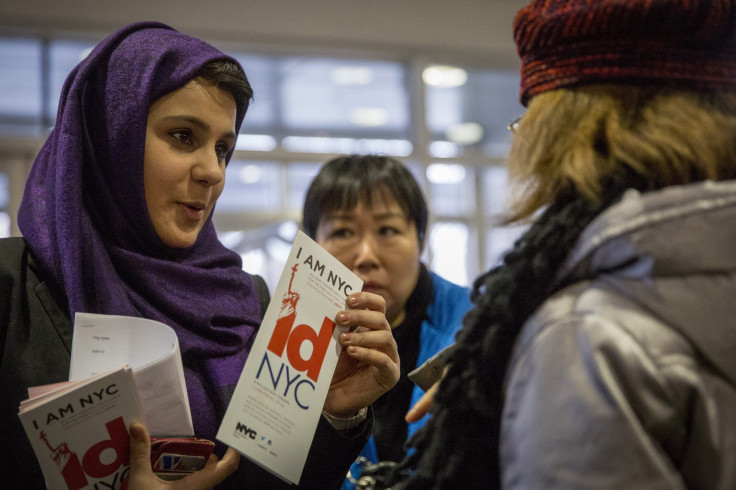 More than 7,300 people signed up for a special identification card aimed at granting new legal benefits to immigrants since New York City unveiled last week the program for all immigrant residents regardless of their legal status. Another 50,000 had signed up to enroll in the municipal identification program by calling the city's information hotline, booking on a website or visiting one of 17 enrollment centers in the city's five boroughs, a New York City spokesperson said Tuesday.
The demand means that some residents will have to wait until May to obtain the identification card under the IDNYC program created by Mayor Bill de Blasio, according to the website set up to book the appointments. City officials said they will also open pop-up enrollment sites throughout New York this month to reduce the wait time for appointments.
New York City's identification program is considered the most ambitious in the nation because of the city's large immigrant population. There are nearly a dozen similar ID programs across the U.S., including San Francisco; Los Angeles; Washington, D.C.; and New Haven, Connecticut.
In New York, city officials were reaching out to potential participants by using libraries -- long trusted as immigrant community centers -- as enrollment centers, an official in the mayor's office said. Under the IDNYC program, immigrants are not asked if they have residency status as long as they provide a passport and proof of a city address to the application specialists.
"The extraordinary demand in IDNYC cards shows to us that New Yorkers trust, want and need this municipal ID card program," said Commissioner of Immigrant Affairs Nisha Agarwal. "IDNYC offers a valuable case study for how city government can successfully engage with hard-to-reach populations and expand their access to civic life and city services."
Last week, 4,000 people were enrolled for the ID cards by close of business on Tuesday, the day after the program's launch. The municipal ID card is accepted as valid primary identification at some city banks and credit unions, city government buildings, schools and hospitals that require photo ID. The New York Police Department will also accept the card as valid ID. Cardholders can gain free access to city museums and grocery store discounts, among other benefits.
© Copyright IBTimes 2023. All rights reserved.