Illegal Immigrant Identification Card: IDNYC Enrollment Appointments To Begin, Following High Demand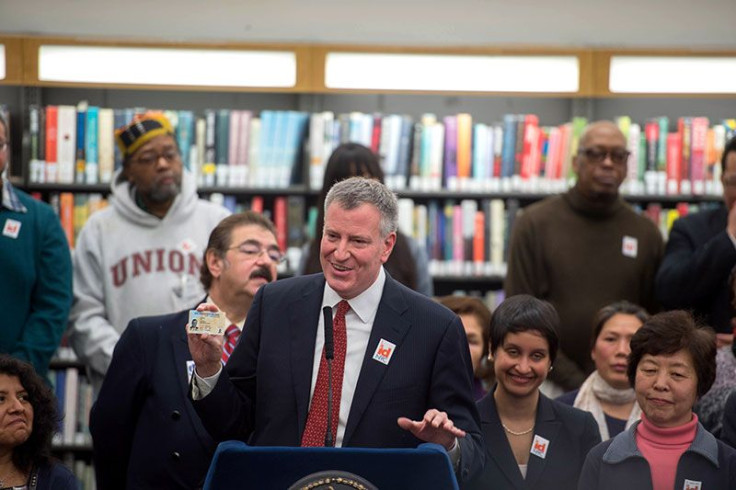 New York residents can soon make appointments to enroll in the new municipal identification program beginning Wednesday, rather than wait in long lines that put the DMV to shame, according to a press release from the New York City mayor's office. The free card, dubbed IDNYC, which allows the city's vast illegal immigrant population legal access to city services, drew 1,700 applicants after its launch on Monday, according to amNewYork.
"The demand says to us that New Yorkers all across the five boroughs are eager to get their card. Now, with the appointment system, we will ensure that it is even easier than before to sign up for IDNYC," Nisha Agarwal, the city's Immigrant Affairs Commissioner, said in a statement Tuesday. Pop-up enrollment sites are scheduled to open at the end of the month and additional volunteers were assigned to ease the huge volume of applications, according to the press release.
The program, which was approved by the City Council in June, is available to anyone who is at least 14-years-old and can verify New York City residency. Eligible applicants will not be asked about their immigration status. The photo-embedded cards can serve as valid primary identification for the city's 500,000 undocumented immigrants, according to a press release. However, the card does not grant voting rights.
"This is a day that we have been waiting for; it speaks to folding everyone into the fabric that is this city," City Council Speaker Melissa Mark-Viverito said at a news conference Monday. "It's more than an ID card, it's an affirmation. You are a New Yorker."
The program gives all IDNYC cardholders access to specified city services and financial institutions, as well as free and discounted memberships to many cultural institutions including the Metropolitan Museum of Art. "IDNYC is not only a card for all New Yorkers, it is the gateway to city services, the key to opening a bank account or getting a library card, and the ticket to many of our city's finest cultural institutions. More than that, this card represents who we are: New Yorkers who value equality, opportunity and diversity," New York City Mayor Bill de Blasio said in a statement Monday.
© Copyright IBTimes 2023. All rights reserved.