Immigrant Identification Card: New York's ID Program Watched By Immigration Reform Advocates Across Nation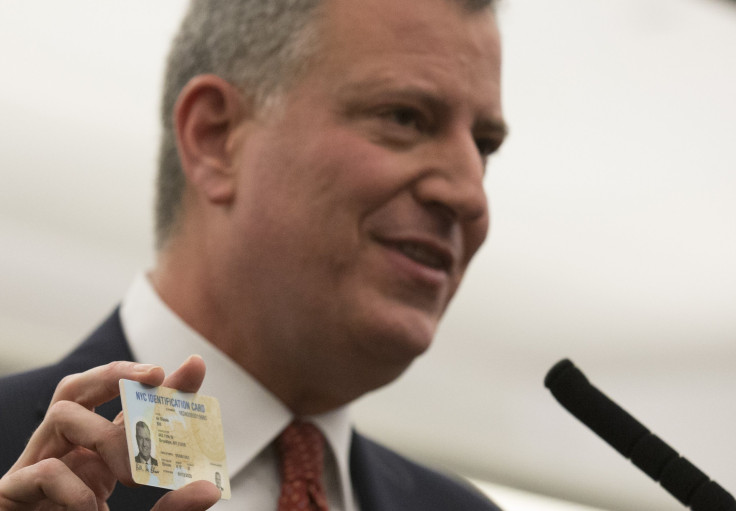 NEW YORK -- Hundreds of thousands of undocumented immigrants in New York City will soon have access to basic services such as housing, bank accounts, legal services and cultural institutions under a new identification card program billed as the most ambitious effort of its kind in the United States. The municipal identification card program launched this week by Mayor Bill de Blasio offers all residents regardless of immigration status a form of ID that is valid for interactions with city government and law enforcement agencies. It's been praised by civil rights and immigration reform advocates across the nation as an important step toward integrating undocumented immigrants who have long been unable to participate in their local communities. It's also drawn the ire of critics who said government officials are encouraging illegal immigration by offering special benefits to the those without legal status.
If the program is a success, it could spur rapid adoption of similar ID programs in states around the country, where immigration advocates said there is needed improvement for the safety and quality of life of undocumented people who are vulnerable to exploitation by criminals and feel excluded from full participation in vital aspects of society. Critics, however, argue that widespread adoption of the ID, particularly in New York City, could promote identity theft and other social problems.
"Ultimately having a municipal ID is going to be a quality of life improvement for undocumented communities in New York," Thanu Yakupitiyage, spokeswoman for New York Immigration Coalition, a pro-immigration reform group, said. "If an employer unlawfully fires you or abuses a worker and the worker wants to contest this in court, that person can now enter a public building such a court. They wouldn't be able to do this without ID."
The card will be accepted as valid primary identification at some city banks and credit unions, city government buildings, schools and hospitals that require photo ID. On Wednesday morning, some people standing in line at an enrollment site in lower Manhattan had blank and half-complete applications bundled with folders of other important paperwork. Joanne, who declined to give her last name, stood in line with her mother, Alice, who has been a resident of New York for more than 10 years. Joanne said they were getting the card to make it easier for Alice to access some city buildings. A man who had been trying to enroll for three days said he needed the card to replace his expired driver's license, otherwise he risked possible arrest for lacking a valid ID if stopped by the police. The man, a 16-year resident of New York City who asked to be identified as Swee, said the state Department of Motor Vehicles has declined to renew his without documentation that showed he was a legal permanent resident of the U.S.
Mindy Bond, a U.S. citizen and 15-year resident of New York, said Wednesday was her third attempt at trying to apply for the card. She was turned away with scores of people from the New York Public Library's main branch on Monday and it was her second time trying at the lower Manhattan office on Wednesday. "I like the perks that come along with the card," Bond said, referring to advertised discounts on movie tickets, Broadway shows, sporting events, gym membership and city tourist attractions.
Immigration reform has become an increasingly tense topic in the U.S. in recent years, especially as the Obama Administration has pushed a broader immigration reform agenda that stalled in two Congresses. Under President Barack Obama's policies implemented starting in 2012, undocumented immigrants who were brought here as children and undocumented parents with children born in the U.S. can seek temporary reprieves from deportation if they meet certain requirements.
The IDNYC program doesn't grant card holders residency status or access to federal or state benefits. But many anti-illegal immigration proponents said they oppose such initiatives because of the potential for abuses by those who might falsify an identity to obtain the intended benefits, among other reasons. "They are shielding people who are violating immigration laws," Ira Mehlman, a media spokesman for the Federation for American Immigration Reform, said. He said the program also raised safety issues for New Yorkers. "New York City is still in the crosshairs of every terrorist organization in the world," he said. "Mayor de Blasio seems to put the interest of illegal aliens head the security of the American people."
The popularity of the card's benefits -- which includes free access to city museums and grocery store discounts -- contributed to a surge of sign-ups in the first few days of IDNYC since its launch Monday, prompting the mayor's office to announce Tuesday a switch to an appointment-based system to sign up for the card. An official in the mayor's office with knowledge of the program said 4,000 people had been enrolled for cards by close of business on Tuesday. Another 2,.300 had signed up for enrollment appointments by Wednesday afternoon. Officials also planned to open "pop up" enrollment sites -- two at the end of the January and three others sometime after, the mayor's office announced on Tuesday.
The card is free to anyone who applies for one in 2015, if they appear in person and present a passport and a utility bill or apartment lease as proof of residency. IDNYC is exclusively for residents age 14 and up in New York City's five boroughs. The card is also accepted as valid identification by the New York Police Department, allowing officers to issue summonses or tickets to residents who might otherwise be arrested for lacking identification. It can't be used to purchase alcohol and tobacco.
New York City's program is similar to nearly a dozen programs in other U.S. cities, including San Francisco, Los Angeles, Washington, D.C., and New Haven, Connecticut, which was the first city to start an ID program, according to the American Immigration Lawyers Association. New Haven had issued about 12,000 IDs in seven years, CNN reported. San Francisco has issued nearly 20,000 cards since 2009. California, which has one of the nation's highest populations of undocumented immigrants at 2.6 million, last week began issuing driver's licenses to members of the undocumented community. On Jan. 1, it became the 10th state to allow undocumented immigrants to drive legally, according to the National Immigration Law Center. Other states granting the licenses include Colorado, Illinois, Maryland, New Mexico and Utah.
"We're going to see more of this as we move forward with immigration reform under the Obama executive order," Doug Stump, an immigration attorney in Oklahoma City and the immediate past president of the American Immigration Lawyers Association, said. He said the ID programs were a ripple effect of the results from Obama's immigration actions: 750,000 young adults have applied for legal status under Obama's 2012 policy aimed at youth brought to the U.S. as children and more than half a million have already been approved. Licenses could be granted to up to 5 million additional undocumented immigrants eligible for legal protections under Obama's latest immigration policy announced in November that is designed to help parents of children born in the U.S., Stump said.
"They are deemed now to have a lawful presence in the U.S.," he said. "Just those numbers alone, I believe, will drive states to become more accepting of issuing driver's licenses and other forms of documentation to these individuals."
In New York, the ID card program has also gained fans among U.S. citizens who simply want a free way to prove their identity, indicating that future efforts in other cities will go beyond the immigrant community. Margarito Páez already had a state issued ID card when he stood in line this week to get the IDNYC card. He said he liked the idea of having a card that opened the city up to him. "For me, it's better. You can go any place you want," Páez, a Mexican immigrant with U.S. resident status who has lived in New York for 20 years, said.
FOR FREE to continue reading
✔️ Unlock the full content of International Business Times UK for free
offer available for a limited time only
✔️ Easily manage your Newsletters subscriptions and save your favourite articles
✔️ No payment method required
Already have an account?
Log in
© Copyright IBTimes 2023. All rights reserved.