Immigration Reform 2015: House Republicans Won't Fund Obama Immigrant Policies In Latest Department Of Homeland Security Budget Battle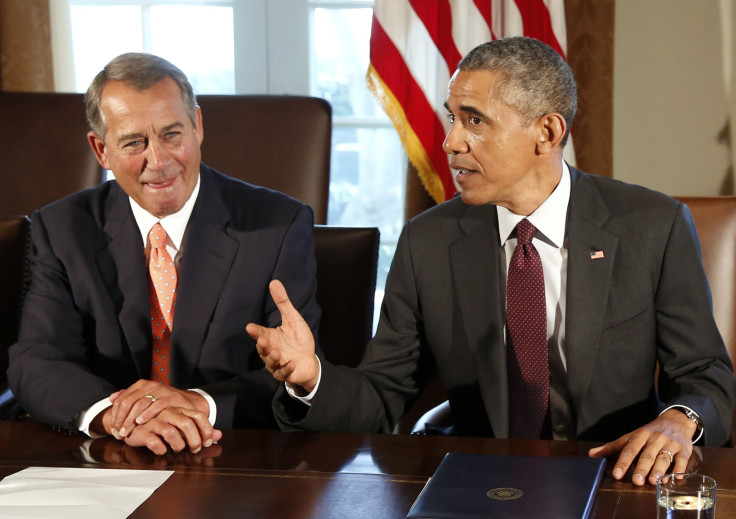 The Republican-led U.S. House voted Wednesday to block President Barack Obama's immigration policies, setting the stage for a showdown between the White House and Congress over funding for the Department of Homeland Security, which oversees the nation's borders and is slated to run out of money at the end of next month. The 236-191 vote on a broad bill came along party lines aimed at stopping Obama from extending legal benefits, including work permits, to millions of illegal immigrants.
At stake is $40 billion earmarked to fund the Homeland Security Department through the end of the fiscal year. The White House has threatened to veto any legislation that would undo Obama's immigration overhaul. Obama most recently announced in November a plan to shield undocumented immigrants whose children were born in the U.S. from deportation.
The House GOP's legislation would block Obama's 2012 and 2014 immigration policies that allow illegal immigrants who meet certain requirements to delay deportation and obtain work permits. The ideological battle began last year, when House Republicans threatened to shut down the federal government over Obama's policies that weren't approved by Congress. At the last minute, a deal was struck that resulted in Democratic and Republican lawmakers passing a federal budget for 2015 that only funded DHS through February.
"We do not take this action lightly, but simply there is no alternative," House Speaker John Boehner, R-Ohio, said Wednesday. "It's not a dispute between the parties or even between the branches of our government. This executive overreach is an affront to the rule of law and to the Constitution itself."
House leaders face a difficult campaign in their fight against the Obama administration's immigration policies. The more moderate Senate is unlikely to hold funding for DHS hostage and even some House Republicans have expressed concern about the strategy. "I don't believe this is the right place to have the immigration debate," U.S. Rep. Jeff Denham, R-Calif., told the Wall Street Journal. "We are overreaching into an area that goes above and beyond what we're trying to accomplish with the Homeland Security bill."
One amendment from Rep. Marsha Blackburn, R-Tenn., seeks to end Obama's 2012 policy extending legal rights to young immigrants brought to the United States as children. Another amendment from Rep. Aaron Schock, R-Ill., states that the government should not grant rights to illegal immigrants before processing immigration applications from legal immigrants already in the U.S.
"The president's immigration accountability executive actions strengthen our border security, ensure undocumented immigrants who are parents of U.S. citizens or lawful permanent residents pass background checks to obtain temporary relief from removal, and require everyone to play by the same rules," the Office of Management and Budget said in the official veto threat.
© Copyright IBTimes 2023. All rights reserved.