Immigration Reform 2014: After Midterm Elections, Executive Action Back In The Spotlight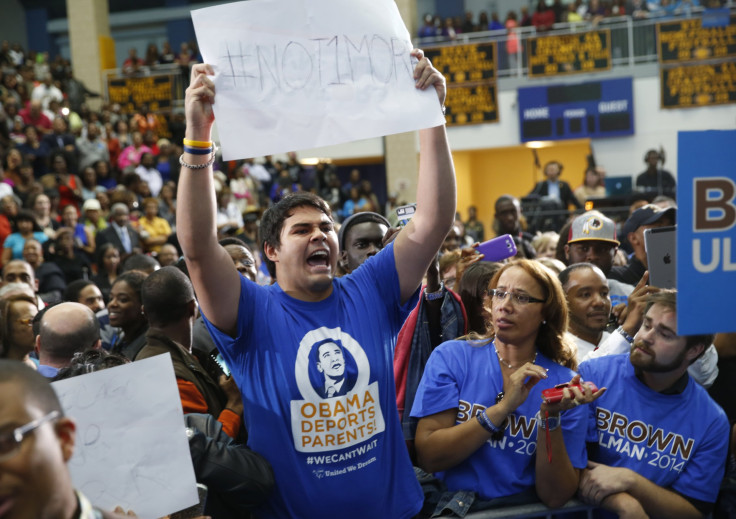 U.S. President Barack Obama has been facing the wrath of immigration activists since he announced in September that he would delay plans for executive action on immigration reform until after the midterm elections. Now that the midterms are over, all eyes are back on the president's immigration agenda, particularly his plans to extend deportation relief to potentially millions of undocumented immigrants.
Deportation deferral for undocumented immigrants is the most-watched item on Obama's list of immigration reform options, with activists pushing for broad and bold measures as soon as possible, and Republican lawmakers sharply critical of what they deem "amnesty." But the specific requirements for relief will determine how broad and how bold this move will be.
The Wall Street Journal reported last week that the White House is considering two main criteria in determining deferred deportation for unauthorized immigrants: length of stay in the U.S. and family ties in the country. Undocumented parents of U.S. citizens, and potentially parents of those who arrived in the U.S. as children and were granted temporary relief, would potentially qualify for protection if they meet a number of other criteria. Depending on the exact requirements that wind up in the final order, this move could provide protection for between 1 million and 4 million immigrants.
By comparison, the Deferred Action for Childhood Arrivals program, issued by executive order in 2012, has so far provided temporary deportation relief for around 500,000 immigrants who arrived in the U.S. as children. Analysts estimate that around 11 million unauthorized immigrants are in the country.
Both criteria under consideration -- length of stay and family ties -- are points of concern for some immigration advocates, who say it's difficult for an undocumented immigrant to prove how long he or she has been in the country. Activists in the lesbian, gay, bisexual and transgender immigrant community also say that LGBT immigrants have a much harder time establishing formal family ties because of legal constraints. Advocates have also worried that the scope of deportation relief will fall short of their expectations, and some speculate that Obama's moves will be much more modest in the wake of Republican wins in Congress.
While some advocates feared that Obama might again punt on his promises of executive action, White House officials have indicated that he's still on track to announce the orders sometime within the next two months. Attorney General Eric Holder told reporters Monday that the Department of Justice had reviewed Obama's list of options for action, and the Department of Homeland Security is also reportedly sending in its final recommendations. White House Press Secretary Josh Earnest said at a Monday press briefing that Obama's executive action was "going to happen before the end of the year."
But it's not yet clear when exactly that announcement will come during the two months still left in the year, and the outcry from immigration activists has only gotten louder in the run-up to the midterms. In recent weeks, advocacy groups have heckled both Obama and Hillary Clinton during speeches to demand for swift and broad action on immigration.
Obama is also expected to issue several measures that business groups have been lobbying for, including "recapturing" unused green cards to reduce current backlogs for legal immigrants awaiting visas. But deportation relief will likely be the most polarizing aspect of Obama's expected executive action.
Republican leaders in Congress have repeatedly warned that unilateral action on immigration will jeopardize comprehensive reform measures in the legislature. Some GOP lawmakers had pledged earlier in the year to move forward on immigration reform in Congress if Republicans won control of the Senate, but Democrats say those prospects are low.
© Copyright IBTimes 2023. All rights reserved.