Police Vs. Gangs War As El Salvador Murders Hit Record Highs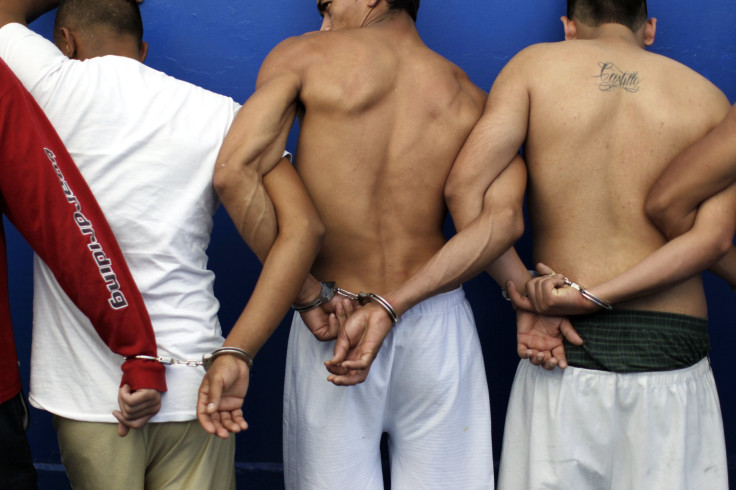 In May alone, more than 411 people, an average of 21 a day, were murdered in El Salvador. The country's forensics institute, the Institute of Legal Medicine, reported the total this week, marking the second time in 2015 the murder rate has surpssed 400 in a 30-day span. Just two months ago, the murder rate surged to its highest level in a decade, with March, El Salvador's deadliest month in 10 years, recording 481 homicides. Now the country is on track to break that record.
The statistics are staggering for a country of 6.3 million that already has one of the world's highest murder rates – 61.6 per 100,000 people in 2014, according to the forensics institute's calculations. By comparison, Detroit, which has the highest homicide rate of the United States' major cities, had 43.4 murders per 100,000 people last year.
The violent tide in El Salvador is the result of escalating aggression between the police and the country's two largest criminal enterprises, and analysts say it's hard to know when or how the deadly wave will subside.
"It's very hard to think that we are not already at a breaking point," said José Miguel Cruz, director of research at the Kimberly Green Latin American and Caribbean Center at Florida International University.
El Salvador's murder rate rose dramatically last year, surging by 57 percent from the year before. Most analysts trace the rise back to the 2013 collapse of a highly publicized and controversial truce between the country's two biggest rival gangs, Mara Salvatrucha (also known as MS-13) and Barrio 18.
The truce, forged in 2012 with help from Catholic Church intermediaries, was a historic deal that stemmed the homicide rate in the months that followed the agreement. But critics say gang members used that period to strengthen their position, step up the use of other brutal tactics like forced disappearances, and increase influence in their territories. As a result, current President Sánchez Cerén, who came to office last year, found the groups in a stronger position than before the truce and opted to react forcefully, Cruz said. The first truce was widely controversial, and Cerén opposes the idea of another one.
Police and military forces are now taking an increasingly aggressive approach to stopping gangs, engaging in shootouts and raiding suspected gang members' homes. In January the commander of the national police force explicitly gave officers a green light to shoot criminals when necessary. Last month officials announced they were creating a set of three police battalions specifically to handle gang-related activities.
"I think the government, at some point, will have to talk with the gangs, but they don't want to do it from a position of weakness," Cruz said. "So they've been trying to show strength. The problem is that this has taken the country into an escalation spiral where you have more and more violence, because both parties are trying to put the other party in a weaker position."
As the government has intensified its approach, the gangs have hit back hard. Twenty police officers have been killed just this year, the result of what's been reported as a police assassination campaign launched by MS-13 in retaliation for the deaths of eight gang members in March.
Last month the government proposed a gang rehabilitation law that would grant certain benefits -- including job training, business loans and scholarships -- to people willing to leave the gangs. But it hasn't announced any further developments on the law.
"Interestingly, if you poll Salvadorans, having an increased military presence in neighborhoods makes them feel better, but it doesn't seem to be particularly effective in stemming violence," said Christine J. Wade, an associate professor of political science and international studies at Washington College. "I don't know where the endgame is. But seems like the harder they crack down, the worse the violence has gotten."
Meanwhile, gang-related violence is only part of El Salvador's security problem, which is rooted in weak institutions and widespread impunity, Wade added. "A lot of people are being killed in political violence and social violence every day," she said. "Crime is high -- it doesn't have to be associated with gangs."
The Obama administration, responding to last summer's surge of Central American migrants fleeing violence in El Salvador, Honduras and Guatemala, proposed a $1 billion aid package for the region aimed at addressing the root causes of the exodus – including the festering violence. But there's little expectation that the package will do much to turn things around dramatically in the country.
"The big question now is what has to change in Central America – how they will deal with this, if they will take a step to clean up their institutions to deal with the huge problems of corruption and criminal penetration in the government and the states," said Florida International University's Cruz. "To the extent that they don't do those things, we're basically going to see more of the same."
© Copyright IBTimes 2023. All rights reserved.