Immigration Reform 2015: Republican Debate Protesters Decry GOP Immigrant Policies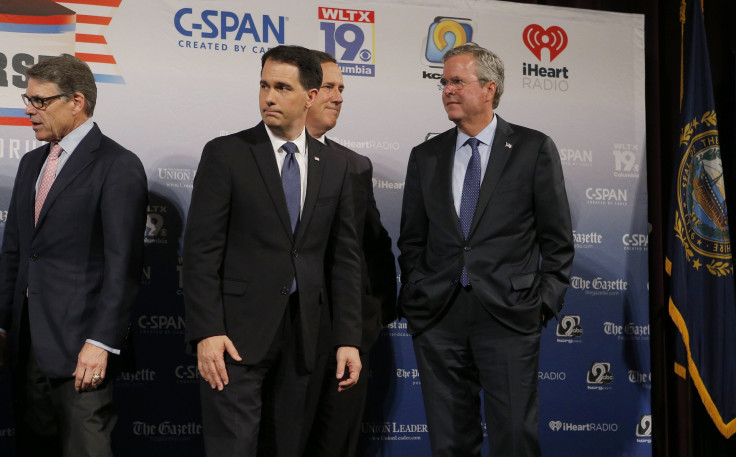 Ohio protesters angry with the GOP's tough stance on immigration planned to rally Thursday night outside a debate scheduled between the top 10 Republican candidates for president in Cleveland. The protest was slated to include immigrants opposed to candidate Donald Trump's "hate rhetoric," local media reported Thursday.
Organizer Don Cannon said the U.S. Constitution gives him permission to have nearly 200 protesters rally against Trump, who has made racist remarks in recent weeks describing Mexican immigrants as rapists and killers. A group of representatives of the progressive group Code Pink and members of Change.org also plan to join the "Stop the Hate" rally. Cannon said protestors are hopeful "candidates who have not yet taken a stand against Trump and his derogatory and dehumanizing comments will realize this is unacceptable and could lead to more racial violence in our country."
Blake Williams, a spokesman for Americans United for Change, another protest group, told local media the goal was to show "how out-of-touch and [outdated] all the candidates in the Republican field are." Other protesters were expected to gather in opposition to President Barack Obama's Iran nuclear deal.
To avoid problems with police, the "Stop the Hate" protestors must stay on city sidewalks. If the demonstrations block traffic, participants could face a misdemeanor citation under Cleveland law.
"These events are expected to draw scores of visitors from all over the country into our city to get a first look at potential Presidential nominees and experience all the great things our city has to offer," the city said in a news release on Monday. Cleveland Mayor Frank Jackson urged residents to be aware of increased security ahead of the debate.
A NBC-Wall Street Journal poll this week found 47 percent of Americans support giving undocumented immigrants a pathway to citizenship, including 58 percent of Democrats, 58 percent of Latinos, 45 percent of independents and 36 percent of Republicans.
© Copyright IBTimes 2023. All rights reserved.