Immigration Reform News: Leahy Formally Pushes 2 Same-Sex Amendments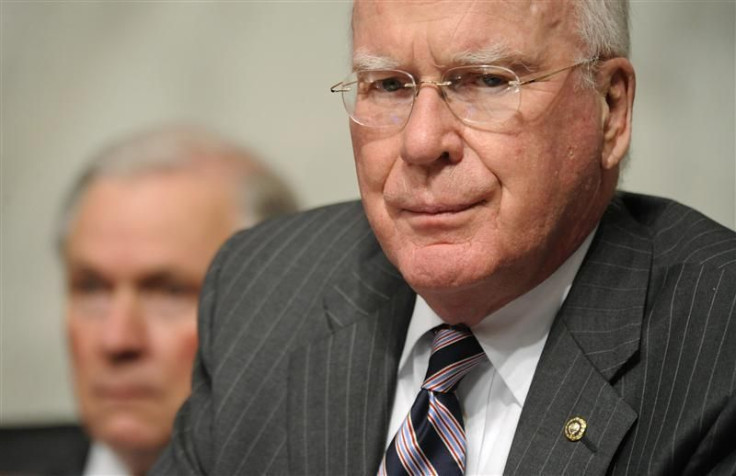 Senate Judiciary Committee Chairman Patrick Leahy, D-Vt., on Tuesday formally filed two amendments, both covering same-sex couples, to the comprehensive immigration reform bill.
The first amendment would allow Americans in same-sex relationships to sponsor green cards for their foreign-born partners. The second would provide the same protection to legally married bi-national same-sex couples that's afforded to others under existing immigration law.
"For immigration reform to be truly comprehensive, it must include protections for all families," Leahy said in a statement. "We must end the discrimination that gay and lesbian families face in our immigration law."
Leahy, D-Vt., along with Sen. Susan Collins, R-Maine, introduced a similar measure in February, called the Uniting American Families Act, and he indicated earlier this year that he planned to push for similar goals on the immigration reform front.
The comprehensive immigration reform bill was introduced last month by the so-called "gang of eight" bipartisan senators -- four Democrats and four Republicans who are working to pass legislation that would make for the biggest overhaul of the current system in decades. The reform bill would provide a path to citizenship for the estimated 11 million undocumented immigrants living illegally in America. However, that pathway could take up to 13 years and is tied to the successful implementation of tougher border security in the South.
"It's a fairness thing," Leahy recently told Vermont Public Radio. "Right now, you've got this case where people have to choose between love of their country or love of their life, and it shouldn't be that way. People should be treated the same."
Pushing for green cards for the foreign-born spouses of same-sex couples could spell ruin for the immigration overhaul bill, whose creators have said it was delicately crafted.
Sen. Marco Rubio, R-Fla., a co-sponsor and public face of the bill, said Leahy's amendment threatens to doom the 2013 measure.
Rubio said the amendment would not get his support. He is considered critical to attracting skeptical conservatives to the bill.
"It was not intended to cover everybody in every situation," Rubio said on the "The Hugh Hewitt Show" last month. "We acknowledge from the beginning that there are people that will not be able to take advantage. … You inject something like this in the bill it will die. The coalition behind it will fall apart and it will not pass. It's just that simple."
But Leahy refuses to be swayed. He said those who disagree with the bill can vote against it.
"That's simple enough," Leahy said in the radio interview, adding that voting will be done on everything. "Don't go running off and saying 'Oh I can't vote for something I wasn't going to vote for anyway because I don't like some part of it.'" Leahy also filed several other amendments:
-- To improve to the job-creating EB-5 Immigrant Investor Regional Center program, which provides an economic boost in Vermont and other states;
-- To ensure that immigrant victims of domestic violence, human trafficking and other crimes don't wait longer than 180 days for their work authorization while their immigration applications are being decided;
-- To effectively use the $1.5 billion fencing fund, ensure transparency and consultation with relevant stakeholders, and to prevent construction of fencing at the Northern Border;
-- To allow the children or spouses of long-term temporary agricultural workers to accompany them while working in the United States;
-- To allow undocumented individuals who register for Registered Provisional Immigrant Status to pay required fines in installments; and
-- To disallow lawmakers from creating a land border crossing fee. This amendment was filed on Monday.
© Copyright IBTimes 2023. All rights reserved.