Immigration Reform: Transgender Immigrants In Detention Get Support From Seattle Activists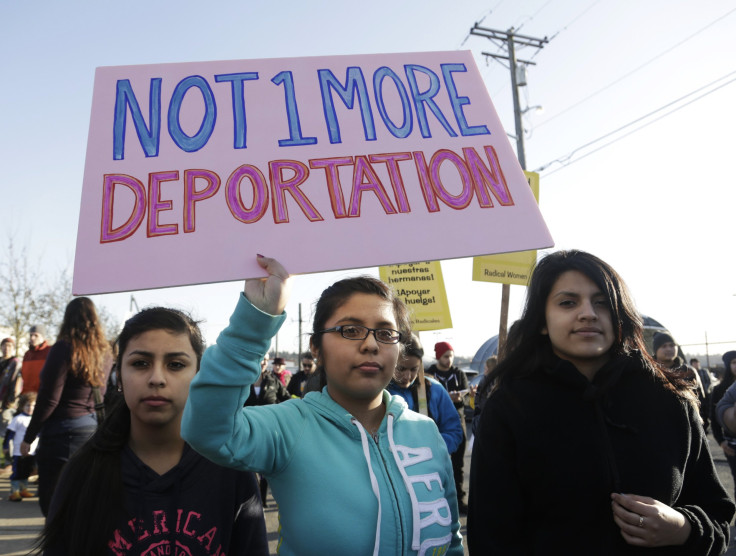 A group of activists blocked streets in Seattle, Washington, Monday afternoon to protest on behalf of transgender women locked in immigration detention facilities nationwide. They condemned what they say is a contractual quota for detainees. The protest comes as the Obama administration and immigration advocacy groups around the country are putting heightened attention on conditions that transgender immigrants face in detention facilities.
Dozens of transgender and cisgender women from the Trans and/or Women's Action Camp, or TWAC, an advocacy group based in Washington state, blocked a street in downtown Seattle near the local headquarters for the Immigration and Customs Enforcement agency. The Not1MoreDeportation movement, a national campaign aimed at reining in the federal government's deportation policies, live streamed the protest on its website, showing activists chanting, "Queer and trans in isolation! Why does ICE incarcerate them?"
The Seattle demonstrators spoke out against the use of solitary confinement for transgender detainees, which in some facilities has been used as a means of separating transgender women from male detainees. In other cases, transgender women have said they were put into isolation as punishment for complaining about detention conditions. They spoke out against ICE as well as the GEO Group, one of the country's largest private prison companies, which operates the Northwest Detention Center in Tacoma, Washington.
"TWAC is strongly opposed to trans people in detention centers being placed in 'medical observation,' which is GEO and ICE's code for solitary confinement," TWAC spokeswoman Katie Rickman said in a statement. "TWAC is against this dehumanizing policy and supports the abolition of all detention centers and prisons."
Activists also highlighted what they said was a contractual obligation for the Tacoma detention center to fill a minimum of 1,100 detention beds in the center every day, which they said motivates federal agents to continue funneling immigrants into the facility. Undocumented immigrants caught in the criminal justice system for a number of reasons, including minor traffic violations, unauthorized reentry in the United States and more serious crimes, often end up in detention while awaiting deportation hearings. Those who oppose the increased use of detention say the practice destabilizes immigrants' livelihoods and families while exposing them to harsh treatment in the facilities, but supporters say detention is the only way to ensure they make their court dates.
There has been growing national attention on the treatment of transgender immigrants, especially transgender women, in detention, particularly after activist Jennicet Gutierrez interrupted President Obama during a White House event for Pride Month in June to implore him to release all lesbian, gay, bisexual and transgender (LGBT) immigrants from detention. At the time, ICE was already working to improve conditions for LGBT detainees in its facilities. The agency announced just days after Gutierrez's outburst that transgender women would no longer be housed with men in detention, and would require additional training for ICE staff to understand how to care for transgender detainees.
Many activists for the LGBT immigrant community have remained skeptical of the new guidance, however. Last month advocacy groups and transgender immigrants told International Business Times the new rules provided little in the way of enforcement and would not necessarily guarantee protection for transgender women in detention centers.
© Copyright IBTimes 2023. All rights reserved.