India 2014 Elections: How Does China View The Political Campaign Of Its Neighbor And Rival?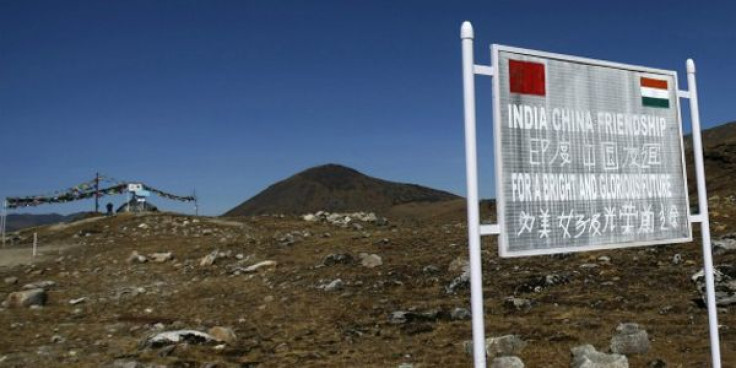 Voting in India's general election has commenced in the far northeastern state of Arunachal Pradesh, a region that China also claims as its own, referring to most of the disputed territory as "South Tibet." Indeed, just prior to the Indian vote, the Chinese Foreign Ministry reiterated its position that Arunachal Pradesh belongs to China, suggesting that Beijing will closely watch the elections for the whole of India.
"Our relationship [with India] needs to feature peace and common development," Foreign Ministry spokesman Hong Lei told a media briefing in Beijing on Tuesday. "We hope our bilateral relationship can move forward and bring more benefits to people of our two countries and achieve a common development… We hope that [the] Indian [elections] can carry on smoothly." But referring to the longstanding territorial dispute over Arunachal Pradesh, Hong firmly declared: "Our position is clear." As part of that position, Beijing has long made it difficult for Arunachal Pradesh residents to visit China.
Arunachal Pradesh, whose native peoples are primarily of Tibeto-Burman and East Asian origins, quite distinct from the Indo-Aryans and Dravidians who dominate the remainder of India, borders Bhutan in the west, Myanmar (Burma) in the southeast, Assam and Nagaland (states of India) in the south and southwest, and Tibet to the north. With a tiny population of only 1.4 million (as of the 2011 census) and an economy based largely on agriculture, Arunachal Pradesh residents are voting for just two seats in the Lok Sabha, the lower house of parliament in New Delhi, and will not have much influence on the overall election results. But its location on the border with China makes it a key point of contention between the two Asian giants – in fact, during the brief Sino-Indian war of 1962, Chinese forces seized and occupied Arunachal Pradesh before withdrawing in the following year. The two countries have periodically argued over not only the contours of the 2,500-mile border between them, but the rightful possession of Arunachal Pradesh.
The India-China border, also called the Line of Actual Control, is divided into three sectors as the boundary is not contiguous. Last summer, the Indian government agreed to establish a new border patrol force of some 80,000 troops on its side by the end of 2016. Over the past three decades, The Diplomat reported, India has been steadily increasing its military presence along the LAC to counteract Chinese patrols. Only last month, Chinese troops attempted to cross the border at Ladakh in Jammu & Kashmir before Indian soldiers repulsed them back to their side of the boundary. Such incidents have occurred numerous times over the decades.
India's border patrol policy is only one small part of its military readiness against China. "India's overall land warfare strategy vis-à-vis China is determined by its deterrence posture, layered at both conventional and nuclear levels," wrote Kapil Patil of the Indian Pugwash Society, a nuclear weapons/military public policy research group in New Delhi. "Maintaining credible nuclear and conventional capabilities is therefore essential, not only for deterring the Chinese military threat but also for improving India's overall bargaining position in border settlement talks with China."
And tiny, underpopulated Arunachal Pradesh is a key part of the border controversy. When outgoing Indian Prime Minister Manmohan Singh visited Beijing last October, the two countries signed a number of deals related to water-sharing and jointly fighting terrorism, but Chinese Premier Li Keqiang refused to drop his country's claims on Arunachal Pradesh. In recent years, Beijing has criticized Indian leaders who have visited Arunachal Pradesh, including a trip made late last year by President Pranab Mukherjee, as well as a more recent journey there by Narendra Modi, the leader of the center-right Bharatiya Janata Party, which is expected to win the Indian elections.
During a rally in March in the town of Pasighat in Arunachal Pradesh, Modi boldly asserted: "Arunachal Pradesh is an integral part of India and will always remain so. No power can snatch it from us. People of Arunachal Pradesh didn't come under pressure or fear of China." In a direct poke at Beijing, Modi further declared: "China should shed its expansionist policy and forge bilateral ties with India for peace, progress and prosperity of both the nations." In response, the Chinese Foreign Ministry downplayed his words. "What is important is that China and India have both expressed many times their determination and desire to peacefully resolve the dispute through talks, dialogue and consultation," said ministry spokesperson Hua Chunying. "The fact that there have been no shots fired in so many years really shows that both sides have the desire and ability to maintain peace and stability on the border."
In fact, some Chinese analysts do not take Modi's aggressive rhetoric over territorial issues that seriously and write them off as mere campaign posturing. Hu Shisheng, an expert on South Asia at the China Institutes of Contemporary International Relations, a Beijing-based research institution, told the Hindustan Times: "[Modi's comments are] not serving India's national interests. As for border disputes, the only approach could only be 'give and take,' and peacefully and diplomatically seeking mutually accepted solutions… [Modi's] remarks [on] the disputed area could mostly be related to his election campaign."
Still, the Chinese seized the opportunity provided by the elections to criticize the Indian government for what it describes as a failure to economically develop the northeastern states, although they did not mention Arunachal Pradesh by name, suggesting Beijing does not consider the state a legal part of India. "India's northeastern states [are] isolated, neglected," read a commentary in the state-controlled Xinhua news agency, adding that the proliferation of insurgency and separatist movements in the region is the direct result of New Delhi's "apathy." "During every election, all the major political parties -- the Congress and the BJP -- assure development of the region, [which is] plagued by unemployment and rampant corruption, but only time will tell whether the people trust the national parties anymore," Xinhua added.
Meanwhile, Indian officials are pulling out all stops to make sure that all eligible voters in Arunachal Pradesh can easily vote, as an expression of India's determination to hold onto the remote province. "We are a part of India and no one can negate that. This democratic exercise will once again send across a strong message to China to rethink its foreign policy vis-a-vis Arunachal Pradesh," said Habung Payeng, a parliamentary candidate for the Aam Admi Party in the state, according to Eurasia Review.
In a broader context, given the vast scope and magnitude of India's elections and the country's complex relations with China, it is unclear if Beijing has any genuine preferences concerning the composition of the next government in New Delhi. Lan Jianxue, a strategic analyst at the China Institute of International Studies, a research arm of the Foreign Ministry, told The Hindu newspaper that he expected no "dramatic change" in India-China bilateral relations no matter who wins. "If we look back at history, in 2003 the [last BJP] Prime Minister Mr. [Atal Behari] Vajpayee paid a very successful visit to China and broke the ice between the two countries in some ways, after there were some difficulties in 1998 [following the nuclear test by India]," Lan said. "After 2003 things changed for the better. China is already quite acquainted with Mr. Modi. Whether the next government is [BJP-led] or [Congress-led] or [led by] somebody else, I don't think it will have a huge impact on China-India relations because the bilateral relationship is interest-oriented, not party-oriented."
Consider that Modi, as chief minister of the Indian state of Gujarat, has already visited Beijing at least four times and has invited Chinese investments into his state. Among other deals, a Chinese power transformer and electrical equipment manufacturer called Tebian Electric Apparatus (TBEA) has signed a huge pact to construct an energy park in Gujarat. Modi has also called for closer trade ties with Beijing, citing that he envisions East Asia becoming the "center-stage of the global economy."
Trade is booming between these two giants, with China emerging as India's top trade partner, according to a recent study by the PHD Chamber of Commerce and Industry of New Delhi. Bilateral trade has reached $49.5 billion during the first nine months of the current fiscal year, accounting for 8.7 percent of India's total trade volume. In comparison, Indian trade with the U.S. amounted to $46 billion, ranking it second. However, Sino-Indian trade is heavily weighted towards Beijing – Indian officials are concerned about its $35 billion (and growing) annual trade deficit with China and will discuss the matter at a so-called Strategic Dialogue next week in China. Foreign Secretary Sujatha Singh is expected to urge her Chinese counterpart Liu Zhenmin to allow the entry of Indian pharmaceutical and IT products into Chinese markets.
Given Modi's aggressive pursuit of trade deals with foreign states, particularly the Asian powers, and his encouragement of individual Indian states striking their own trade agreements with other countries, Sino-Indian trade is likely to continue to flourish under a BJP administration.
Still, Modi presents some big question marks. Jonah Blank, a senior political scientist at the RAND Corp. in Arlington, Va., commented that Modi is an "unknown quantity" to China and that the leadership in Beijing likes "predictability." "They feel they understand Congress," he said. "[But] China doesn't know how seriously to take Modi's harsh rhetoric-- nor does any other observer. Modi himself can't really know what his foreign policy would look like: being prime minister is far more complicated than being the voice of opposition." Overall, Blank added, from Beijing's standpoint, India's foreign policy is unlikely to change radically regardless of who becomes prime minister. "The institutional leadership of China, like that of India, remains cautious and eager to avoid a major conflict," he noted.
For the record, in its recently released party manifesto, the BJP did not directly mention China even once, but called for improved relations with the country's "neighbors." "In our neighborhood we will pursue friendly relations. However, where required we will not hesitate from taking strong stands and steps," BJP stated, suggesting the use of force to prevent any compromise in India's territorial integrity.
Sumit Ganguly, professor of political science and director of the Center for American and Global Security at the Indiana University School of Global and International Studies in Bloomington, commented in an interview that he thinks Beijing will be "concerned" about a possible Modi regime taking over New Delhi. "For one thing, I strongly suspect that a Modi regime will prove be less conciliatory towards [China] and may expand some of the security initiatives, including the [formation] of two new mountain strike corps [border troops], the beefing up of the air base at Tezpur [in Assam], and asserting India's formal position on Arunachal Pradesh that the [Congress] regime had already undertaken," Ganguly said.
Ganguly also noted that Beijing will be "keenly interested" in seeing whom a BJP government will appoint as India's next national security advisor. "They had dealt with Shivshankar Menon for the past decade or so and had probably made a careful assessment of his views and positions towards China," he added. Late last year, Menon told Indian media that finding a solution with China over disputed borders was a top priority for his office. "We have built mechanisms to keep peace on the border. On the settlement of the boundary issue we are trying various ways. It needs hard negotiations," Menon said during a panel discussion in Delhi. "We decided to separate the boundary issue with bilateral relations between India and China. All governments [have since] built on that relationship."
Michael Kugelman, an expert on South Asia at the Woodrow Wilson International Center for Scholars in Washington DC, said that China knows that Modi would likely react more strongly to any Chinese provocation than has Prime Minister Singh, but added that Beijing likely hopes that India's next government, assuming it is led by Modi, will focus more on its commercial partnership with China than on the territorial disputes. "I think that this would be Modi's preference," Kugelman noted. "But territorial issues have a way of pushing their way to the front burner and sidelining trade relations. My sense is that the sheer power and volume of the India-China trade relationship will ensure that any dispute or tensions over territorial issues will inflict little harm on the overall relationship."
Earlier this year, India and China entered into talks to discuss possible maritime security agreements, one of the key points of contention between the Asian rivals. During talks between Menon and China's State Councilor Yang Jiechi, senior officials said that India and China share some common priorities with respect to sea trade, namely the uninterrupted supply of oil to guarantee both countries' energy security.
Yet another crucial issue between China and India has to do with nuclear weapons. According to the Federation of American Scientists, China is believed to own some 250 nuclear warheads, although some estimates run as high as 400, while India has between 90 and 110 such weapons. (Their mutual neighbor Pakistan has somewhere between 100 and 120 warheads). It should be noted that the BJP is clearly committed to expanding India's nuclear capabilities. The party's manifesto states: "We will follow a two-pronged independent nuclear program, unencumbered by foreign pressure and influence, for civilian and military purposes, especially as nuclear power is a major contributor to India's energy sector."
© Copyright IBTimes 2023. All rights reserved.