'India Becoming Voice Of Global South,' Says PM Modi During Independence Day Address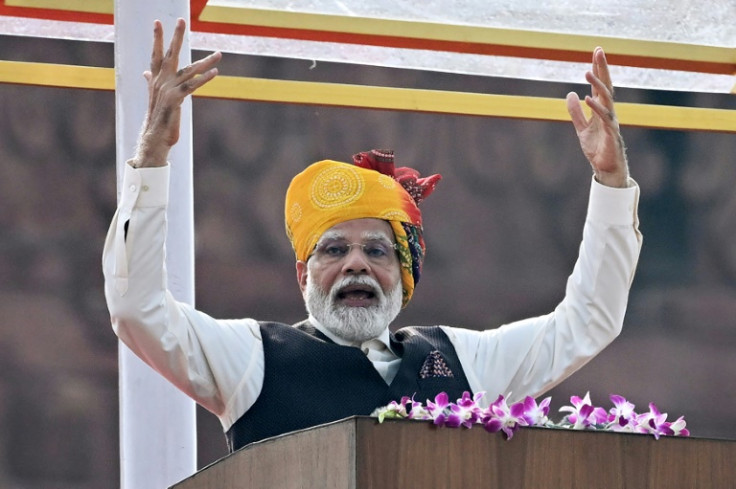 KEY POINTS
Indian Prime Minister Narendra Modi addressed the nation from New Delhi's iconic Red Fort on Tuesday
He said the global world order has been seeing shifts following the COVID-19 pandemic
The address was the 10th consecutive Independence Day speech given by Modi, who is serving his second term as prime minister
Indian Prime Minister Narendra Modi addressed the nation as part of the country's 77th Independence Day celebration Tuesday and said India is emerging as the voice of the global south.
While giving a speech from New Delhi's iconic Red Fort, Modi expressed confidence in placing India among the top three economies of the world.
Serving his second term as prime minister, Modi also said the global world order is changing as countries reel from the effects of the COVID-19 pandemic.
"Today India is becoming the voice of the global south. India's prosperity and heritage have become an opportunity for the world," the prime minister said in what was his 10th customary Independence Day speech.
As he acknowledged the recent geopolitical shifts, Modi said, "After the second world war, a new world order took shape but I can see now clearly that a new global order and a new geopolitical equation is moving ahead after the COVID; the definition of the geopolitical equation has changed. And my dear family members, your capability is visible in giving the world a new shape."
"In shaping a changing world, Indian people's capabilities are evident. India's biggest capability is trust — people's trust in government, in the country's bright future and the world's trust in India," he added.
The Indian economy was the eleventh largest in the world about a decade ago and has been one of the fastest-growing economies in recent years. India became the world's fifth-largest economy last year after overtaking the U.K.
A Morgan Stanley report from last year said India was on track to surpass Japan and Germany to occupy the third spot among the world's largest economies by 2027.
In the Tuesday speech, Modi expressed confidence in his nation's capabilities and resources and guaranteed the country will soon become the third-largest economy in the world.
"We built a strong economy, stopped leakages. I am giving an account of 10 years from Red Fort. It is 'Modi's guarantee' that India will become the third-largest global economy in the next five years," he said.
© Copyright IBTimes 2023. All rights reserved.