Modi Makes Bold Re-election Pitch: India Will Become 3rd Largest Economy In His Third Term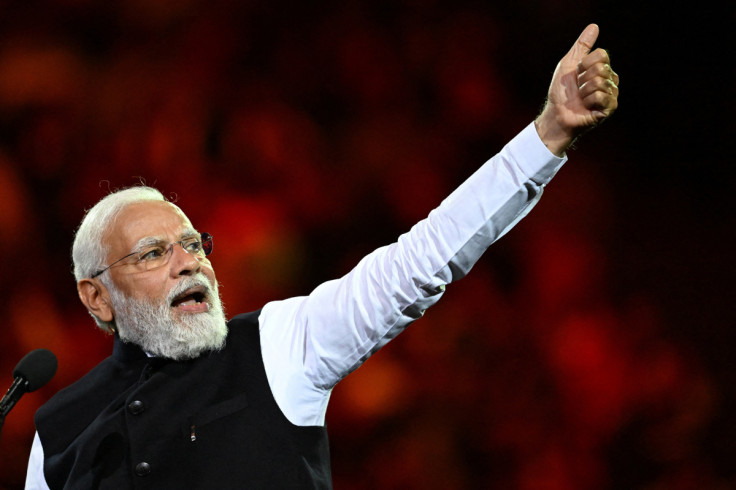 Indian Prime Minister Narendra Modi made a strong pitch for re-election to a third term in office, promising to continue to fuel the rapid economic growth the country has seen under his rule and vowing to make India the third-largest economy during his third term.
The 72-year-old prime minister confidently asserted that his party would return to power in next year's countrywide elections. Modi is now in his second term and will complete 10 years in office in May.
"On the basis of our track record, in the third term of our government, India will become the world's third-largest economy. This is Modi's guarantee," the Indian prime minister said in Hindi while inaugurating the redeveloped India Trade Promotion Organisation (ITPO) complex in the capital New Delhi on Wednesday; in line with his Bharatiya Janata Party's policies of reasserting India's ancient identity and culture, the complex has been rechristened 'Bharat Mandapam.'
Modi noted that India was in the 10th spot among the world's largest economies when his party took office in 2014.
Now India is the fifth-largest economy in the world, with a GDP of $3.5 trillion, up from $2 trillion in 2014, behind the U.S., China, Japan and Germany. India overtook its former colonial master, the United Kingdom, last September to become the fifth-largest economy, an achievement that was celebrated in the country where bitter memories of British colonial-era plunder and brutality are still etched into the public's psyche.
The idea of making India self-sufficient has been one of the pivotal themes of Modi's economic reforms and policy changes. These grand promises helped in his landslide first election win in 2014. But the reforms initially appeared to miss the mark, as the charts showed sluggish growth, with India seeing its GDP fall to its lowest in a decade during his term.
India's GDP growth was at a high of 7-8% when Modi became prime minister. But it fell to 3.1% by the fourth quarter of 2019-2020.
Businesses were hit and unemployment rose after Modi's controversial and still-debated "demonetization," which banned currency bills of certain denominations in 2016, and a hurried roll-out of a new tax code. Nevertheless, India has held on to the position of the world's fastest-growing major economy since it overtook China on that measure in 2015 — except for a brief period in 2017.
Modi continues to remain hugely popular in India, and some of his policies that helped with that popularity have also caught the world's attention, like the integration of technology into welfare programs and schemes like "Make in India," aimed at strengthening domestic manufacturing.
"Besides high GDP growth and resilience over the decade, focus on some qualitative indicators would be most appropriate for assessing Modi's two terms as the prime minister," Priyadarshi Dash, author and associate professor at the Research and Information System for Developing Countries (RIS) in New Delhi, told International Business Times.
Some of these measures include "smoke-free kitchens for women, especially poor and lower middle-income families, including in rural areas (Ujjwala scheme), empowering ordinary people through financial literacy (Jan Dhan Scheme), and affordable and faster payments and financial services (UPI)," Dash said.
India is also on a "remarkable journey" toward clean energy with a "significant rise [in] installed capacity and solar energy production," Dash added, noting that the country has made "rapid strides in home-grown solutions" such as Covid-19 vaccine manufacturing, building the CoWIN platform for mass vaccination, strengthening digital public infrastructure, and more.
"A combination of improved 'ease of doing business' and 'ease of living' if maintained over the next few years could pave the way for silent developmental transformation in the country," he added.
© Copyright IBTimes 2023. All rights reserved.